08/23/2020
Experts Share Advice for Children During COVID-19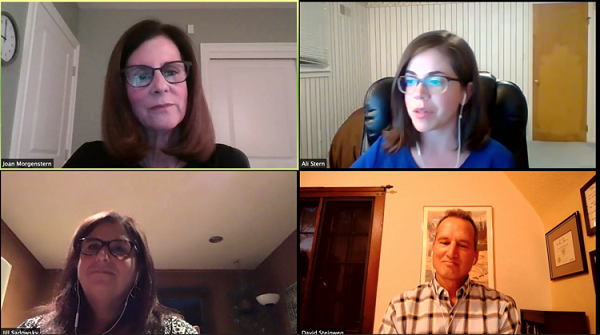 Article reprinted with permission from Cleveland Jewish News
by MCKENNA CORSON | STAFF REPORTER
Whether returning to school virtually or in-person, experts from Bellefaire JCB and Senders Pediatrics through a webinar Aug. 18, provided parents with advice to help their children adjust to the new school year amid the COVID-19 pandemic.
Hosted by the Jewish Federation of Cleveland, the webinar featured Joan Morgenstern, director of parent education and coaching at Senders Pediatrics in South Euclid; Jill Sadowsky, director of Jewish community services at Bellefaire JCB in Shaker Heights; and David A. Steinweg, a psychologist at Bellefaire JCB. Ali Stern, a Federation Young Leadership Division board member and Israel Engagement Committee co-chair, and grantwriter for the Jewish Agency for Israel, moderated the event.
The experts encouraged parents to listen to their kids' thoughts and feelings, and to have family meetings and work on self care. They first provided proactive ways for alleviating stress, which parents could use for their children's return to school.
Steinweg advised parents to take the educational adjustments with patience and calmness, as children will gauge reactions from their parents and will adopt their parents' senses of urgency.
"It's really helpful to keep in mind this is going to take awhile, and the things that happen are wonderful, but the challenges and particularly the mistakes that we make, most of them after a day or two or three, will have passed," Steinweg said. "The more we can be patient with ourselves and compassionate with loved ones so when things don't happen as we wish they would, the stakes don't feel so high. That's going to increase the family getting along and keep worries and anxiety lower."
Morgenstern introduced four ways to frame a healthy mindset: courageousness, compassion, conscientiousness and curiosity.
"We want to access our courage so that we can befriend the unknown, as opposed to simply fearing the unknown," Morgenstern said.
"... We need to be compassionate with ourselves and others as we brace unfamiliar imperfections. We need to be conscientious ... we want to harness where our power is, focus it on the things that we can execute control over, make decisions and use our force effectively versus just draining our batteries. We want to be curious, and that allows us to approach this with less judgment involved, but more from a place of what might we learn, what might unfold that might not be as bad as we're anticipating."
Sadowsky urged parents to educate their children on why they came to the decisions they did regarding the pandemic, to be respectful of other families for their decisions and to remember to take care of basic needs that may be easy to forget.
"There's nothing right or wrong for what each parent or family is choosing to do – everybody has their reasons, and (they were) really hard decisions," Sadowsky said. "I think we need to realize this isn't black and white, and we have to also be respectful and teach our kids that everybody makes different decisions and how we came to ours. (It's also important to remember) self care. It's making really good decisions if it's sleep, food, activity (and) doing things that truly benefit ourselves and our kids."
The three speakers agreed it's vital during this time for parents to be in tune with their children's feelings and emotions.
Morgenstern advised parents to tell their children their worries and concerns are natural and to be expected, but gave a new way for parents to strengthen the conversation.
"When a kid might share with a parent and say, 'I'm really worried about going back to school,' a natural inclination may be to want to say, 'You have nothing to worry about, you're going to be fine,'" Morgenstern said. "Instead, just substitute that with 'That's interesting. Tell me more about it.' That allows children to really emote and have permission that we can feel comfortable hearing some of their uncomfortable feelings. Reassuring them is a perfect way to end."
If children are in high school, the panelists agreed they should have a say in pandemic decisions, such as whether they attend virtual or in-person school if they have a choice.
The panelists also stressed that keeping family members' daily activities organized now may be a struggle. Morgenstern suggested weekly or daily family meetings where members share their schedules.
Sadowsky offered the idea of focusing on the next few days, instead of weeks or months, due to the quick nature in which things are changing. Similarly, Steinweg said families need to establish a moving, flexible system to tackle members' schedules one day at a time.
The panelists agreed on one thing: despite the difficult nature of the pandemic, no one was alone.
"We're all kind of in the same ocean even though our boats might be very different," Stern said. "We're all going through something similar."