02/22/2017
Exploring Jewish Life in India
Greetings from India! Four Jewish Cleveland young leaders are taking an unforgettable journey to explore Jewish life in India with the Jewish Federations of North America (JFNA) National Young Leadership Cabinet Study Mission. They, along with more than 100 fellow young leaders from across North America, are visiting India to understand how Judaism endures as a small minority culture in our diaspora communities.
Check out some highlights and photos below from Rachel Heiser, a member of the Cleveland delegation:
Day 1
India is very different from any other place I've visited but in some ways similar. The American Jewish Joint Distribution Committee (JDC) provides mishloach manot for elderly like those that are delivered to Menorah Park. JDC delivers Passover boxes of matzah to Jews in the community like those delivered in our sister city of St. Petersburg, Russia.
The different Jewish organizations are trying to sort out how to work together and meet the needs of their community like in many of our communities. Here are some pictures of Clevelanders at Magen Aboth Synagogue in Alibaug near Mumbai. We traveled by catamaran and tuk-tuk to get there.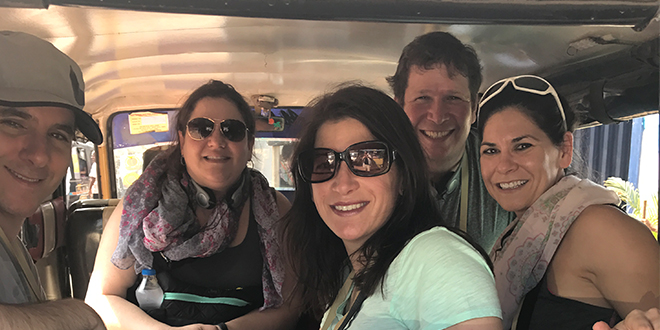 The Bena Israel, believed to be part of the 10 lost tribes of Israel, actual shipwrecked and washed ashore here in Alibaug. They lost all their prayer books but remembered the Shema and laws of kashrut. They did not have any Hebrew text until the Cochin Jews arrived much later around the time of the Spanish Inquisition and created the Hebrew printing press in the south of India.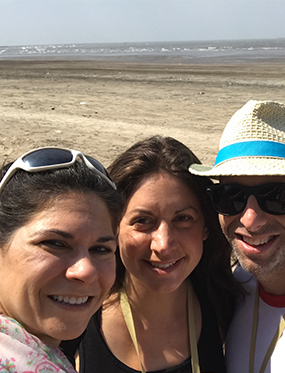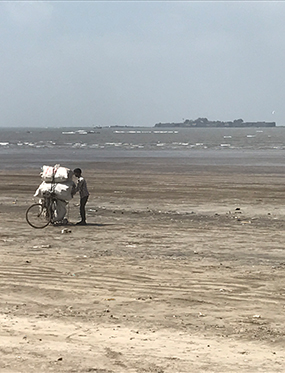 This picture was taken during our catamaran ride to Alibaug. Behind Elissa is the Gateway to India where immigrants like Bena Israel Jews were processed, similar to Ellis Island. Also, seen to the left of that is the Taj Mahal Hotel.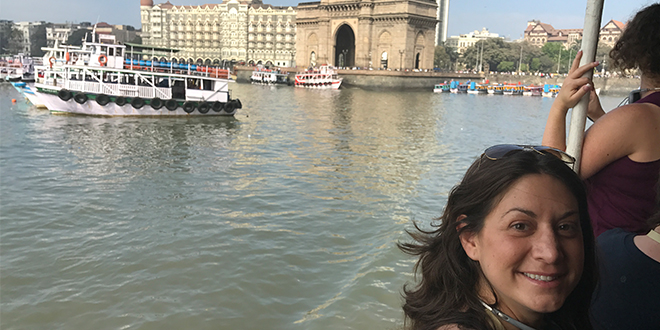 Day 2
Michelle Hirsch was in her happy place connecting with mentally disabled adults at Om Creations.
Om Creations is a non-profit training project for holistic and educational rehabilitation of the mentally challenged women from age 20 years onwards. They assist differently-abled women with opportunities that help them lead a meaningful life of dignity and self-worth. By giving them a stipend for the products they make, they can become economically empowered and add that extra support to the family income.
Om Creations has partnered with JDC to make challot each week for JDC to sell and return the profit to Om.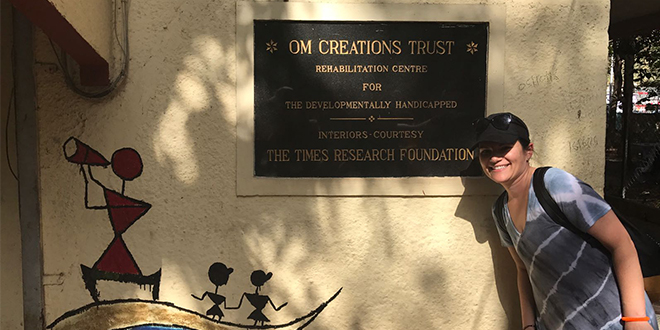 During our visit to Om Creations, participants showed us their artwork, painted henna on our hands, and demonstrated their challah making skills.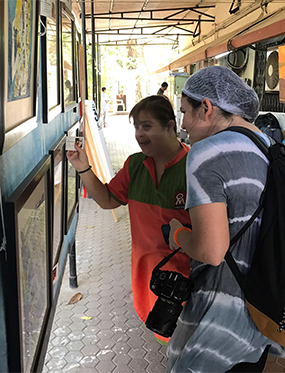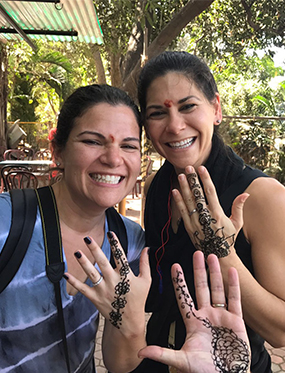 We also visited JDC and the JCC in Mumbai. The JCC has over 400 members and over 1,000 participants in Jewish learning and programming. They also help facilitate Jewish values based programs to better the non-Jews living in slums.
Here is a picture of women making stationary from free paper scraps which they sell back to hotels and other businesses. These women live and make this paper in a slum.
We enjoyed lunch at the home of Chef Moshe Shek, India's first signature restaurateur, who is also Jewish.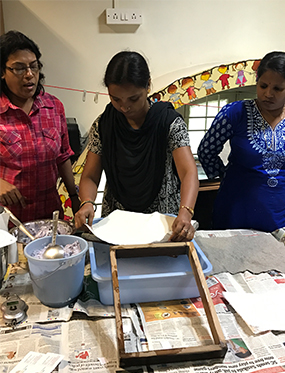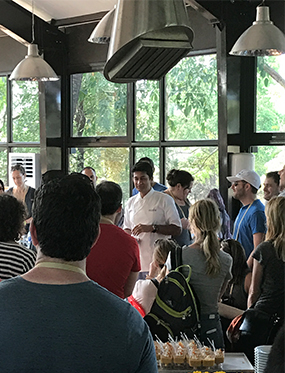 Day 3
Our visit in Jaipur included riding elephants to the fortress at Amber Fort, wearing sarees (traditional Indian attire), and enjoying dinner and dancing in the City Palace.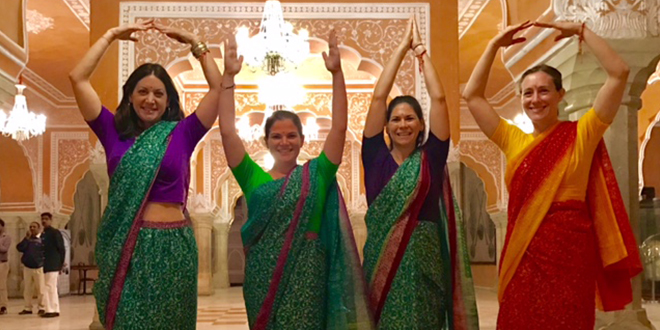 Day 4
On Friday, we visited the Gate of India in Delhi and Gandhi's memorial. Our scholar in residence, Rabbi Leon Morris, discussed how Gandhi made a statement in 1938 that the Jews should deal with the Nazis through peaceful resistance. While this may worked for him, it clearly was not good advice for German Jews in 1938.
During my Cabinet years, we have discussed how important it is to discuss what happens in different communities but at the end of the day each community must decide what will work best for them.
Next, we enjoyed rickshaw rides through Old Delhi. It was quite an experience sharing the streets with buses, vendors, cars, camels, oxen, people, and tuk-tuks.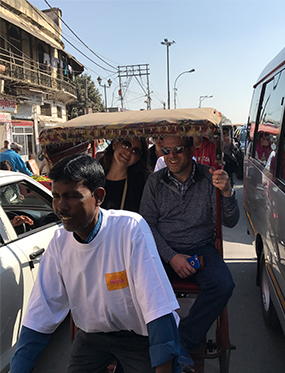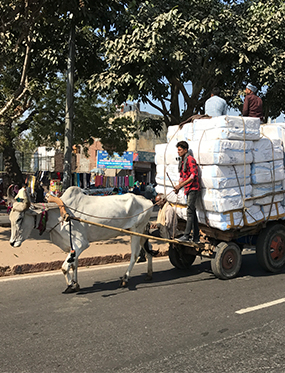 On Friday night, we enjoyed prayers and Shabbat dinner with Americans, Canadians, and Mexicans Jews on our trip and with Indian Jews, a Russian Jewish tourist, and six Israeli tourists. We also had the pleasure of being joined by the Israeli Ambassador to India. It was all beautiful.
Day 5
On Saturday morning, we walked back to the Judah Hyam Synagogue to enjoy a unique Shabbat morning service with our new friends. Eliana LeVine had the honor of the third Aliyah. Indian Jews led the service and shared joyful stories of their Jewish upbringing in India.
Later, we enjoyed havdalah and participated in Malida Ceremony, a traditional Indian Jewish ritual. The Bene Israel tunes were so beautiful that I asked Eli Ramrajkar to sing the Shema for me to record. In the video, you may notice that he makes a shin with his fingers while covering his eyes.
Day 6
On Sunday, we traveled by train to Agra and visited the Taj Mahal. It was quite massive and impressive. This was also a day when we saw unmatched oppression at the train stations. It was a day of contradictions and unforgettable moments.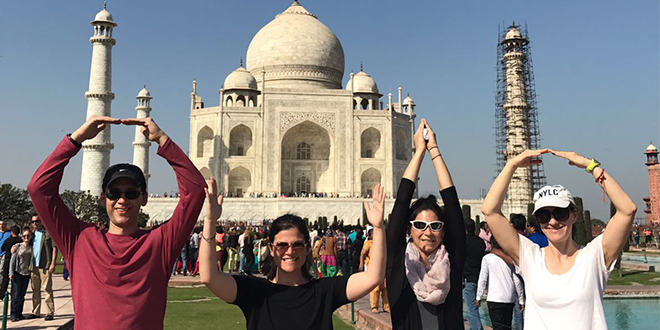 ---
National Young Leadership Cabinet (NYLC) is the premier leadership philanthropic program of JFNA for dedicated men and women, ages 30 to 45, from across the United States and Canada who are deeply committed to building a strong, vibrant future for the Jewish people.
NYLC is now accepting applications for 2017. Please contact Jessie Bruder, Young Leadership Division Director at the Jewish Federation of Cleveland, at jbruder@jcfcleve.org for more information.
---
Our Partners
Related Items
Inspiring stories kick off JFNA GA
Siegal Concludes Term as JFNA Chair