06/15/2017
Family Bonds Through Volunteering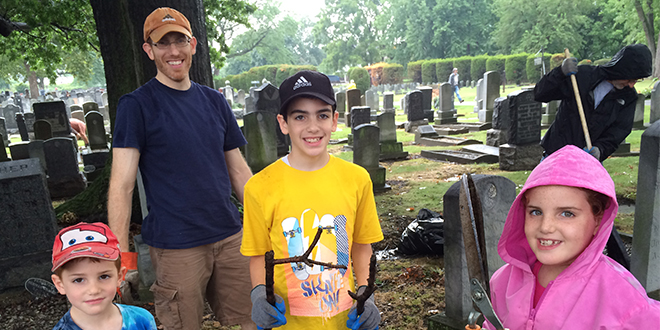 Many of Cleveland's older Jewish cemeteries are located in areas where the Jewish community no longer lives and synagogues no longer exist. Without an organized effort, these cemeteries have fallen into disrepair and the Jewish Federation of Cleveland has stepped in to help.
Caring for these cemeteries is one of the highest mitzvot we can achieve. Michael and Rivki Ebner of Beachwood are part of that preservation effort; along with their children, they volunteer their time to help clean up these cemeteries. Meet the Ebner family:
Q - Why do you volunteer?
The Cleveland community has given us so much since we moved here 11 years ago, it's only natural that we should feel driven to give back. Not only are you helping others but it's a great way to strengthen your family's bonds - and maybe even have some fun while doing it.
Q - What makes volunteering a family activity?
We enjoy spending time outdoors; cemetery preservation is a perfect way to combine the outdoors and spend time as a family. The kids love being involved, and it's our duty to teach our children the importance and value of doing for others without expecting anything in return.
Q - How did you get involved in volunteering with Jewish Cleveland?
There are so many great volunteering opportunities for the entire family here in the Cleveland area. When we saw the email from the Federation's Jewish Volunteer Network for the cemetery clean-up, we were sold.
The Cemetery Preservation Campaign raises funds to increase the Commission on Cemetery Preservation (COCP) endowment to a level where it will be able to sustain the annual maintenance costs for the cemeteries under its management.
To learn more about the COCP, contact Ellen Miller at 216-593-2825 or emiller@jcfcleve.org. For information about volunteer opportunities, contact Susan Hyman at 216-593-2887 or shyman@jcfcleve.org.
---
Related Items