10/27/2017
Federation, FIDF Dedicate Basketball Court in Israel
Article reprinted with permission from Cleveland Jewish News.
By Amanda Koehn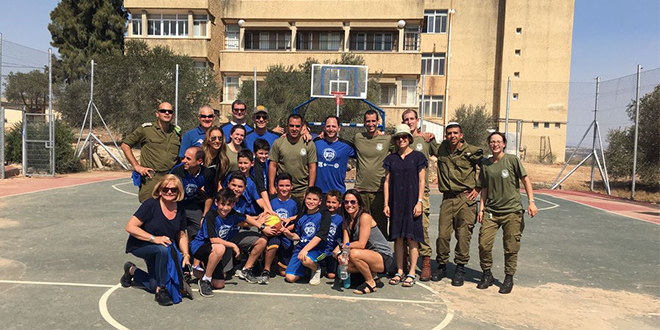 Although Ben Miller, 13, has studied Israel while attending the Joseph and Florence Mandel Jewish Day School in Beachwood, and anticipated visiting, he likely didn't imagine his first trip would include his family playing a basketball game with about 10 soldiers from the Israel Defense Forces.
However, that is exactly what happened, as Ben was one of several children that accompanied their families in a combined Jewish Federation of Cleveland and Ohio chapter of Friends of Israel Defense Forces trip to the Havat Hashomer army prep base in northern Israel to dedicate a newly renovated basketball court.
Havat Hashomer is designed to help at-risk soldiers, and receives funding from the Federation. Ohio FIDF raised funds for renovating the basketball court during its "Guys Night Out" program in May. Thus, the two collaborated on the early October trip, according to Susi Meisel, chair of the Federation's IDF subcommittee.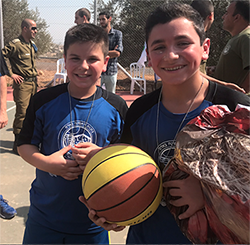 "The Jewish Federation of Cleveland has supported the IDF Education Corps' efforts to provide disadvantaged men and women with extra training and ongoing assistance at Havat Hashomer since 1999," Meisel said in an email. "Each year, thousands of youth go through these programs, which help to prepare them for life after their army service. We are thrilled that FIDF chose to renovate this basketball court and look forward to many more collaborations."
During the dedication, a ribbon-cutting ceremony was held and the Cleveland-area visitors joined the Israelis at Havat Hashomer for a game. Lane Schlessel, executive director of Ohio FIDF, said the well-being of the soldiers was the group's focus behind the project.
"To partner our Ohio FIDF chapter event of 'Guys Night Out' with the Havat Hashomer base that has long been supported by our Cleveland Jewish community is very rewarding," Schlessel said in an email. "To watch the families play basketball together with the soldiers highlighted why we continue to build our chapter with a laser focus to make their lives easier."
Ben, a Solon resident and eighth grader, said it was meaningful to him to meet the soldiers, as well as to see with his own eyes the impact his family, including his parents, siblings and grandparents who also travelled to Israel, and community have on the base.
"It was really cool, I was with people who protect Israel and I liked that," Ben said.
---
Related Items