07/29/2020
Federation Allocations Provide Stability to Agencies
Each year, the Jewish Federation of Cleveland allocates critical dollars raised in the annual Campaign to provide funding that changes and improves lives in Cleveland, Israel, and around the world. With the COVID-19 pandemic wreaking havoc with our health and economy, this year's allocations provided much-needed stability to our local, national, and international beneficiary agencies during this unprecedented time.
Article reprinted with permission from Cleveland Jewish News
COVID-19 impact 'really massive' on Federation allocations
by JANE KAUFMAN | STAFF REPORTER
As COVID-19 rocked agencies, distributions from the Jewish Federation of Cleveland to Jewish agencies will be level funded in the 2020-21 fiscal year.
"The impact has been really massive." said Beth Wain Brandon, Federation allocations committee chair. "Revenues really crashed for a lot of our agencies during the first few months of COVID … as they had to shut down programs or departments or divisions, and a lot of their expenses also had to increase – a lot."
As agencies pivoted to new forms of service delivery, the needs of individuals increased, partly due to layoffs associated with COVID-19.
"We certainly didn't want to cut anybody during this time, but we weren't really in a position to make increases either," Wain Brandon said. "So we made a huge effort to keep everybody stable."
Total distributions by Federation will be $30,866,836, an increase of $615,000 over the 2019-20 total of $30,251,836. Of that total, about 56%, $17,124,407, will go to local agencies and programs; 39%, $12,045,809, will go to national and overseas endeavors, and 2%, $1 million, will go toward security.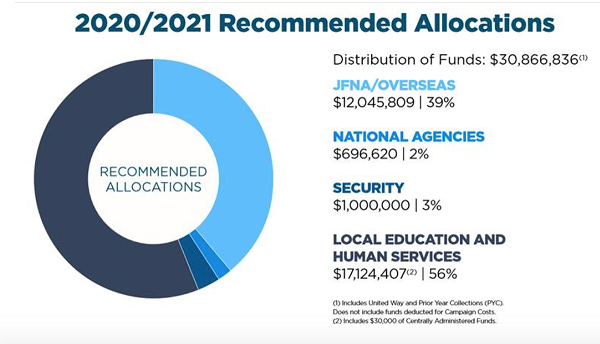 Funding security
Wain Brandon said that even with buildings closed for COVID-19, security needs continue.
"There's always threats, and the circumstances are always changing," she said, "And with the onset of the coronavirus pandemic, the security needs really didn't diminish."
She said security professionals are helping schools plan for reopening with multiple entrances to comply with social distancing requirements and that they are also assisting synagogues and other institutions plan for the use of $3.5 million in federal and state security grants that were awarded this spring.
The Federation is raising its commitment to security, which is budgeted at $3.9 million in 2020-21. The commitment from campaign dollars was $535,000 in 2019-20 and will be $1 million in 2020-21. Just $115,000 of the increased distribution comes from the annual campaign with the balance, $350,000, taken from reserves in prior year collections. The rest of the security budget is paid by philanthropic sources and participation by other institutions.
"There's so much security that goes on all the time that's sort of behind the scenes," she said. "It's going on all the time, 24/7."
One local increase
The allocations committee recommended one local increase to the Fund for the Jewish Future. Families who established the Fund for the Jewish Future increased their contribution to that fund by $150,000 this year, from $1,881,054 to $2,031,054, Wain Brandon said.
That fund goes to a panoply of programs including early childhood education, congregational schools, day schools, curriculum development, professional development, retreats, and teen programs, according to Seymour Kopelowitz, executive director of the Jewish Education Center of Cleveland, which distributes the funds.
Hebrew Academy of Cleveland topped the rest of the education allocations, as it did last year, with $1,283,219. Education allocations totaled $7,950,008, to 11 schools and programs.
Human service agencies received level funding across the board, with Jewish Family Service Association, again receiving $2,636,337, the most funding of the 10 local human service agencies funded by Federation's $9,144,399 allocation.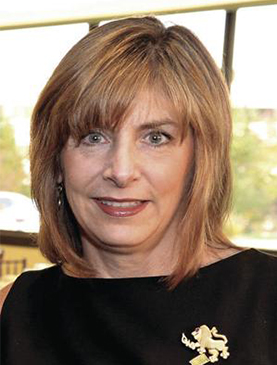 Changing landscape
In planning for an uncertain financial climate and a potential impact on donors, the Federation bumped up its reserve for shrinkage, both in amount and percentage. The line item set aside for shrinkage will go up by $98,525 from $1,308,325 to $1,406,850.
"The rate we used this year is the same rate we used after the crash of 2008," Wain Brandon said. "So, last year our shrinkage rate was 4%, and this year we're increasing it to 4.25% in case there's a few more people who are unable to pay their pledges. We obviously hope people will be able to fulfill their commitments to our campaign because it really supports the community, and the whole community is suffering. But we wanted to be a little bit more conservative this year in case there are people who are unable to. If there's more cash collected, those funds will be used in future years to cover shortfalls."
In fact, this year, prior year collections are being used to cover a $212,069 gap left by United Way of Greater Cleveland.
"We were able to use prior year collections to cover that so that we didn't feel that loss this year," Wain Brandon said. "We anticipate there may be other cuts in the future, so we're not sure what next year will look like. … We have a very strong partnership with (United Way) and a very close relationship."
Campaign cost
The amount set aside for campaign and collection expenses remains at 8.9% of the total dollars raised. Since the campaign raised a record-breaking $33,102,355 in pledges in the latest campaign, the actual amount of the line item rises from $2,911,022 to $2,946,110, an increase of $35,088.
The true cost of running the campaign, Wain Brandon said, approaches 10% of the full amount raised.
The total for miscellaneous, which includes the $30,000 audit, security, shrinkage, and campaign and cost, will rise from $4,784,347 to $5,382,960.
International commitment
The Federation's largest single distributions typically go to national and international agencies, and this year, those allocations remained at the same level they were in 2019-20: $12,045,809.
That funding was split between the Jewish Federations of North America, which received $9,004,836, and Cleveland overseas projects, which received $3,040,973.
Lynne Cohen, Cleveland overseas committee chair at the Federation, said the funds will be needed.
"We know that our sister cities of Beit Shean/Valley of Springs, Israel, and St. Petersburg, Russia, are reeling from the effects of COVID-19 just like Cleveland," she said. "There are deep economic implications in both communities which affect people's ability to work and continue to provide for themselves and their families. As such, we have been in close contact with all of our overseas partners and are working with them to reallocate dollars to their communities' most pressing needs."
Intensive time Wain Brandon, who has been chair of the committee for more than three years, said this year's process has been more time intensive.
"In our spring meetings we were starting to see the real effects of the pandemic on all our agencies," she said. "So rather than just having a straight budget talk with our agencies, we were really talking about how our agencies were going to be able to respond to this and how they were going to be able to be nimble."
She praised Federation staff for jumping in and helping out, adding that each agency that was eligible to receive Paycheck Protection Program loans received them.
"And they had a lot of help from the Federation in order to be educated and to apply for those loans," she said.
In a typical year, liaison teams hold 60 meetings. This year, there will be about 30 more, with meetings taking place in the summer, when there is typically a break.
"Because we have these longstanding relationships, we've been able to work together so well to help everybody weather the storm," Wain Brandon said. "All of the sudden we were all in a crisis, but we were all in it together, and we were all coming up with solutions together, trying to figure out what the best practices would be."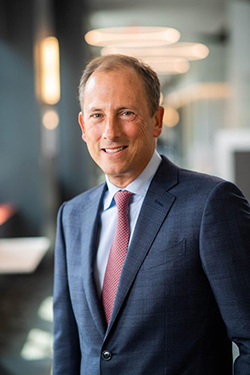 A final word
J. David Heller, Federation board chair, said the success of the campaign will help.
"Thanks to the incredible generosity of our community during the Federation's annual campaign, we are able to provide much-needed stability to our local, national, and international beneficiaries during such an unprecedented time," Heller said. "Each year, Federation's allocations committee goes through a thorough and deliberate assessment of community needs to ensure that the funds raised are distributed effectively and efficiently. I am so grateful to Beth and her fellow committee members for the tremendous work they did under these unique conditions."
---
Allocations Recommendations 2020-21

Allocations Report to the Board of Trustees