12/10/2020
Federation Campaign for Jewish Needs Raises Record $33 Million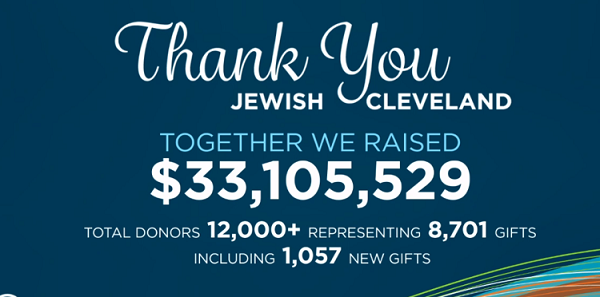 JANE KAUFMAN | STAFF REPORTER
Article reprinted with permission from Cleveland Jewish News
Smiles abounded at the virtual campaign closing for the 2021 Campaign for Jewish Needs as fundraisers in the Jewish community delivered a record-breaking grand total of $33,105,529.
"We did this during a pandemic," said Bradley A. Sherman, 2021-22 Campaign for Jewish Needs general chair. "Folks this is incredible."
The Federation raised $33 million for the second year in a row, with slightly fewer donors and slightly fewer donations.
Sherman thanked the leaders of each campaign for their contributions during the Dec. 9 closing celebration, which had about 220 participating screens.
The campaign total represented 8,701 gifts from more than 12,000 donors, including 1,057 new donors, slightly fewer than in the 2020 campaign.
Additionally, through a match opportunity from the Jack, Joseph and Morton Mandel Foundation, the community raised $1 million for the Jewish Cleveland's Coronavirus Emergency Relief Fund, contributing to a total of $15,416,989 toward the COVID relief effort to date. The Mandel Foundation matched every new or increased gift to the Campaign for Jewish Needs with a match to the COVID relief fund.
Sherman noted the importance of that match.
"Generationally, we haven't seen anything like what has happened during the pandemic," he said.
The event featured a tribute video to Cameron and Dayna Orlean, recipients of the 2020 Ambassador Milton A. and Roslyn Z. Wolf Young Campaigner of the Year Award.
They were the first couple to lead the Young Leadership Division as a couple as chair and vice chair at the same time, said Michelle Hirsch, Women IN Philanthropy chair.
"They hit the ground running together," Hirsch said. "These two rock stars send a very strong message to the YLD community."
Federation President Erika B. Rudin Luria congratulated them.
"There are very few couples who, together are able to be individuals at the same table as each other," she said. "And what Cameron and Dayna have been able to do in partnership with each other and Young Leadership Division has really moved the needle of the organization."
J. David Heller, Federation board chair, said the two have shown what leadership is, "leading in times of strength, leading in times of crisis."
The two will receive a mission to Israel and a plaque.
"The continuity of concern and leadership you uphold ensures the future of our Jewish people in Cleveland and Israel and around the world," the plaque reads in part.
Dayna Orlean said she was honored and humbled to receive the award, especially as a couple, and credited Hirsch for sparking her interest in Federation.
"Dayna and I have had the unique opportunity to do Federation together, concentrating on our individual passion," Cameron Orlean said. "The one passion that we share is making our community better."
He thanked his grandfather for "instilling the value of giving back," and his father for taking him to his first Super Sunday.
He gave his wife flowers on camera, thanking her for embracing Cleveland since they relocated here in 2014.
There were 710 donations that were bolstered by the Brunswick Bonus, which contributed $180 to the campaign to any donor who contributed $180 or more in the first 18 days of the campaign. The Brunswick Companies contributed the bonus.
Sherman said that bonus gave the campaign its initial momentum.
"We got off to an amazing start because of this," he said.
"Jewish Cleveland high school and college students are making a difference in our community," said Lauren Clar, a Saltzman Youth Panel peer adviser. "For example, Rylan (Polster) and myself are part of the Saltzman Youth Panel, where we're learning about the philanthropic process responding to Jewish and general community needs."
The 303 high school and college students who participated in the campaign donated $16,477, said Rylan Polster, who is also a Saltzman Youth Panel peer adviser.
Ari Feiger, vice chair of the Young Leadership Division Campaign, said this year's campaign was "like and unlike" any before.
"Young Leadership Division quickly embraced the virtual setting," he said.
The 1,228 donors in the Young Leadership Division contributed $591,466, said Gabrielle Jerusalem, Young Leadership Division Campaign vice chair.
The Women IN Philanthropy division raised $4,699,697 from 2,906 donors, said Erica Starrfield, Women IN Philanthropy's vice chair.
"Thank you to all of our generous donors for being part of something bigger," she said.
"Our virtual campaign gathering which we called the main event brought nearly 300 Jewish Cleveland women together – online of course," she said.
Broader perspective Heller credited the community for stepping up.
"We have so many volunteers and we can't thank them enough," he said. "And because we're all in our homes, it's hard to pass out a token of thanks which we normally do at these celebrations but it's all going to be mailed to our campaign leadership."
He also credited Sherman.
"Working with you for the past several months, really over the last year, to get to this evening has been a real joy. And it's a joy because you're someone who really understands pivoting in a difficult time," he said. "And everyone felt your energy. That's why we've had such success in the reports."
Sherman thanked Heller for his faith in him.
He also thanked Rachel Lappen, Federation's chief development officer, and his wife Elisabeth and daughters Laura and Joanna.
JFSA Horvitz YouthAbility raised a total of $720.
Volunteer Evan Burg spoke of how valued he feels by Federation.
"We believe we help ourselves by helping others," Burg said. "YouthAbility is grateful to the Jewish Federation for providing our group members with many opportunities to volunteer and join in meaningful activities. The Federation staff always make us feel like valuable community members."
Sherman thanked Burg and fellow volunteer Maya Shome for the contribution.
Reflecting on campaign Sherman said he realized from the start that the pool of donors might be smaller this year because of the stress of the COVID-19 pandemic on the community.
He said his message was, "Those of that can, we need to step up, and that's exactly what happened. The community stepped up."
Sherman said the campaign's pivot to virtual framework represented an opportunity to raise funds in new ways.
"We learned a lot about what matters because of the pandemic," Sherman said. "I think we need to be very mindful about how to incorporate some of the great things that we have kind of developed in the future this year when we had the ability to be back together in person."
Sherman said the virtual format allowed college students and others who live out of town to take part in Federation activities, extending the community and raising the profile of Cleveland.
"There are things that people liked about these virtual events and get-togethers," said Sherman, adding that once the need for quarantine and social distancing recedes, "It's going to be like a family reunion in a way."
He said the best part of events is being together.
"That ability when the speaker's talking to be able to look across the room and see someone you know and give that person a nod and let that person know that, hey, we're in this together, I think is something that was missing."
Sherman said he is looking forward to that experience.
"What we have also learned is that certain opportunities to get together one on one doesn't always have to be in person," he said. "It can be on a Zoom call. … I hope we learn that we can have the best of both."
---
Campaign for Jewish Needs
2020: $33,102,355
2019: 32,708,114
2018: 32,738,328*
2017: 31,672,731
2016: 30,761,661
2015: 30,317,879
2014: 29,609,410
2013: 29,004,818
2012: 28,503,902
2011: 27,942,629
2010: 27,792,531
2009: 28,772,400
2008: 32,728,524
2007: 31,557,519
*Includes one-time anonymous donation