08/29/2023
Federation's Campaign for Jewish Needs Super Sunday Kickoff Sept. 10
COURTNEY BYRNES | CJN
Article reprinted with permission from Cleveland Jewish News
The Jewish Federation of Cleveland will once again kickoff its annual Campaign for Jewish Needs with a Super Sunday Kickoff event from 10 a.m. to 5 p.m. Sept. 10.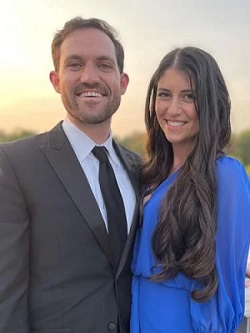 Last year, the Federation decided to combine its kickoff event with the annual Super Sunday event for a full day of campaigning and family fun. After raising a record-breaking $3.7 million in the first Super Sunday Kickoff, event co-chairs Gabrielle and Yissachar Jerusalem hope to build upon that success. Kara and Jeremy Rosen are also event co-chairs.
"Last year was our first time combining the campaign launch and Super Sunday," Gabrielle Jerusalem told the Cleveland Jewish News Aug. 29. "It was a really wonderful experience to bring our diverse community together for this day of fundraising, volunteering and family activities, and we are really trying to build on the success of last year's event."
For those who attended last year, this year's Super Sunday Kickoff will be much of the same with a day packed of activities for the whole family. There will be minor modifications to maximize the space at the Federation's Jack, Joseph and Morton Mandel building, she said.
The day will start at 10 a.m. as volunteers reach out and secure donations until 4:30 p.m. when the closing celebration and grand total announcement will take place. After a lunch at noon, football fans can gather in the tailgating tent to watch the Cleveland Browns game at 1 p.m. as they face the Cincinnati Bengals.
The family-fun activities will begin at 1:30 p.m., which include Bubble Wanda, balloon artists, a bounce house, live children's performers, arts and crafts, a community village and a swag station.
There are also volunteer opportunities available throughout the day, from fundraising and writing "thank-you" notes to staffing certain areas.
"Our needs continue to grow every year, which is why it's so vitally important that our community continues to give generously to Super Sunday and, of course, the annual campaign, for everything from security to elder care to food insecurity and more," Gabrielle Jerusalem said. "These dollars that we raise as a community are really vital to our local and our global communities – our community, of course, here in Cleveland, as well as in Israel and our other partner international communities."
Yissachar Jerusalem told the CJN there will also be match opportunities throughout the campaign and Super Sunday like the Mandel Multiplier, Brunswick Companies BGS Challenge and the KeyBank Match.
For the Mandel Multiplier, the Jack, Joseph and Morton Mandel Foundation will multiply any renewed gift to the 2024 Campaign by one, any increased gift by two, and any new gift by three. To qualify for the Mandel Multiplier, any gift of up to $5,000 must be pledged by Oct. 25.
In an opportunity for young people's donations to be matched, Brunswick Companies will donate an additional $1,000 for every new Ben-Gurion Society gift of $1,000 or more. The Ben-Gurion Society requires a minimum gift of $1,000 made by an individual or couple, ages 22 to 45 years old.
The KeyBank Match is specific to Super Sunday as the company will match all new or increased pledges received during the kickoff event.
"These are three ways where people's gifts on Super Sunday, their already very generous gifts, will be multiplied by these amazing organizations," Yissachar Jerusalem said.
The CJN is a media sponsor of the event.