06/15/2022
Federation Honors Heller, Chelm at 118th Annual Meeting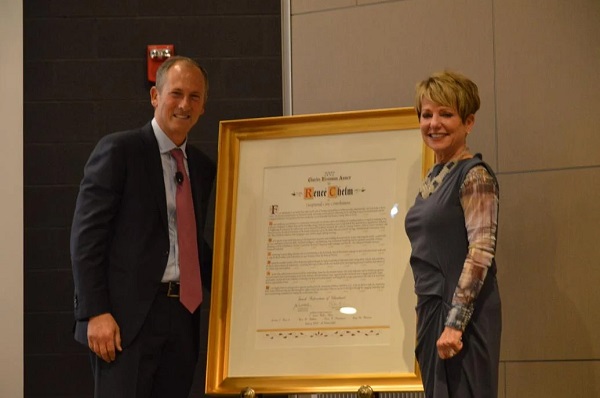 Article reprinted with permission from Cleveland Jewish News
By Courtney Byrnes
Over 200 attendees joined the Jewish Federation of Cleveland's 118th annual meeting June 9 at the Hebrew Academy of Cleveland in Cleveland Heights to honor two leaders in the Jewish community.
The Federation paid tribute to outgoing board chair J. David Heller for his work and awarded Reneè Chelm with the Charles Eisenman Award for her service to the community. During the event, which was co-chairs by Sherri and Marc Blaushild, the new board of trustees were also elected as outgoing members like Heller were recognized.
"My three years will always be defined by COVID," Heller told the attendees. "They'll be defined by COVID and the war in Ukraine. But there were other accomplishments," he said, recounting successes such as the updated gun policy, work with the YWCA on the 21-day challenge and successful annual campaigns.
After a video presentation with messages from friends, family and community members, Heller welcomed Chelm to the stage and presented her with the Eisenman Award. The Eisenman Award is presented each year to individuals and organizations making significant contributions to the community. The award is named in honor of Charles Eisenman, one of the founders and first president of the Jewish Federation of Cleveland.
"I'd like to thank the members of the Eisenman committee for choosing me for this award," Chelm said in accepting the award. "It was completely unexpected and I have to say that I am humbled and honored to be included on the list of past recipients who I have admired for their work and more importantly, for their humanity."
Chelm is a past board chair and campaign chair for the Federation. She has also worked with other organizations like the Maltz Museum of Jewish Heritage, Mandel Jewish Community Center, Mt. Sinai Health Foundation, Park Synagogue, Laura and Alvin Siegal Lifelong Learning Program, Planned Parenthood Cleveland, the Center for Domestic Violence, YWCA Greater Cleveland and Dress for Success.
The featured speaker for the meeting was Rabbi Michael Schudrich, chief rabbi of Poland, who closed out the evening by speaking about the early mobilization of Jews in Poland to find ways to support Ukrainian refugees and what the challenges are now.
"We just created a crisis management team," he said. "For hundreds of years, we Polish Jews were the crisis. Three months ago, we became the management team. For hundreds of years, Jews fled out of Poland. In the last three months, they're fleeing into Poland."
Three groups of refugees are coming into Poland, he said. First is the group making aliyah to Israel, second are those with families and places to go in Europe, and third are those with no place to go. He moved on to address the current challenges as many refugees now in Poland will stay there until the war is over and will need to find jobs, housing, schooling and build a life there.
Schudrich shared that the Jewish community from North America has raised about $100 million in response to the war in Ukraine which will help support the refugees.
He ended his speech with the story of Abraham counting the stars and the interpretation that his descendants would be able to do the impossible.
"When given the challenge, they will be able to do the impossible," Schudrich said. "That is the Jewish message, and that's what Cleveland Federation does for over 100 years especially during COVID, and I want to say thank you also especially during this horrific crisis of the Ukrainian war."
Gary Gross, chair of the nominating committee, presented the trustees in nomination. For three-year terms at-large, they are Rabbi Binyamin A. Blau, Barnett N. Bookatz, Susan R. Borison, Mindy Davidson, Lydia Frankel, Margaret Richards Frankel, Alan D. Gottlieb, Aaron Gross, Rochelle Gross, Mark Holz, Stewart A. Kohl, Keith Libman, Jared S. Miller, David B. Orlean, Marla K. Petti, Sharon Rosenbaum, Barbara Rosskamm, Mitchell C. Schneider, Darrell A. Young and Don Zigdon. Cheryl L. Davis was nominated for a two-year term. Paula R. Schwartz was nominated for a one-year term.
As a past board chair of the Federation, Heller was named as a trustee-for-life.