10/19/2017
Federation Hopes to Dial Your Number on Super Sunday
Article reprinted with permission from Cleveland Jewish News.
By Amanda Koehn
Although some people may try to avoid making telephone calls, or feel nervous when they have to do so – especially when the calls are for fundraising purposes – Ezzie Goldish of University Heights said his 11-year-old daughter, Elianna, enjoys the task.
She's gained good experience by making volunteer donation calls for the Jewish Federation of Cleveland's Super Sunday giveathon in past years, which is part of the reason her father became a co-chair for this year's event on Oct. 29.
"I've gone with my kids the past few years and they love it, and I think it's an impactful day for them to see the community banding together like that," Goldish said.
Super Sunday is the largest single-day giveathon for the Federation's 2018 Campaign for Jewish Needs – an annual fundraising campaign from September to December that raises money for local, national and international Jewish needs. Last year, the Federation raised $31.7 million in total for the campaign. For the last five years, it's raised more than $1 million on Super Sunday.
Super Sunday includes family activities and performances, in addition to volunteers making fundraising calls from 9 a.m. to 7 p.m. at the Federation's Jack, Joseph and Morton Mandel building in Beachwood.
Goldish said for this year's Super Sunday, the Federation added more community service activities for people to take part in, such as a volunteer project with Bellefaire JCB's Jewish Big Brother Big Sister Association. Children's activities and performances by the Horvitz YouthAbility program of Jewish Family Service Association and Hebrew Academy of Cleveland's boys choir also will take place, and baby-sitting will be available from 9 a.m. to 6 p.m.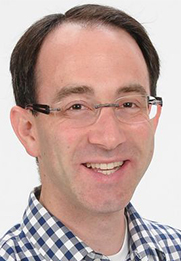 Jason Wuliger, a Kirtland resident and Super Sunday co-chair, said he expects between 800 and 1,000 volunteers, and the Federation's goal is to raise more than $1 million that day.
Wuliger said he has particular interest in funding and improving security efforts in the local Jewish community, and being part of Super Sunday is an extension of his larger involvement and interest in the annual campaign.
"It's a really fun atmosphere," said Wuliger, a member of B'nai Jeshurun Congregation in Pepper Pike. "Everybody gets nervous to make phone calls, but once you are trained – and there is training to help everybody – and you make a couple of calls, it starts to come very natural. And by the end of the day, when you look at the total we are able to raise to benefit folks in 70 countries around the world, in Cleveland, and in Israel, you know that you are a part of raising those funds, it feels really good."
Volunteers can choose from five calling sessions throughout the day, and kosher meals and snacks will be available.
Super Sunday is also an opportunity for donors to take advantage of matching programs that increase donations' value. KeyBank, a sponsor of the event, has designated a portion of its sponsorship to matching new gifts up to $10,000. The Federation also has an ongoing "Double Your Impact" match initiative, in which an anonymous donor will match any new or increased donations up to $10,000.
Goldish, who belongs to Young Israel of Greater Cleveland in Beachwood and Cleveland Heights, said even if families cannot attend Super Sunday, just answering a call from an unrecognized number could be helpful – it might even be his daughter calling.
"If you see a funny number that Sunday, take part," he said.
---
Related Items