07/05/2022
Federation Leaders Join 'Powerful' Ethiopian Aliyah Mission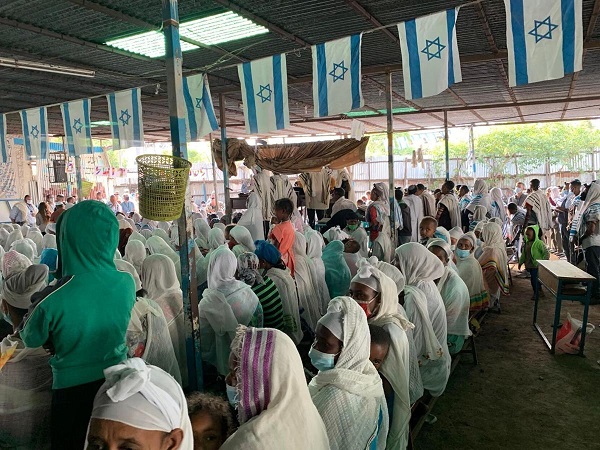 By Courtney Byrnes
Article reprinted with permission from Cleveland Jewish News 
As many were enjoying time off with their families over Memorial Day weekend, dozens of leaders from Jewish federations across North America, including Jewish Federation of Cleveland President Erika Rudin-Luria and vice chair Jeffrey Wild, embarked on a mission to Ethiopia to join a group of 180 Ethiopian Jews making aliyah.
"Federations have worked for decades alongside the Jewish Agency and the Israeli government to help more than 95,000 Ethiopian Jews realize their dream of making aliyah," Wild, firm administrative partner and chief strategy partner at Benesch, Friedlander, Coplan & Aronoff LLP, told the Cleveland Jewish News June 21. "And as you know, at the Federation we are committed to helping Jews anywhere in the world."
This new group of olim are part of a community of 3,000 Ethiopian Jews in waiting to make aliyah this year as part of Operation Tzur Yisrael's second phase. Each has a first-degree relative in Israel and many have been waiting 10 to 20 years to make the trip, said Wild, a member of Green Road Synagogue in Beachwood.
"We flew to Ethiopia on a Sunday, so we arrived in Ethiopia on Monday, May 30," Rudin-Luria told the CJN June 22. "And most of Monday was really focused on the story of Ethiopian Jews. On the first day, we reviewed the stories of Operation Moses and Operation Solomon."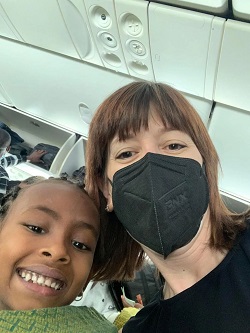 She recounted meeting Sigal Kanotopsky who works for the Jewish Agency for Israel, the Federation's overseas partner aiding with the aliyah efforts in Ethiopia. Kanotopsky recalled her memories of Operation Moses as Ethiopian Jews walked from their villages into the Sudan before being rescued by the Jewish Agency and Israeli government.
That first day they also visited an old Ethiopian Jewish cemetery and a memorial for the 4,000 that died traveling into the Sudan.
"The next morning, which was Tuesday, May 31, was probably the most powerful day of my communal life," Wild said.
On this day, the federation leaders attended a shacharit morning service with 700 to 800 Ethiopian Jews – a service they were told would look unrecognizable to them, but Rudin-Luria said they had the opposite experience as she could tell what prayers people were on based on their movements.
Then, they went on home visits in the Gondar region to see how Ethiopian Jews were living and the humanitarian needs to be met as they wait to make aliyah. The Struggle to Save Ethiopian Jewry is a group that works with the Jewish Agency to provide this humanitarian relief.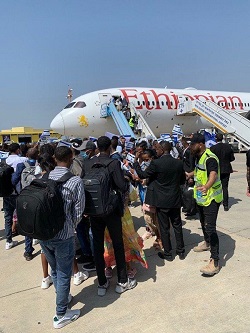 May 31 ended with a visit to the Israeli embassy and meeting the ambassador to Ethiopia, an Ethiopian Jew who was part of Operation Solomon when the Ethiopian government asked for a ransom of $35 million to allow Jews to go to Israel.
On June 1, Wild and Rudin-Luria joined a flight of the 180 new olim from Ethiopia to Israel.
"As each kid was entering the airplane, I looked at them and thought, 'That's the next ambassador,' 'That's the next minister of aliyah,' 'That one's going to be prime minister one day,'" Rudin-Luria said. "You could see in their eyes just the future that they are going to have. It was very, very moving."
Once in Israel, the new olim will enter absorption centers as they transition to Israeli society. They are aided by the Israeli government and the Jewish Agency, as well as through the American Jewish Joint Distribution Committee's Parents and Children Together literacy program, first funded by the Cleveland Federation.
"We are going to be raising money for both the humanitarian efforts in Gondar to make sure that people are getting the food and medicine that they need," Rudin-Luria said, "as well as to support the aliyah efforts of the Ethiopian community."