12/20/2017
Federation Names Jeffrey J. Wild 2019 and 2020 Campaign Chair
The Jewish Federation of Cleveland has named Jeffrey Wild as its Chair for the 2019 and 2020 Campaign for Jewish Needs. In this volunteer role, he will be responsible for providing leadership, vision and strategy for the Federation's annual fundraising effort. Wild, 45, is a partner at Benesch, Friedlander, Coplan & Aronoff, where he serves as the firm's Administrative Partner, Chief Strategy Officer and chairs its Real Estate & Environmental Practice Group.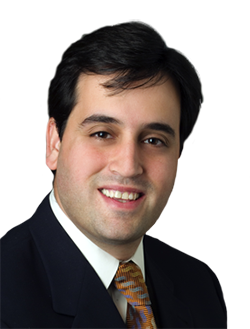 "We are extremely fortunate to have Jeff Wild leading our 2019 and 2020 Campaign for Jewish Needs. He is a proven leader who brings a wealth of civic engagement experience and a deep understanding of our community needs," said Federation Board Chair, Gary L. Gross. "On behalf of the entire Board, I sincerely thank outgoing Campaign Chair David F. Adler for his inspired leadership over the past two years. We look forward to building upon the sizable momentum he helped us create under Jeff's stewardship."
Wild has been actively involved in Cleveland's Jewish community for several years, and currently serves as the Allocations Committee Chair for the Jewish Federation of Cleveland. An advocate for ensuring a strong Jewish future, Wild is a former president of Fuchs Mizrachi School and former vice president of the Jewish Education Center of Cleveland (JECC). He currently serves on the Board of Directors for Cleveland Development Advisors, an affiliate of the Greater Cleveland Partnership, and Cleveland International Fund.
"I am humbled and honored to serve as the chair for the Campaign for Jewish Needs over the next two years," Wild said. "Through my work on the Federation's Allocations Committee, I've seen first-hand the tremendous work our agencies do on a daily basis as well as the many ways the organization serves the diverse needs of our community here and around the world. I look forward to working closely with the Federation's leadership team and the tremendous network of volunteers to ensure the vibrancy and vitality of our community."
The Campaign for Jewish Needs is the Federation's annual fundraising campaign that serves Clevelanders of all backgrounds and the global Jewish community. The Federation is the only organization in Cleveland that considers the needs of the Jewish community as a whole and plans for its future.
For more information about the Jewish Federation of Cleveland and the Campaign for Jewish Needs, please visit www.jewishcleveland.org.
---
Related Items