10/23/2018
Federation President Hoffman Honored at JFNA GA in Israel
Article reprinted with permission from Cleveland Jewish News.
By Gil Hoffman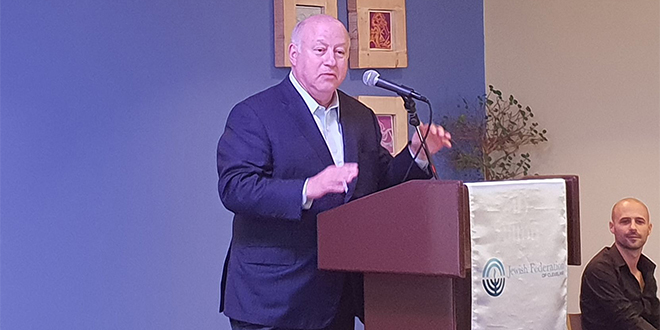 TEL AVIV – Retiring Jewish Federation of Cleveland President Stephen H. Hoffman earned comparisons to a "gentle giant" and even to former Cleveland Cavaliers star LeBron James at an event honoring him Oct. 22 at the Jewish Federations of North American General Assembly.
Israeli politicians, American Jewish leaders and plenty of appreciative Clevelanders packed a dessert reception at the Tel Aviv Hilton honoring Hoffman for his 35 years as president of the Federation.
Hoffman told the crowd he had only intended to remain in Cleveland for three to five years, but he fell in love with its Jewish community and "forgot to leave." He said he was envious of his replacement, Erika Rudin-Luria, because she is about to start the post.
Rudin-Luria will take over as president Jan. 1. Currently, she is the organization's senior vice president and chief strategy officer, overseeing the organization's strategic planning, community development, allocations, governance and marketing functions. She will be the fifth person to hold the president title in the federation's 115-year history.
"Cleveland is special to me," Hoffman said. "We are Zionists who live the concept of Kol Israel arevim ze lazeh, or all Jews are responsible for each other. That really drives me. I can't think of any better way to have spent my life."
The event was emceed by a former Federation board chairman, Chuck Ratner, who told Hoffman's life story and praised his vision, unique abilities and friendship. The Jewish Agency for Israel Chairman Isaac Herzog, who visited Cleveland last month, thanked Hoffman for what he has done for Israel, the Jewish Agency and Jewish leaders in the United States.
"Cleveland is relatively not such a big Jewish community, but it has had such an impact on the Jewish people," Herzog said. "There is something in the air there: a spirit of doing, wisdom, and sensitivity and it comes from you, Stephen. We all owe you a sense of gratitude."
Knesset member Nachman Shai, who formerly headed the JFNA Israel office, said he is very sad to see Hoffman go.
"You were a friend and a teacher," Shai said. "You taught me everything I know about the federation system. I learned how to say no and many other things. You are a very special man and your advice was always very precious. LeBron James left for L.A., and you are going to Florida. Cleveland will miss both of you."
Former Jewish Agency director-general Alan Hoffman, who is not related to Stephen Hoffman, said he appreciated having him as a sounding board.
"There is not an important decision made in the Jewish Agency over the past two decades in which you did not play a central role," Alan Hoffman said.
Former Joint Distribution Committee head Alan Gill, a former Cleveland Heights resident, recalled Hoffman coming to his office and saying he could not sleep at night because of the plight of Ethiopian Jews. Hoffman then founded PACT, the parents and children together program for Ethiopian families, and raised $1 million for it.
Ido Shelem of the federation-backed Bridge to the Future program, said Hoffman brought tourism, economic development and community building to Cleveland, and made people in Israel and the U.S. realize that the partnership goes two ways.
"A few months ago, the Cleveland City Council officially declared Beit She'an a sister city," he said. "I told Stephen the best retirement present is that the partnership be expanded to not only the federation, but also between the cities. Seeing the flag of Israel on city hall downtown was moving."
Genia Lvova, who is one of the leaders in the Jewish community of St. Petersburg, Russia, which the Federation has supported since 1989, said Hoffman shared his knowledge, experience and skills to help the Jewish professionals in her city learn what it means to care for the Jewish community and ensure its future.
"You taught us how to do Jewish, you taught us everything," she said. "I can't imagine what would have happened to our community without the partnership with the Jewish community of Cleveland and the professional support we got from Stephen. Now we are recognized as one of the most advanced Jewish communities, and it's 100 percent because of Stephen and the Jewish community of Cleveland."
David Schafer, managing director of the Maltz Museum of Jewish Heritage in Beachwood, said no matter how busy Hoffman was, he was always ready to provide sage advice, professionally and personally.
A new professor post in Hebrew at Case Western Reserve University in Cleveland will be funded by the Federation in honor of Hoffman, as his requested parting gift.
Hoffman will be honored at 6:30 p.m. Nov. 12 at the Cleveland Museum of Art, 11150 East Blvd. in Cleveland.
---
Related Items