11/15/2018
Federation President Stephen H. Hoffman: 'It's Been an Amazing Ride'
Article reprinted with permission from Cleveland Jewish News.
By Alyssa Schmitt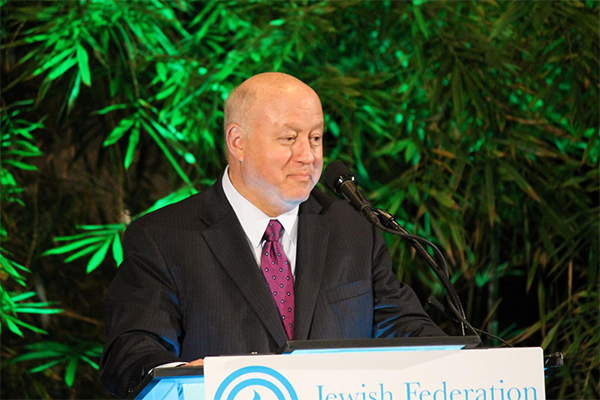 The ambassador, Sallai Meridor has found in many cases, where the Jewish community of Cleveland goes, the Jewish people go. That's due in part for various reasons, one of which is the strong leadership and determination that has thrived in the Cleveland community.
One such influential leader, Meridor said, is Stephen H. Hoffman, whose impact has flowed through Cleveland's Jewish community and beyond as president of the Jewish Federation of Cleveland for the past 35 years.
"I have not met a professional community leader that has more influence and impact beyond the boundaries of his own community than Steve Hoffman," said Meridor, former Israel ambassador to the United States from 2006-2009.
"He has always been there with seriousness, forward-looking thinking, new ideas, newly formed partnerships to new initiatives."
Themes of Hoffman's influence echoed throughout the Jewish Federation of Cleveland's Stephen H. Hoffman tribute dinner Nov. 12 at the Cleveland Museum of Art, where Israeli dignitaries and notable Jewish Cleveland community members praised Hoffman's tenure at the Federation in preparation for his retirement.
During his remarks, Hoffman said it was an honor to represent the community for the last 35 years as president. Looking back on his tenure and the achievements of the community, he said "it's been an amazing ride and a privilege to be with each and every one of you."
He thanked the lay leaders, community and agency partners, Federation employees and community volunteers, among others for their dedication to Jewish Cleveland. He said he was also grateful for the opportunity he had to work at the national and international level, with talented and passionate staff. Although he's leaving the community, he's not worried about where Cleveland is going.
"Cleveland is doing great, we have a bright future," Hoffman said. "Frankly, it's due to many of you in this room who worked to make that."
He said he thinks his predecessors might be amazed about what the Federation does locally and in Israel, Russia and Ethiopia. He highlighted the fight for the freedom of Soviet Jews, the exodus of Ethiopian Jews and Cleveland's continuous support for Israel – especially when it's under attack as it was this week.
"We've changed a lot, and yet we've stayed true to our core values and understanding that Federation has grown," he said. "When I took over in 1983, I just wanted not to screw it up. Big check. Anything else was a plus."
Morton Mandel, chairman and CEO of Parkwood LLC and the Jack, Joseph and Morton Mandel Foundation, said the night was an appropriate gathering to recognize Hoffman. Pictures throughout Hoffman's Cleveland career were displayed on televisions throughout the atrium. Members of The Cleveland Orchestra, where Hoffman is a board member, performed pieces including three from Leonard Bernstein's "West Side Story" midway through the evening.
Mandel, a past chair of the Federation's board of trustees, has known Hoffman since before he became head of the Federation, he said. In fact, he was on the search committee that selected Hoffman as president.
"We chose Steve because we felt he had the right values and the intellectual capacity to lead the Federation," he said. "I've worked regularly with Steve over these many years. Steve understands leadership and has the full leadership skill set. ...The hard evidence to prove that lies in the excellent results Steve has achieved in whichever position he has held in his career."
Albert Ratner, co-chairman emeritus and former CEO of Forest City Realty Trust and a past chair of the Federation's board of trustees, said the Cleveland Jewish community was bolstered with Hoffman at the helm. Ratner quipped he couldn't believe there would be so many people who came out that night and appeared pleased to see Hoffman go.
"The reason our community is so outstanding in my mind is that Steve understands that it's only (with) a united community that we can do the things we need to do," Ratner said. "This might shock Steve because I'm not sure if he believes it, but Steve is really a person of great humility. He knows what he doesn't know, he's willing to listen and he doesn't care who gets credit – or he does care who gets credit and he makes sure that he's not the person that ends up getting the credit."
Ratner also applauded Hoffman's ability to involve more women in the Federation. He noted that when measuring the success of a CEO, or president in this case, one should look at who is succeeding the leadership. Succeeding Hoffman as president is Erika Rudin-Luria, who will be the first woman to hold the role and will be one of only two women to hold positions leading large federations around the country when she assumes the position on Jan, 1, 2019.
Reneé Chelm echoed Ratner's applause of involving women in the Federation adding there's been a growth in women taking on leadership roles in Jewish Cleveland and being involved in various committees. She expanded on Hoffman's ability to include others in the "big tent" and deepen relationships across the spectrum of Jewish identity through his outreach to interfaith families, involving the younger generations in the community and strengthening connections with the Orthodox community. Physical examples of Hoffman creating bridges through the community, Chelm said, are the Cleveland Chesed Center and jHUB, which helps interfaith families.
"We like to say in Cleveland, we all sit together, what we mean by that is that we know each other, we care about each other and we work together," Chelm said. "Steve has cultivated this and modeled it as the value."
She added Hoffman is the reason why she's been so involved in the community. She is vice chair of the Federation's board of trustees.
"Many times it was your persuasion and your not-so-subtle push that kept me on the leadership path, and my life has been immeasurably enhanced because of it," she said.
Gary L. Gross, board chair of the Federation's board of trustees, noted Hoffman's ability to form partnerships, which have led to the funding of five local day schools, supplemental schools, day and night camps and travel to Israel which have each contributed to establishing Jewish continuity central to the community.
"All of these efforts don't just happen because someone has a great idea," he said. "Great ideas without funding mean nothing. Cleveland is the envy of so many cities across the country for our programs in funding and accomplishments in Jewish education."
Gross also praised Hoffman's fundraising ability. He said people give to Hoffman because he is trusting and they know their contributions will be used to make a difference in the community.
Hoffman's innovative ideas have reached Case Western Reserve University's campus, CWRU President Barbara Snyder said. While he served on CWRU's visitor committee, he linked The Temple-Tifereth Israel and Tamar and Milton Maltz to the university to create the Milton and Tamar Maltz Performing Arts Center, which benefits the university's music, theater and dance programs.
"I have always been able to count on him to provide thoughtful comments and strategic suggestions on the opportunities (and) challenges we face at the university," Snyder said. "When I think about Steve's many lasting legacies, especially here in Cleveland, at the core is his unwavering commitment to the Jewish community with outstanding, visionary leadership and his uncanny ability to connect people and ideas with truly stellar results."
Funds raised from the event will go toward The Stephen H. Hoffman Endowed Professorship of Hebrew Language at Case Western Reserve University and The Stephen H. Hoffman Hebrew Fund at the Jewish Federation of Cleveland.
---
Related Items