02/23/2018
Federation President Hoffman to Retire at End of Year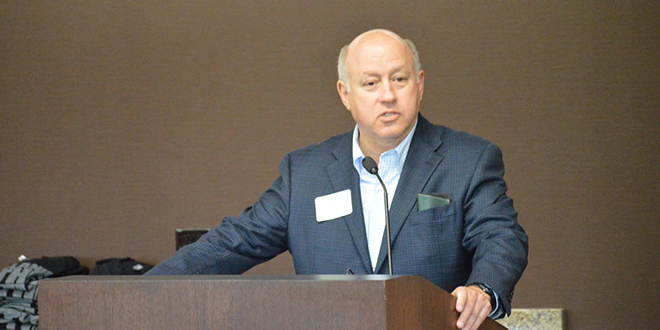 Published with permission from the Cleveland Jewish News
by Amanda Koehn
Around the world, Cleveland is considered an influential Jewish community. This is the case for many reasons, one of which is its proud history of producing revered Jewish leaders who play instrumental and influential roles in the community at the local, national and international level.
One of those leaders is Stephen H. Hoffman, who's spent 44 years at the Jewish Federation of Cleveland – the last 35 of which have been as its president.
His tenure, however, is coming to an end. On Feb. 15, Hoffman announced he would retire on Dec. 31, saying in a statement he was honored to have served the Jewish community for more than four decades.
"My decision to retire at the end of the year comes after careful consideration," he said. "I'm proud to have played a part in strengthening the meaningful impact the Jewish Federation of Cleveland has had both here and abroad over the years.
"I have treasured the professional-volunteer relationship over these many decades, which I believe is the 'secret sauce' to Cleveland's success as a Jewish community. I look forward to working closely with (board chair) Gary (Gross) and the team as we usher in this new era of leadership."
Hoffman said he preferred to delay an interview until closer to his actual retirement, citing his desire and need to focus on serving the community.
Federation board chair Gary L. Gross called Hoffman "one of the true thought leaders of his generation."
"People from around the world look up and ask Steve Hoffman for advice," Gross said. "I saw this firsthand when I attended the General Assembly of the Jewish Federations of North America the last couple years, how people would surround Steve and want his advice."
Gross also reflected on what qualities make Hoffman successful in the role.
"He's a very thoughtful person and thinks first, second and third and forever about what Jews around the world need," Gross said. "And he's always guided by what's in the best interest of our community."
Immediate past board chair Reneé Chelm said Hoffman is "one of the most strategic thinkers I've ran across," and cited his skill at inspiring others to become leaders in their community.
"He has probably been the most influential person in creating the Jewish community that we have in Cleveland today – his visionary skills, his ability to attract top talent and also his ability to shift with the times and always see what's needed at the right time," she said.
A search committee of the board of trustees, along with executive search professionals, will oversee the process by which a successor is named, according to the release. Gross said a human-resources professional from outside of Cleveland will work as an adviser on the search. The Federation aims to name a successor prior to Hoffman's retirement, Gross said.
Michael Siegal, former chair of the JFNA and chairman of the board of governors of The Jewish Agency for Israel, called Hoffman's retirement a "happy-sad" occasion.
"Steve had 30-plus years to help, develop and frame what I consider to be the best Jewish community in America," Siegal said. "It's his leadership of the community, the professional leadership that inspired many of us to become leaders of various Jewish organizations."
Hoffman grew up in Philadelphia and moved to the Cleveland area after graduating from Dickinson College in Carlisle, Pa., to work at the Federation. He took a leave of absence in 2001 to become president and CEO of United Jewish Communities in New York City, which is today known as JFNA.
Among accomplishments under Hoffman's leadership, the Federation has surpassed one fundraising record after another for its annual Campaign for Jewish Needs, last year raising a record $32.7 million in its 2018 campaign.
Hoffman is a Shaker Heights resident and a member of B'nai Jeshurun Congregation in Pepper Pike.
"Steve has been a really good friend and a strong supporter of our congregation, and he's been a guide and mentor to me," said Rabbi Stephen Weiss of B'nai Jeshurun Congregagtion. "I wish him great success and satisfaction as he moves forward into retirement, and it's hard for me to imagine who could fill those shoes because he really sustains and shapes this community and made Jewish Cleveland what it is today."
---
Learn More: