10/30/2017
Federation Raises $1,119,103 on Super Sunday
Article reprinted with permission from Cleveland Jewish News.
By Amanda Koehn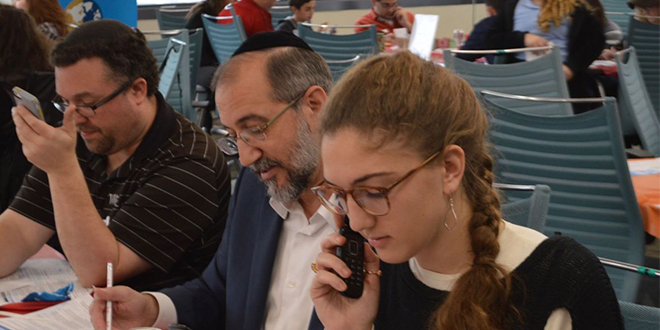 The Jewish Federation of Cleveland raised $1,119,103 during its Super Sunday fundraiser Oct. 29, where almost 1,000 people turned out to make donation phone calls at the Federation's Jack, Joseph and Morton Mandel building in Beachwood.
Super Sunday is the largest single-day giveathon for the Federation's 2018 Campaign for Jewish Needs – an annual fundraising initiative from September to December that raises money for local, national and international Jewish needs.
During the 10-hour day, volunteers came in shifts, and among other activities – like participating in community service projects, watching performances and eating kosher snacks – they used flip cell phones to make calls to Jewish community members, whose numbers were listed on cards.
In total, 1,493 people donated to the campaign on Super Sunday this year and it also had two matching donation programs which grew the pledges, thanks to an anonymous matcher and KeyBank, a sponsor of the event.
Last year, the Federation raised $31.7 million in total for the campaign. This was the sixth consecutive year it raised more than $1 million on Super Sunday, and last year, $1,097,191 was raised.
Funds raised rose to more than $1.2 million in 2008 and 2009, and dropped off in the immediate following years, according to the Cleveland Jewish News archive. In 2011, it raised $600,000 and donations have steadily increased since then.
Volunteers congregated in a conference room, where tables were set aside for different Jewish community organizations and day schools. One volunteer at the "high school table," Ryan Muencz, 16, said he's participated in Super Sunday for the past four years, and by around 3 p.m. this year, his largest donation received was $72. Ryan, a Beachwood High School student, said for him, it was important to help out because of how the campaign and Federation benefit local Jews. He also gave simple advice for those new to making calls.
"Just be yourself, don't be shy and be confident – and ask for money," Ryan said.
Another volunteer, Eti Ganin, was stationed at a table for Russian speakers, who made calls to those whose first language was Russian. Ganin said her table of about five Russian speakers was important because many older Russian Jewish immigrants don't speak English well. Moreover, Federation funding benefits St. Petersburg, Russia, among other foreign cities and their Jewish institutions.
"We want to raise awareness of the good deeds that the Federation is doing," said Ganin, a Highland Heights resident. "That's unfortunately necessary, (because) ... we have all the (campaign) information primarily in English, but it doesn't translate to those who don't speak English."
The big giving day also included family activities and performances by the Horvitz YouthAbility program of Jewish Family Service Association and Hebrew Academy of Cleveland's boys choir.
For younger children and those taking a break from making calls, community service crafts were available, which included creating festive door hangings for JFSA's residential group homes and making welcome bags for Bellefaire JCB's Jewish Big Brother Big Sister Association.
Allison Wuliger, one of Super Sunday's co-chairs and a Kirtland resident, was checking volunteers in. She said what's nice about the day is there are many roles volunteers can try out, between making calls, community service projects, greeting people and collecting pledge cards. She said she felt it was important to be involved with Super Sunday because of the many organizations the Federation supports. Particularly important to her is the Mandel Jewish Community Center in Beachwood because all three of her children are involved with programs there.
"I would guess that there are so many people in Cleveland where Federation touches their life and they may not even know it," she said, adding that funds raised also go to Israel and overseas programs.
Wuliger said although some phone calls made could seem like a dead end if there is no response, or individuals called don't donate, but that's not necessarily the case.
"I think you just need to stay positive and realize that not every card is going to be a winner and just reaching out to people, even if they don't want to make a pledge, they are going to feel that connection to the Jewish community hopefully," she said.
---
Related Items