07/20/2017
Seeking to Improve Dementia Care
Federation Seeks to Improve Dementia Care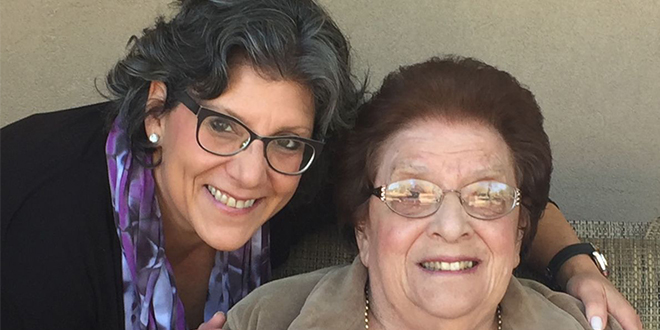 Republished with permission from Cleveland Jewish News.
by Amanda Koehn
When Hedy Adler's mother, Helen Kangesser, was diagnosed with Alzheimer's disease in the 1990s, Adler remembers the shock and difficulty of navigating the world of home aides, memory care and smaller struggles like finding a dentist for her mother and someone to do her hair.
"Things that you would take for granted," said Adler, a Pepper Pike resident whose mother died in 2008.
However, Adler said she felt fortunate her family planned ahead and could afford to help her mother continue to live at home as her memory declined. Adler refers to struggles caring for her mother as relatively "high-end problems."
That's not the case for many in Cleveland's Jewish community dealing with Alzheimer's and dementia in their families. According to the Jewish Federation of Cleveland's report, "Nakum: Alzheimer's/Dementia Task Force Report," a reality of caregiving for some includes leaving their own jobs to have more time to care for an affected family member. For some, it means choosing between buying food for themselves or their ill relative.
The task force conducted interviews with more than 90 family members, clergy, physicians and others connected to dementia. The report lists dozens of recommendations – organized across areas where dementia care improvement is necessary – that the Federation now plans to help the community tackle. The Cleveland Jewish News spoke with task force leaders, who gave their takeaways for how dementia affects the local Jewish community and what can be done to improve care as more and more people are affected.
Navigational trouble
Kyla Epstein Schneider, chair of the task force, said among the most surprising aspects of the report's findings was that everyone interviewed, regardless of financial resources, had trouble navigating care for family members with Alzheimer's and dementia. Often, a relative might be forgetful, but the underlying illness isn't brought to the forefront until another medical crisis requiring a hospitalization occurs. Infections are common in hospitals, which contributes to rapid decline for those with dementia – forcing family members to face the gravity of the situation and coordinate care in a moment of crisis.
Schneider said family members typically don't know how to access the resources needed, such as memory and home health care. Based on interviews with local agency leaders, creating an office of local experts whose job is to help with navigation for families would "change the game" and make the process more efficient for everybody, she said.
Shelley Fishbach, assistant managing director of community planning and allocations for the Jewish Federation of Cleveland and the lead staff member on the task force, said although Cleveland has a wealth of resources, they are disjointed and overwhelming to navigate. Thus, navigational support should be addressed as soon as possible.
"That stands out above everything else as a top priority," she said.
Cutting through stigmas
Adler, who is also a member of the task source, said she understands the stigma and fear surrounding an Alzheimer's or dementia diagnosis.
"People are afraid of it because there is no way to treat it, so the last thing you want to do is receive that diagnosis," Adler said.
However, stigmatizing such conditions makes community awareness difficult, and it can delay diagnosis and seeking help. Schneider said some clergy interviewed said people refrained from talking about it to the extent that they didn't know a person had dementia until he or she died.
"We have to destigmatize the disease so people who aren't in crisis yet knock on the door and (ask for help)," said Schneider, adding that a high priority among the task force's recommendations is to produce a public awareness campaign.
Schneider, whose mother has had Alzheimer's for almost 18 years, said she was approached by the Federation to lead the task force due in part to her personal connection. She said in working on the report, she's found despite the Jewish community's focus on meeting the needs of one another, as a culture that values intellectual understanding, it's difficult to comprehend an illness that makes people lose such abilities.
"We think about our love of language, our love of words, our memory – Judaism is steeped in historic collective memory," Schneider said. "So in the face of losing memory, how hard is that on our communal psyche? I think it's tough."
Caregiver help
Among top recommendations, the report points to improving caregiver support. Schneider said in her interviews with families, she spoke with people who made sacrifices like quitting their jobs and largely taking care of themselves, in order to care for a parent with dementia.
"We need to rethink how we deliver support for these families that are primary caregivers," she said.
Next steps
The report recommends expanding respite care funding and programs, or temporary, institutional care for an ill person to provide relief for primary caregivers. Encouraging caregivers to use respite care "without shame," expanding education on the illnesses and creating a support system are also among top needs for caregivers the Federation intends to address.
Although the task force was driven largely by lay leadership, Federation staff will be responsible for the bulk of implementation plans, which according to the report, includes further research, consulting with local agencies and fundraising. They are also looking to develop community member work groups this winter.
Also, there is a sense of urgency. Due to the baby boomer generation aging, the report relays that by 2035, the number of local people with dementia will increase by 27 percent. Money spent on care will increase by two and a half times the current level of spending.
"We are planning for the community to see something come out of this concretely in the next year," said Fishbach, noting that addressing navigational support, community awareness and caregiver support are among the first priorities. "We are in the very preliminary stages of researching the best practices around from around the country and even the world."
A short version of the report can be viewed at www.issuu.com/jcfcleve/docs/nakum_proposal.
---
Related Items