09/11/2023
Federation's Super Sunday Kickoff Raises $2,001,805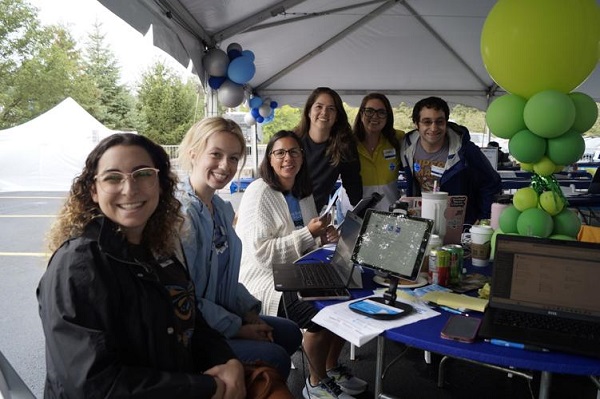 COURTNEY BYRNES | CJN
Article reprinted with permission from Cleveland Jewish News
More than 1,000 people came out for a day of family fun and an important cause and raised $2,001,805 for the Jewish Federation of Cleveland's annual Campaign for Jewish Needs Sept. 10, during its Super Sunday Kickoff.
Last year, the Federation's campaign launch event first combined with its Super Sunday fundraiser to raise $3,710,064 from 1,019 gifts. This year, the total amount was raised from 1,048 gifts – despite a rainy start to the day.
"As always, this community shows up and shows out," event co-chair Gabrielle Jerusalem told the Cleveland Jewish News at the kickoff at the Federation's Jack, Joseph and Morton Mandel Building in Beachwood. "The rain did not remotely slow folks down and we've got an awesome attendance. It's been really wonderful energy."
Jerusalem was co-chair with her husband, Yissachar, and Jeremy and Kara Rosen. Throughout the day, volunteers reached out to potential donors for support. There were also several matching opportunities available through the Mandel Multiplier, Brunswick Companies BGS Challenge and the KeyBank Match, the latter of which was specific to Super Sunday.
In the afternoon, a tailgating tent allowed volunteers to gather to watch the Cleveland Browns home opener as they defeated the Cincinnati Bengals, 24-3. Just outside the tent, children tested their own football skills with a Quarterback Blitz inflatable.
The family fun activities continued throughout the parking lot and front lawn, with Nora the Explorer and her traveling animal show, Bubble Wanda, a performance by Jesse Jukebox, balloon artists and glitter tattoo artists.
Jerusalem said her favorite part of the event was the diversity of attendees, from a 78-year-old campaigner to her own 2-year-old child. Jeremy Rosen agreed, adding the value of having the whole family involved.
"I love that it's a family-friendly event," Rosen told the CJN at the Super Sunday Kickoff. "And that yes, kids can come and do balloon animals, but they're also seeing their parents come and reach out for dollars and understand from a young age how important this is. It's great that all families are coming out (in) full support."
He expressed that the event rose above expectations, as people turned out even with rainy weather and other events around town. And, the kickoff set the tone for the rest of the upcoming Campaign for Jewish Needs, Rosen said.
As the campaign raises funds for the local and global Jewish community, Jerusalem spoke of the importance of the turnout for its kickoff.
"I think the community has a way of always superseding expectations, which is something so wonderful and reliable about the Jewish Cleveland community," Jerusalem said. "We always look out for our own – not just our own, as well as the broader Cleveland community, as well as the international community. And that's just one of the best things about us, that we're dependable and we always make sure that the community is taken care of."