06/22/2020
Federation Talk Gives Financial Advice for COVID-19 Hardships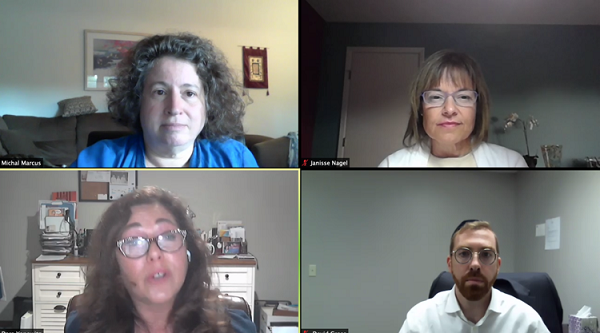 Article reprinted with permission from Cleveland Jewish News
by MCKENNA CORSON | STAFF REPORTER
Jewish Family Service Association of Cleveland, Gesher Cleveland and the Hebrew Free Loan Association of Northeast Ohio tackled personal finances topics like budgets, unemployment and loans in a webinar June 18 to help guide attendees through difficult financial situations created by COVID-19 shutdowns.
The webinar, hosted by the Jewish Federation of Cleveland, featured Janisse Nagel, JFSA's Forward Focus program director and certified credit and student loan counselor; Rabbi Dovid Gross, director of operations at Gesher Cleveland; and Michal Marcus, executive director of HFLA.
The virtual event was moderated by Dara Yanowitz, the Federation's board of trustees treasurer and Women IN Philanthropy vice chair, and JFSA's secretary and chair of Strengthening Families.
Nagel introduced the first step vital to managing personal finances – knowing your budget, which consists of income, expenses and debts.
"In the COVID-19 environment, plan for income changes, such as the incoming drop in unemployment benefits in late July or a return to work, and of course, potential changes in your health insurance coverage," she said.
For deferred payments, Nagel offered solutions.
For utility payments regulated by the Public Utilities Commission of Ohio, Nagel suggested those with missed utility payments contact their providers to set up a payment plan "to prevent bigger problems" when the commission is allowed to disconnect customers again.
For rent, Nagel advised those who can't pay in full contact their landlords with realistic, short-term payment plans.
"This doesn't guarantee success, but it increases the likelihood as you're identifying for the landlord when you're going to come up with the remaining money in a short period of time," she said.
For mortgage payments, Nagel introduced three repayment options for missed payments, available to some mortgage-holders.
One option is for missed payments to be repaid in one lump sum or over a period of three to 12 months on top of the base mortgage payment. The second option is the missed payments are tacked on the end the mortgage. The third option called mortgage modification is where the mortgage company reevaluates hardship, looking at extensive documentation and can decide to permanently decrease the monthly payment. This option, unlike the first and second, could affect credit score.
"Whatever you do with your mortgage, know that the responsibility for accuracy relies with you," Nagel said. "Document the conversations that are happening and keep the paper trail. Be very careful of scams."
Gross told the virtual attendees that as Ohio continues reopening, jobs are also returning. He advised those looking for work to visit Gesher's online job board.
Gross added that anyone receiving unemployment benefits can get the additional $600 per week for the weeks of April 4 to July 25; all that's required is for the individual to receive at least $1 in unemployment benefits to qualify for the extra $600 that week.
Considering the trend of increased jobs and the approach of the end of the weekly $600 in unemployment benefits July 25, Gross made a prediction:
"As the economy gets back together, hopefully unemployment will get lower and more people will get jobs," Gross said. "As the expanded $600 weekly gets cut from unemployment, those who are unemployed may have more needs because right now with the extra $600, you're getting a big push."
Marcus said anyone in need of financial assistance should reach out to HFLA to apply for its pandemic-created loan. It is an expedited emergency loan of about $1,500, and those struggling to paying day-to-day bills can receive it within two to three days after completing the application and its approval.
"When everything started in March with COVID-19, we realized there were going to be some emergency financial hardships on people," Marcus said. "We created an emergency COVID-19 loan ... to help with short falls for rent, mortgage, food, care (and) medical expenses."
Marcus explained HFLA looks at credit scores when deciding loan eligibility, but only to check for the ability to repay the interest-free loan. She said HFLA does its best to make sure those who come for help leave with the greatest resources possible.
"We work very closely with both Gesher and Forward Focus, and if we feel like someone helping you look at your budget is going to be useful ... we are going to partner with them and ask you to speak with them first," she said.
Gross' final piece of advice was to adapt to circumstances and be careful with finances.
"We're in a time when things are changing," Gross said. "Change is hard, but it brings on a lot of success. Keep your eyes open, adapt to the future, and in terms of your finances, don't rush into anything."
Nagel reminded those watching that they're not alone with their financial problems.
"Tonight's most important takeaway is that we as the Jewish community are here to support you," Nagel said. "You can always call Dovid Gross, Michal Marcus or myself for resources specifically tailored to your situation. We regularly collaborate, so no matter where you start, you'll end up in the right place."
---
Related Items