12/08/2017
Federation to Announce Campaign Totals Dec. 13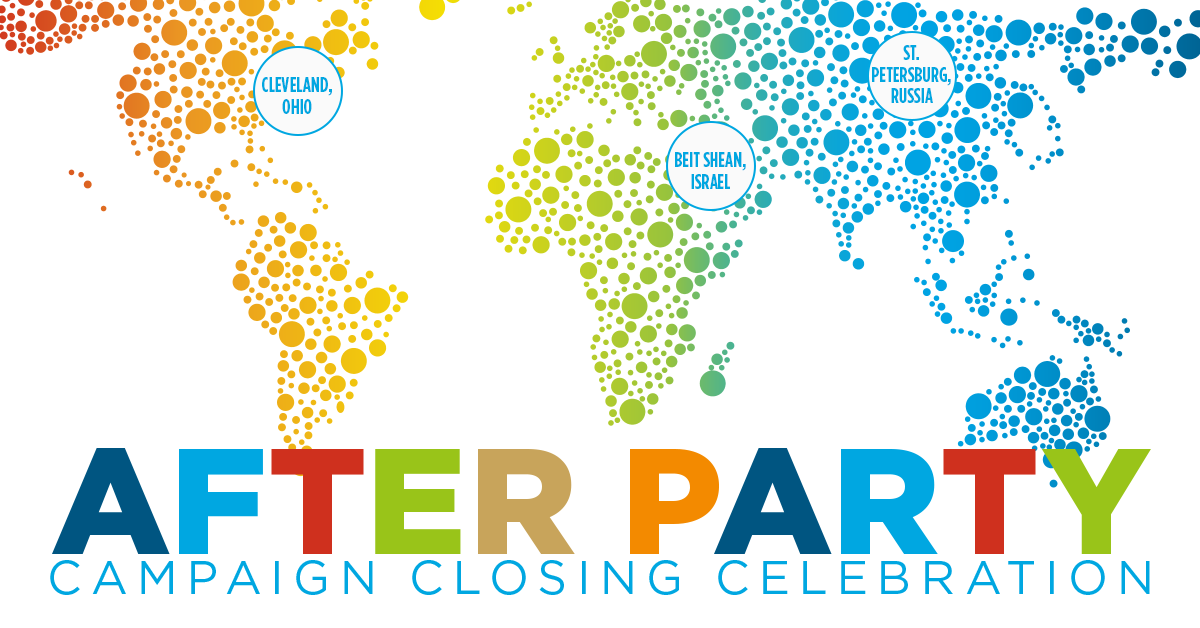 Article reprinted with permission from Cleveland Jewish News.
by Amanda Koehn
The Jewish Federation of Cleveland will announce millions in funds raised in its 2018 Campaign for Jewish Needs during its After Party Campaign Closing Celebration Dec. 13.
Last year, the Federation raised $31.7 million, which was allocated to local, national and international causes. It has steadily increased funds raised annually since 2009 and this year its goal was to raise more money than last year, and to raise if from a larger number of donors.
The celebration event, which is at the Mandel Jewish Community Center Stonehill Auditorium in Beachwood, is special this year because it is during Chanukah, said David F. Adler, general campaign chair. Thus, in addition to featuring food and drink stations representing Cleveland and the Federation's "sister cities," Beit Shean, Israel and St. Petersburg, Russia, it will also include Chanukah staples like latkes and a holiday theme. About 300 people are expected to attend.
Adler said this year's campaign has been successful in the sense that many donors increased their gifts from last year, as aided by a matching donations program. Moreover, there was high excitement and turnout at campaign events, such as at the campaign launch where speakers emphasized where Federation funding goes internationally.
Adler said donors appreciate events like that where they hear specifically where Federation dollars go.
"(Funds) are going to help Jews in need wherever they are and they are going to help them practice Judaism wherever they are, and I think that's something that really does resonate with the Cleveland community," Adler said.
Adler, who is finishing up his two-year term as chair, said in general, one challenge of the campaigns in recent years has been reaching potential donors on their telephones, as there has been somewhat of a cultural trend toward not answering phone calls, especially if they come from an unknown number.
"There are plenty of people we aren't able to speak to who we think would be donors, but we just can't always get to them," he said, adding that another challenge has been seeing significant needs in the community, that despite increased funding, are unable to be met.
Also during the event, Barry Guttman, a University Heights resident, will receive the Amb. Milton A. and Roslyn Z. Wolf Young Campaigner of the Year Award, which recognizes leadership, hard work and dedication by a young leader on behalf of the campaign. Guttman, who is also the Federation's Young Leadership Division chair, said the award was a pleasant surprise and he couldn't be as involved as he is without his wife, Samantha, and his family and friends.
"It's really been a tremendous honor, just working with talented lay leaders and staff to really provide the backbone of the young Jewish community here in Cleveland," said Guttman, who also commended how the Federation and campaign bring diverse Jews together. "You have Jews of all walks of Jewish life sitting down at the table saying, 'what do we want our community to look like?'"
Adler also said he recognized such leadership attributes in Guttman.
"I have found him to be energetic and creative, and to really personify what makes a Jewish young leader in our community," Adler said.
Adler also said his time as chair has been rewarding in the sense that he's inspired by donors who give to and care about the community.
"I want to express my tremendous thanks to the community for giving me the opportunity to serve in this role, because it's been wonderful," he said. "It's really been for me very inspirational to be a part of our community in this manner."
---
Related Items