02/22/2017
Federation to Host Israeli Artist Azene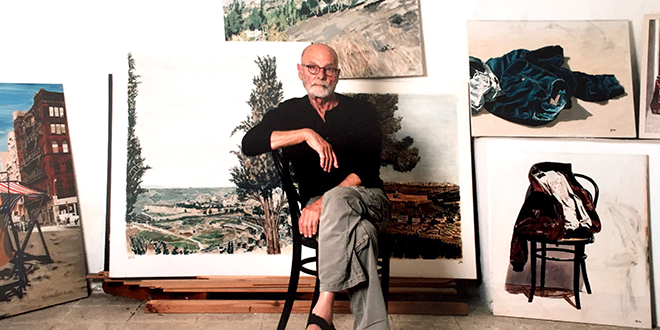 Arie Azene, an Israeli painter whose career began as a youth in the 1940s, will embark on his first trip to the Cleveland-area on Feb. 26 to show and discuss two recent collections of work in a show at the Jewish Federation of Cleveland that serves to memorialize his late partner, Israeli journalist Tatiana Hoffman.
The Federation will host Azene from 1 to 4 p.m. on Feb. 26 at its Jack, Joseph and Morton Mandel Building. Azene, who is based in Jerusalem, will give talks at 1:30 and 3 p.m. at the free exhibit.
"For me, the important part of what I do is not only to show, but also especially to explain and to give people a kind of intellectual challenge when they see my explanation," Azene said.
Azene was born in Germany in 1934 and was raised in Neve Tzedek, a Tel Aviv neighborhood where he began painting when he was 12. Throughout his career, he worked in a range of painting styles which include abstract and figurative. Early in his career, he was the youngest member of New Horizons, a group started in 1948 to connect Israeli art to the worldwide art scene, which he plans to discuss during the talk.
Azene said during his visit, he is looking forward to the local museums, galleries and the Rock and Roll Hall of Fame in downtown Cleveland. However, this also will be Azene's first trip without his partner, Hoffman, who died of cardiac arrest in November.
"In the last 20 years I've never travelled alone," he said, adding that the show is to honor her.
Azene will discuss and present "Skyline and Coastline" (2000-11), which consists of oil-on-canvas paintings of far-ranging skyline scenes of Israel that show development and buildings, juxtaposed in the same collection with close-up coastline scenes. The other collection to be shown, "Quartets Chamber Paintings," is Azene's most recent (2013) and is more abstract, showing his adaptation of chamber music into visual art.
"I came to envy, or to be jealous of this kind of music that is totally abstract and so simple, of four instrumentalists, not soloists, who work together against and with the others," he said, adding that the music reaches such a deepness and level of emotional influence that can "bring you to tears."
"This really made me want to try to translate this language, which is totally abstract, into painting. And I tried to compare, not the music-not the sound- but the method, the style."
---
"Perspectives in Opposition: Horizons and Quartets"
WHO: Art exhibit featuring Israeli painter Arie Azene
WHERE: Roe Green Gallery, Jewish Federation of Cleveland's Jack, Joseph and Morton Mandel Building, 25701 Science Park Drive, Beachwood
WHEN: Open house from 1 to 4 p.m. Feb. 26; artist talks at 1:30 and 3 p.m.
INFO: Free, no registration required; for more information contact Sylvia Owen at sowen@jcfcleve.org.