06/07/2018
Federation Women's Philanthropy Luncheon Draws 450
Article reprinted with permission from the Cleveland Jewish News.
By Amanda Koehn
The cause that drove Judi Kovach, co-founder and chair of the Cleveland Kids' Book Bank, to embrace the value of tikkun olam is children's access to books, however she said others should work to find a cause that inspires them toward that same Jewish value.
"I promise you, you will get so much more out of it than you will ever give," she said of volunteering for causes one is passionate about.
She made the remarks to more than 450 women while receiving the Irene Zehman Volunteer Award at the Jewish Federation of Cleveland Women's Philanthropy Spring Luncheon May 30 at Landerhaven in Mayfield Heights.
Also at the annual event, Carin Rockind, a happiness expert and coach, and founder of The PurposeGirl podcast, gave a keynote address on her own journey to achieving happiness.
Carin Rockind, a happiness expert and the creator of The PurposeGirl Podcast, speaks at the Jewish Federation of Cleveland's Women's Philanthropy Spring Luncheon May 30.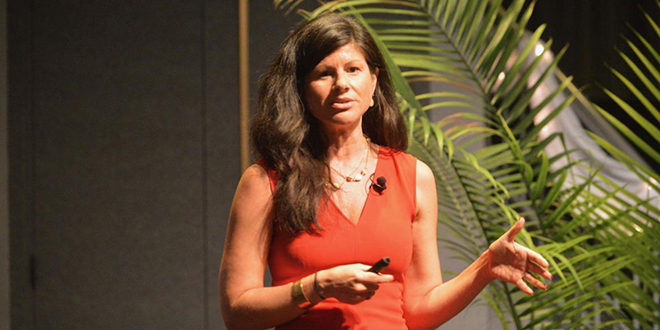 Cleveland Kids' Book Bank has distributed more than a million kids' books to local families in need. It partners with more than 700 organizations and has 4,000 volunteers, according to its website. Prior to distributing books, the organization installed and supports 60 free, mailbox-shaped "little libraries" in Cleveland neighborhoods.
Rockind, a former Cleveland-area resident who now lives near Philadelphia, told her personal story and the lengths she went to for achieving happiness and purpose. With a master's degree in applied positive psychology, a relatively new field on the scientific study of positive human functioning, she now gives talks around the world.
Rockind spoke about suffering from depression and how it led her to identify her purpose in life. She also addressed the rate of depression in women and how it may relate to being taught to be motivated by extrinsic factors – or what others want you to do – versus intrinsic factors, or those that are personally important to one's self.
She said it's important one defines their life narrative in a way that reflects their values and individuality, rather than just the bad things or even good things that have happened to them. She used her own life story as an example.
"I could look back and say … 'I'm a divorcee, who's been robbed at gunpoint and can't have kids,' that sucks for me,'" she said. "Or, I could say, 'What's the next chapter?'"
---
Related Items