06/04/2021
Federations Visit Israel in Solidarity Mission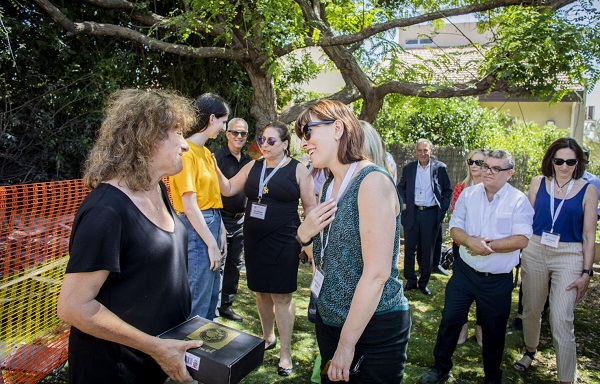 McKENNA CORSON | STAFF REPORTER
Article reprinted with permission from Cleveland Jewish News
Jewish Federation of Cleveland President Erika B. Rudin-Luria and board vice chair Neil R. Waxman showed their continued support for Israelis and a desire to combat antisemitism during a nationwide federation solidarity mission to Israel, led by the Jewish Federations of North America from May 24 to May 28.
On the first mission to Israel since the commencement of the COVID-19 pandemic, 22 federation leaders from key cities and areas like Boston, Chicago, Los Angeles, Miami, New York and Northern New Jersey traveled together to Tel Aviv, Jerusalem, Ashdod, Ashkelon and Lod to meet with dozens of locals and politicians, see the effects of the recent Israeli-Hamas conflict and discuss efforts to bring about peace and equality into the future.
Led by JFNA board chair Mark Wilf, the group spoke with high-level government officials – including Prime Minister Benjamin Netanyahu, visited an Iron Dome location near Ashkelon, met with an Israeli whose home was struck by a missile, toured an Ethiopian immigrant absorption center, conversed with Israel Defense Forces representatives, and talked with Jewish and Arab peace activists during a walk through a mixed Jewish-Arab neighborhood.
Rudin-Luria said the Israeli foreign ministry informed JFNA it would welcome a small delegation of leadership into the nation, which followed the North American federations raising over $1.5 million over a few days to provide relief to missile attack victims. When JFNA reached out to larger federations across the nation and invited participants, Rudin-Luria said it was a calling Cleveland would immediately follow.
"Cleveland has a long history of showing up not only financially, but also intellectually, emotionally and in-person," Rudin-Luria told the Cleveland Jewish News June 1. "It wasn't a question as to whether or not Cleveland would participate. We knew that we would participate."
Rudin-Luria and Waxman boarded a plane May 24 and arrived in Israel the following day. They quarantined in their Tel Aviv hotel rooms until their antibody tests showed a lack of COVID-19 in their systems. Once their results came back, the Cleveland delegates and their fellow federation leaders had about 48 hours to conduct their mission.
About half of the federation group's meetings were with federation partners, service providers and victims of trauma. The other half was with government officials and politicians.
The group heard numerous stories of fear, pain and sacrifice shared by Israeli and Arab residents. The only place Rudin-Luria recalled feeling palpable tension was in Lod, where she said this feeling wasn't surprising at all being that the city experienced missile strikes and riots during the 11-day Israel-Hamas conflict.
But like the Arab leader of a community center in Lod who kept the center's doors open to provide safe rooms for Arabs and Jews despite riots and rocket fire, Rudin-Luria discovered a perseverance deep within those in Israel that proved to her the Israel she knew and loved hadn't changed.
"We saw great humanity," Rudin-Luria said. "That was just exceptionally moving. The resilience of Israeli society, the whole ethos is that you move forward. This is a society that prides itself on living and being focused on the future."
During the meetings with government officials and politicians, the federation leaders discussed the rise in antisemitism in North America and how Israel could help. The government officials also sought to answer any questions the American delegates had regarding the Israel-Hamas conflict, like methods of protection.
Rudin-Luria noticed politicians were open to collaborating with others from coalitions they had never worked with before.
"When we met with Prime Minister Netanyahu, his message to us was, 'Be strong and stand up,'" Rudin-Luria said. "That was as much about antisemitism in North America as it was him saying stand up for Israel."
The visit, while quick, struck Rudin-Luria as a success, as she believed she and her federation counterparts showed an everlasting solidarity to Israel. Israel, in turn, emphasized the back-and-forth relationship shared by the North American federations and their homeland.
Having gone in-person and seen first-hand the experiences Israelis went through was the biggest contributing factor behind the mission's triumph, she said.
"We were there to show solidarity with them, post-COVID, post-war with Hamas, and they really wanted to support us and the North American Jewish community with what's happening here with the dramatic increase of antisemitism," Rudin-Luria said. "... We talk a lot in Cleveland about being here for our community, and that's why we exist. Our extended family in Israel is a really important part of our community."
Immediately following Rudin-Luria's return to the U.S., she spoke at B'nai Jeshurun Congregation in Pepper Pike on Shabbat, about her visit and four points she learned.
Her points urged people to stand up – a message that took inspiration from the Torah portion B'nai Jeshurun covered the week prior – and stressed the encouragement Netanyahu gave the federation leaders.
The four points detailed an importance of showing up in-person, that the Israeli-Hamas conflict cannot be understood by comparing a scoreboard of lives lost, that it's too soon for the widespread trauma caused by the conflict to heal and that there is support from Israel to combat concerns of rising antisemitism in North America.
Moving into the future, Rudin-Luria said she and the Cleveland Federation are going to head efforts to bring more people to Israel once the country is reopened for travel post-COVID-19. The Cleveland Federation will return to Israel for another solidarity mission in July, and it will tackle solidarity post-COVID-19 as well as other topical issues like the Israeli-Hamas conflict.
"We all feel committed to supporting each other, and so beyond me and our very top leadership, we want to make sure that people at all levels of community involvement have access and an ability to be in relationship with each other, to have access to information, to be able to ask questions, say what they don't understand and get answers to their questions," Rudin-Luria said.