04/07/2017
Field of Jewish Dreams
Baseball is sometimes referred to as "America's Pastime," but this year's World Baseball Classic (WBC) quickly became an Israeli sensation. Team Israel made it to the second round of the WBC, and not only dominated the tournament on the field, they created an international phenomenon – and Jewish Cleveland had a lot to do with that.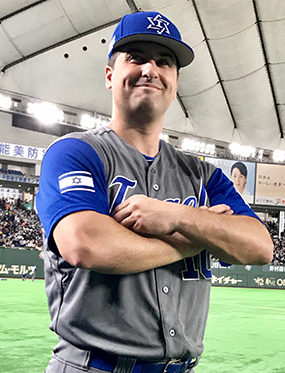 Along with pitcher, Brad Goldberg, who was born and raised in Beachwood, Team Israel's 2nd baseman, Tyler Krieger, also has a Cleveland connection – he is currently a star prospect in the Cleveland Indians organization. It meant a lot to honor his Jewishness on such a large stage. "That was the one thing that brought us all together. My grandparents are Jewish, my dad is Jewish; so to be able to represent them was very cool for me."
Shaker Heights High School alum, Nate Fish served as the 1st base coach on this year's team; he helped form Team Israel back in 2012. While traveling with the team, he would bring a piece of Cleveland with him. "Cleveland is such a big part of my story; I wore a Cavs hat to the stadium every day. I didn't have to go far to feel a part of the Jewish community in Cleveland growing up. My mom worked at the Federation and then became the regional director for Hillel at Case Western University, so Jewish Cleveland was literally in our home."
Thousands of fans watched on their computer or phone and hundreds captured it live in South Korea cheering on Team Israel in person, one fan had a very special seat – a five-foot stuffed Mensch on the Bench – the team's good luck charm, courtesy of outfielder, Cody Decker. "Having him there kept the mood pretty loose and I think that's what helped us in the tournament," said Krieger. "Our mindset, as a group, was having fun with it and going out on the field and competing with a loose mentality."
With the success of this year's team, Nate is most proud that he's paving the way for a new crop of young Jewish baseball players. "I love that there are young kids who watched the greatest group of Jewish baseball players ever assembled compete against the world. They looked up to us – it's a huge deal and it's amazing to be a part of that."
Mazel Tov Team Israel and Go Tribe!
To learn more about the partnership between Israel and Cleveland, contact Tal Rothstein, director of International Programs with the Overseas Connections Committee, at 216-593-2861 or trothstein@jcfcleve.org.
---
Related Items