11/28/2018
Finding a Home Away from Home in Beit Shean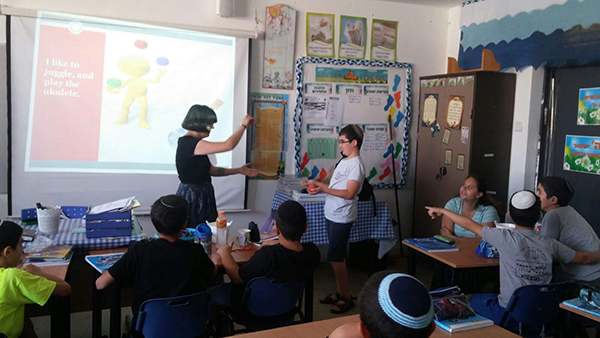 Jewish Clevelander and Masa Israel Teaching Fellow Hope Wondowsky reflects on her time spent teaching English in Beit Shean, Cleveland's sister city in Israel:
I first heard about the Masa Israel Teaching Fellowship (MITF) just before I graduated from Ohio University. Joining Hillel on campus was my first real Jewish experience; I felt a new sense of pride in myself and my heritage. That also pushed me onto the path I am now. After graduating, I reached out to the Federation and they encouraged me to participate in the program in Beit Shean, Cleveland's sister city. I am so happy I did! It's such a unique experience and to be able to live in Beit Shean – not many people get to do that.
The city of Beit Shean is amazing and special. I really enjoyed spending time with my host family – especially during Shabbat – and living in such a tight-knit community. I grew up in a small town in New Jersey, and it truly reminded me of home. I was able to walk anywhere – the library, the coffee shop, the grocery store, and the two schools where I worked. I taught English to students in third through sixth grade.
For me, through this adventure, I paid homage to my mom, who passed away two months before I left for Israel. One of the last things she told me was how proud she was of me for going to Beit Shean. I spent the majority of my time there doing the best I could to honor her. I made a connection with one of my students – a young boy, whose father had passed away a year prior. Even through my broken Hebrew and his broken English, we were able to talk about it – we were able to bond over our losses. Our situations were totally different, but I was able to sit with him and we were able to understand each other.
I also had the chance to work at the library in Beit Shean. While I was there, the CEO of the Cleveland Public Library, Felton Thomas, came to Beit Shean on a Federation-supported mission. He and I collaborated on ways to educate children from Cleveland and Beit Shean – to help them grow and overcome obstacles. It was amazing to see the many similarities between the two cities.
After coming back to Cleveland, Mr. Thomas and I reconnected. He asked me to join his staff. I am now doing what I love and working with an amazing organization right here in Cleveland! I can't thank him and the Federation for this opportunity.
There are no words to describe how amazing my 10 months in Beit Shean were. I'm honored to have had the chance to live, work, and meet the people of Beit Shean. But I also know I never would have been able to have this opportunity without the help from the donors of the Federation. We had such an advantage in Beit Shean, an incredible support system. Cleveland really heightens the fellowship in a way that not many other places could do. All I can say is "Thank you!"
The MASA Israel Teaching Fellowship (MITF) is a 10-month post-college volunteer program, part of I-Connect, an initiative of the Jewish Federation of Cleveland. MITF was created to address the achievement gap in Israel's public education system. The program invites talented, English-speaking college graduates to Israel as English teachers' aides. It's a challenging, rewarding experience for the teaching fellows, and a vital investment in Israel's future.
Get more information about becoming a Masa Israel Teaching Fellow.
---
Related Items