02/27/2018
5 Ideas for a Child-Friendly Seder
Republished with permission from PJ Library.
At the center of Passover is the Seder, a 15-step meal involving ritual items, stories, and food. The Passover Seder is meant to be an inclusive experience for people of all ages. Young children are encouraged to participate through such traditions as the singing of The Four Questions and the searching for the Afikomen.
Want to get children excited about and invested in the seder? Get crafty! Here are five activities that correspond to staple items of the seder. For more Passover craft ideas, recipes, videos, and more, check out PJ Library's Passover page.
MATZAH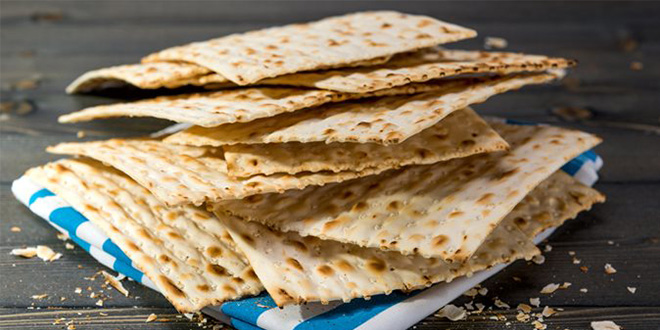 Matzah is eaten during the seder to symbolize the Jews' exodus from Egypt — the Jews were so rushed, their bread did not have time to rise. Kids can make a matzah cover for the afikomen, help cook a tasty matzah-based side dish, or build a matzah-house as a centerpiece.
SEDER PLATE
The Seder plate sits front and center on the Passover table. There are traditionally six items on the Seder plate: maror (bitter herbs), chazeret (lettuce), charoset (a mixture of nuts, apples, and cinnamon), karpas (a green vegetable), a shankbone, and a roasted hard-boiled egg.
Get kids some hands-on learning by making a Lego Seder Plate.
LEANING CUSHION
Passover celebrates the transformation of the Jewish people from slavery to freedom. To commemorate this freedom, it is traditional during the seder to treat oneself like royalty. We drink wine/grape juice while reclining. We also lean back onto a cushy pillow for extra comfort. Make a no-sew pillow with your kids to use as your own leaning cushion. You can make one from an old t-shirt, or by tying a knot.
AFIKOMEN
The search for the Afikomen is a Passover game of hide-and-seek. Kids--and grownups--look forward to this part of the seder. To get your children excited about the seder, do a "practice run" of hiding the afikomen together or make a list of the best places to hide the afikomen.
ELIJAH'S CUP
It is customary during the seder to pour a full cup of wine and open the front door in order to welcome Elijah the Prophet. Many families also pour a cup of water for Miriam, Moses' sister. Decorate your own cups ahead of the seder.
---
Related Items