06/17/2019
Curator of "Growth & Change": Five Questions with A. Will Brown
To schedule a tour of the Growth & Change exhibit or to join us at an open house, contact Debbie Yasinow at dyasinow@jcfcleve.org or 216-593-2890.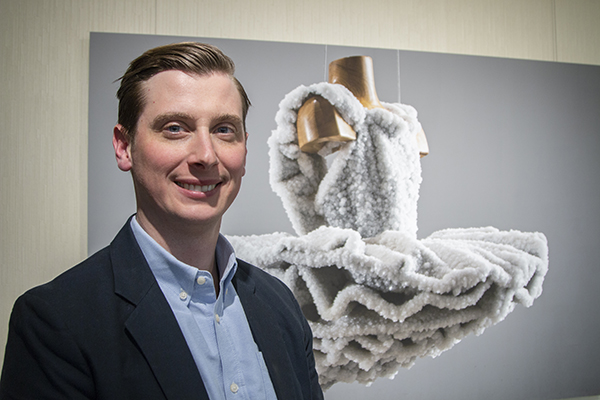 Salt can be used for many things. But have you ever thought of salt as art? World-renown, Israeli artists, Sigalit Landau and Yotam From have taken salt to new heights (and depths) as a medium for their art by submerging and preserving items with salt from the Dead Sea. Through photos, videos, and print, they've taken every day items like a challah cover, work boots, and more to create lasting works of art.
Some of Sigalit and Yotam's unique pieces are on display now as part of the Cleveland Israel Arts Connection's Growth & Change exhibit in the Roe Green Gallery at the Jewish Federation of Cleveland building. We asked the Museum of Contemporary Art (moCa)'s A. Will Brown, the curator of the exhibit, "Five Questions" about the artists, their work, and bringing this exhibit to Cleveland.
How do you describe this exhibit?
A. Will Brown: This exhibit is a look into the last two decades of what they've been doing in sculpture, photography, video, and print – and using salt from the Dead Sea as a transformative property. For us in Cleveland, salt is something that destroys and melts ice. But in Israel, it's something that preserves, gives life, and is about healing and wellness. This exhibition looks at how the transformation of objects can mirror how people can be transformed by their environment, by each other, and by time.
How are Sigalit and Yotam able to preserve their art and capture the images and video?
A. Will Brown: Sigalit has more of the concepts for the idea, while Yotam is very much in the 'engineering' mindset and the executioner. The two of them translate the ideas together. After the select item is chosen, Yotam and a team build a rig that suspends and holds the item in place under the Dead Sea. Yotam scuba dives with a camera to monitor and to capture images of the transformation overtime. Often, the resulting photographs and prints are to scale of the item. That helps give the viewer a different sense of the process as they're almost immersed in the water with Yotam.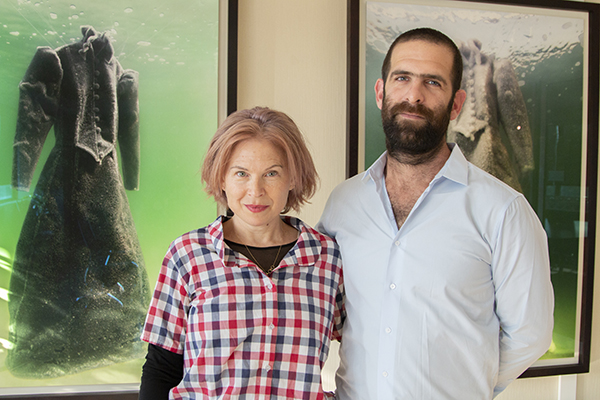 What was it like to see the exhibit in person in Israel prior to bringing it to Cleveland?
A. Will Brown: I was fortunate enough to go on an eight-day trip to Israel through the Federation, alongside Israel Wiener, Federation's arts & culture consultant. I had never met Sigalit or Yotam before and we started talking about the work, looking at the pieces, looking at the videos. The show came about by going through their work each piece one at a time. I had a marvelous time just diving into their work.
Is there a piece of Sigalit and Yotam's art that stands out to you?
A. Will Brown: The challah cover was the key into everything. When I was in Israel, that was the first piece of their art I saw and I knew it had to be in the show. From there, we began to build out which pieces should be in the exhibit. I kind of knew what to look for – logistically and physically – in thinking about the parameters of the gallery space, but also thinking about a wide representation of their work. I felt we could translate this setting into an amazing exhibit and that Cleveland would be a perfect place.
Why is this exhibit special for you and to Jewish Cleveland?
A. Will Brown: Getting to work with artists, who are internationally renowned and have had remarkable exhibitions before I was even in the field, is a real honor. It has also been a wonderful opportunity to engage with the Cleveland Jewish community. There are also a lot of reasons why this is an important exhibit to bring to Cleveland. Most importantly, because this work shows the beauty and improbably transformation over time, it allows the audience to see the extraordinary in the ordinary and – hopefully – discover new possibilities within and around them. Bringing art like this to the Roe Green Gallery also reinforces the powerful connection between Jewish Cleveland and Israel.
To schedule a tour of the Growth & Change exhibit or to join us at an open house, contact Debbie Yasinow at dyasinow@jcfcleve.org or 216-593-2890.