01/15/2020
Five Questions with Dr. Maya Lugassi
Dr. Maya Lugassi is the senior director of Pedagogy and Professional Development at Beit Yatziv, one of the Jewish Federation of Cleveland's STEM (science, technology, engineering, and math) educational partners in Israel. She recently traveled to Cleveland as part of a delegation of Israeli educators, administrators, and municipal leadership to learn from Cleveland STEM education experts on ways to further implement STEM curriculum in Israel's geographic and socio-economic periphery, including Cleveland's sister community of Beit Shean and the Valley of Springs.
Here is Five Questions with … Dr. Maya Lugassi:
Why is STEM education so important in the periphery cities in Israel?
Dr. Maya Lugassi: Many jobs that employ people today – telemarketing, retail, machinery, and more – could be eliminated in the next 50 years as technology evolves. People talk about Israel as a "high tech nation," but the reality is that this won't continue unless we address our educational challenges today. We are trying to prepare students for the next 50 years and trying to encourage them to think about their future. When we think about STEM, what we mean is creating and designing a system to educate students in Israel for this future. Beit Yatziv, the organization I work for, understands that STEM has the opportunity to reduce the gaps for children in the periphery and drive social mobility.
We, as Israeli educators, must head in the same positive direction with STEM that the Cleveland community has been moving in for a long time. The Federation has given the children of Israel this tremendous opportunity and gives us – as an organization – an opportunity to implement STEM to have a real influence on these children's future.
How has the Jewish Federation of Cleveland helped in implementing the STEM initiative in Israel?
Dr. Maya Lugassi: The Federation has been with us every step of the way and the first thing was empowering us to spend the necessary time to think, plan, organize, assemble the right partners, and prepare curriculum. This process enabled us to gain everyone's support, cooperation, and input –the Federation, Ministry of Education, government officials, school principals, and more. They all had a say and they all had an important part of the process. And that's why we're seeing success.
We asked ourselves what success in each city would look like with a STEM platform in five years and then in ten years and then working alongside the Federation, we created a program tailored for each city. STEM education is not about learning a specific topic such as "science" or "math" – it's developing a method of critical thinking and a skill set that is relevant for the 21st century. With the Federation's help, we're not simply implementing a new curriculum in Beit Shean, we're creating a STEM culture that we think will change the community for the better.
What did you learn in the week you were in Cleveland that you will take back to Israel?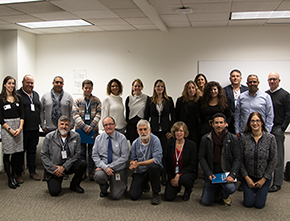 Dr. Maya Lugassi: The Cleveland community is a real inspiration and has given me so much energy to go back home to Israel and put all my energy into my work. It's amazing to see the collaboration here – you have schools inside repurposed museums (National Inventors Hall of Fame School in Akron) and schools inside hospitals (Lincoln-West School of Science and Health inside MetroHealth Hospital) and there are so many more examples of using the community's assets to enhance education. The first thing I'm going to do is to map out the industry around Beit Shean and speak with the heads of these companies in order to collaborate to help enhance the STEM education in our schools. I also saw amazing examples of PBL's (Project-Based Learning) and hands-on activities that I want to integrate into my curriculum.
I was truly inspired by my meeting with Leah Spector, principal and director of Judaics and Hebrew at Mandel JDS. Her vision and leadership in implementing new STEM education methodology and curriculum at the school showed me that it's possible to make significant changes without opening a brand new school. I've already spoken to her about coming to Israel with a few teachers and having a seminar with teachers in Beit Shean and Hura (a Bedouin community in the Negev). She has a lot to teach us, but I think we have a lot to teach her as well. I look forward to continuing that partnership.
How did you get your start in the STEM field?
Dr. Maya Lugassi: I grew up in the south of Israel in Ashdod – which is also a periphery city. In high school, my chemistry teacher called my parents (neither of my parents finished their high school education) and told them that, when I grew up, I could be anything I wanted, except for anything that involved science or math. From that day, I knew I wanted to be a scientist. I wanted to prove her wrong, but more importantly, I wanted to prove to myself that I could do it.
I graduated high school without the necessary matriculation exams to pursue a degree in science. When I entered the army, I was in a special intelligence unit. There was one commander who believed in me and gave me the opportunity to complete my five-point matriculation exam. I finished the test and was able to go to college where I received my degree in Genetic Engineering. While I was learning, I was able to help mentor the younger girls in STEM subjects. In Israel, it is atypical that girls are choosing this field, so it was important to me to help them and influence their future.
And even today, it's the best thing I can do – give back for all the opportunities that I received. For all the encouragement I received as a young girl, I now want to be that person to mentor these boys and girls in Beit Shean. Many of them didn't even know these fields existed. As they get older, they can choose whatever they like – they don't have to be engineers, but they must know science, technology, mathematics, and engineering, and most important, an ability to think critically, to succeed in whatever field they choose.
What are the goals of STEM implementation in Israel's periphery cities?
Dr. Maya Lugassi: We believe that STEM can drive social mobility – that in the long term, more students from the periphery will have the opportunity to attend and graduate from college and attain good jobs in whatever field they choose. We also want to transform the community so that there are good job opportunities locally. And maybe STEM can change the community so much that one day, there would even be a tech university in Beit Shean, like the Technion (Israel Institute of Technology in Haifa). STEM education isn't just about what is being taught in our schools, it's a philosophy and way of life that we teach and integrate into the communities we live in. We want STEM to become part of the fabric of the community and to open doors for all students.
To learn more about the Federation's support of STEM education in Israel, contact Oren Baratz at obaratz@jcfcleve.org or 216-593-2788.