02/05/2019
Five Questions with General Mansour abu Rashid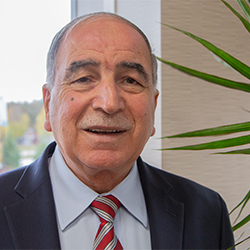 General Mansour abu Rashid of Jordan spent his entire military career and post-military career promoting peace in the Middle East including his role in the 1994 signing of the Peace Treaty Accord between Israel and Jordan. His efforts have successfully led to a Jordan/Cross-Border Initiative between Jordanians and Israelis in Beit Shean, Cleveland's sister city.
How did your relationship with the Cleveland Jewish community begin?
My relationship with the Cleveland Jewish community began in 2002. After the Peace Treaty was signed in 1994, we wanted to show the Jordanian people the benefits of peace between Israel and Jordan. This is also an objective of the Israelis – to build trust between people locally and to have a reconciliation of the people in Israel and Jordan along the border. This Federation is helping the people in the Beit Shean region as well as the cross-border communities in Jordan come together and build trust. I appreciate everything they are doing there. The idea to bring people together, to know each other, and to build the trust and confidence between the two nations – who have suffered a lot – many of them lost friends, wives, children. That is what I most respect about Jewish Cleveland.
What do you love about Israel and Jordan?
The first time I was in Israel was in 1992 before the peace agreement. I met with the people of Israel – they didn't want to fight, they wanted peace. They suffered like I did for years. Israel is part of the Middle East – we have to live together. As a Jordanian, I am proud to see that one day the conflict between the Israelis and Palestinians will be over.
What is the Amman Center for Peace and Development?
We have a lot of cooperation with the Israelis. We established our center in 2000. One of our activities between Beit Shean, Jewish Cleveland, and Jordanians is to bring people together – to build trust, learn from each other, and cooperate with each other. We have a program focused on agriculture in Beit Shean; the people there want to help, and we are able to bring Jordanian and Israeli farmers together through a common bond. They're making plans to expand their farms. This is the impact we're making together.
We are also working together on a program to save the palm trees on both sides using barn owls; we learned this technology from the Israelis – they are advanced in this process. The barn owls can eat thousands of mice which can harm our crops, and we have used this knowledge in Jordan. With support from the Cleveland Jewish community, we have more than 250 boxes along the Jordan River near the border, saving our fields from the mice. We have another program focused on peace education, especially with children. We know these children will become commanders and leaders in the future. We have to build this trust starting early – 12-15 year olds. They are able to continue these meetings online, through social media, Skype, and WhatsApp. The future of peace has to begin with them. They are the future, and they can help change history in a positive way.
What did it mean to be asked to be part of the Peace Treaty in 1994?
It's one of my proudest moments. I did that for my country. But the moment was bigger than just that. The moment was for my family – my children, my wife, my friends. This was years in the making. No one was winning. The only thing we could do was to sit around the table, talk, and then agree. But fighting each other – no one could win. As the Jordanian Chief of Intelligence, I was nominated by the late King Hussein to serve as the nation's top-security official, responsible for preparing a peace agreement with Israel. It was my responsibility to bring people together, and I worked very hard to promote peace. I was so close to the late King Hussein when he appointed me. But before that, I built a great relationship with my counterpart in Israel. And I built that trust – and trust is very important.
What do you do when you're not working?
I retired in 1999. Since then, I've been running the Amman Center for Peace and Development. I cannot imagine waking up and not going to the Amman Center. I have a farm in the mountains, not too far from the center, where I make olive oil. I've never worked as a farmer. I joined the army at 17-years-old, but when I go there, I feel like a farmer. The olive oil I make is different – it's better. I can make around 150 liters of oil a year. I also love spending time with my wife, my children, and my grandchildren. They bring me joy – the same joy I feel when I think about the future of peace in Jordan, Israel, and the entire Middle East.
For more information on the Cross-Border Initiative, contact Tal Rothstein at trothstein@jcfcleve.org or 216-593-2861.
---
Related Items