02/15/2019
Five Questions with Roots' Rabbi Hanan Schlesinger and Shadi Abu Awwad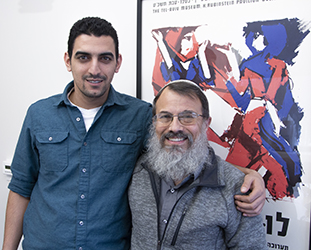 Rabbi Hanan Schlesinger and Shadi Abu Awwad see a future where there is peace between the Israeli and Palestinian people. As leaders of the non-profit organization, Roots, they are building a unique network of local Palestinians and Israelis who have come to see each other as the partners needed to make changes and end the ongoing conflict between the two cultures. Through their work, they are fostering a grassroots movement of understanding, nonviolence, and transformation founded on dignity, trust, mutual recognition, and respect.
Schlesinger, an Israeli, is the co-founder of the organization; Abu Awwad, a Palestinian, is the youth director.
Why is Roots a unique organization?
Rabbi Schlesinger – There are many groups in Israel working on building peace in the country, but we feel we are the only group working with bringing peace between Israelis and Palestinians. A lot of our time is spent on building connections to the American Jewish community, and trying to reach out to Christians in America and Muslims in America to build support for Roots. Our language, and way of working and talking about the conflict, seems to be an avenue that can help young American Jews to reconnect to the Jewish community. If we can do that, that's a good start. We want Americans to support peace building on both sides.
Is there a simple answer for peace in the Middle East?
Shadi Abu Awwad – There's no easy answer, but who doesn't want to live in peace? There is a problem though, for many Palestinians – the only relationship a Palestinian has with an Israeli often is with a soldier. We need time to be introduced to Israelis as people – not as soldiers.
Rabbi Schlesinger – We, at Roots, do have hope for peace; but we have to do our best to use the tools we have to move things forward. We know that human beings are destined to live in peace and we are destined to make that happen. We are doing the groundbreaking work, like joint community learning events and holiday meals, as well as a summer camp and after-school activities for young children. Only if we can grow from this, will we help make a chink in the armor.
Why is it so important for Roots to target the younger generation when it comes to making strides for peace?
Shadi Abu Awwad – The younger generation is the future of peace; if it starts now, peace can happen. Listening to us, though, is not enough to change their minds. But if [Rabbi Hanan] and I can sit together, why can't they sit down together in our homeland and in the United States. The rabbi and I are in the middle of the fight and we are sitting together.
How can different cultures here in Cleveland and around the United States improve local community relations?
Shadi Abu Awwad – It's easier and harder to make a significant change in Cleveland and other local cities. It's easier because it's not a war zone; you have a chance and time to talk and to listen again and again and again. But it's also harder here because you're dealing with multiple issues at the same time – not just one – from religion, cultures, beliefs, racism.
Rabbi Schlesinger – We all have to face these problems head on. We have to think about what is the truth. The "truth" is made up of many partial truths, and that the only way to come close to the actual "truth" is to collect more and more partial truths. The way to start is to come to the person I disagree with and listen. I'm not coming to convince another person of my truth, I'm coming to listen to him.
What is the future of Roots, and where do you see the next steps?
Rabbi Schlesinger – The next steps are reaching more people and open their minds to see a more complex reality – to empathize with the other side, to accept the other side. That's the foundation of peace. For peace to stay, you still need the roots to be stronger than they were at the beginning.
Shadi Abu Awwad – The first step is to meet, and to trade away that fear of people. This first step is going to lead us to change. For now, I'm only focusing on how to complete the first step. But we will take that next step – from both sides. We will work together to decide the future.
For more information on our Community Relations Committee's efforts to bridge cultural divides and foster mutual respect in Cleveland and Israel, contact Debbie Klein at dklein@jcfcleve.org or 216-593-2834.
---
Related Items