01/10/2019
Five Questions with Yossi Klein HaLevi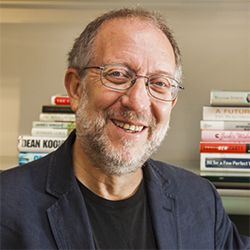 Author and speaker, Yossi Klein Halevi's latest book, Letters to My Palestinian Neighbor is a unique approach to the Israeli-Palestinian conflict and a way forward for the entire people in the Middle East.
Find out Halevi's thoughts on the state of Israel and how a trip to Israel in the summer of 1967 changed his life forever.
How did you go from a Jewish teen living in Brooklyn to a world-renown author living in Israel?
I grew up in Brooklyn, New York in the 1950's and 1960's. My father was a Holocaust survivor from Hungary, and that really shaped my childhood, my upbringing and world view. It was clear from very on that Israel was very central to me. The first trip I took to Israel was in the summer of 1967 a few days after the Six-Day War, with my father. That experience of being in Israel was life-changing. At that time, it was the happy ending of the Jewish people – there was finally peace in the region. This was the prevailing sentiment in the summer of '67. Israel and the Jewish world had opened up like it hadn't done before. I don't know, there was something about the country, that time in history. It was at that point – at the age of 14 – I told my father I was going to stay in Israel, go to high school and live out my days there. My father said no. But I always knew I was going to go back. I moved to Israel in the summer of 1982, which was completely the opposite of 1967. It was the beginning of the first Lebanon War and the moment when Israel experienced a skism between its people. It was not the happy ending. But still, I knew this was my future. Those summers of 1967 and 1982 are polarizing to me – the opposite struggles of life and history – one is unity and joy and happy ending. The other is divisiveness, tearing ourselves apart, moral ambiguity. And that's what I lived, and the Israel that we all have lived.
What was the spark for your latest book, Letters to My Palestinian Neighbor?
It was time for me to tell my personal story and an attempt to explain the Jewish people's story – who the Jewish people are and why we returned home [to Israel]. My story has been Israel for 36 years, which is much longer than I lived in the United States. What I've tried to do in this book is explain Zionism, national identity, political sovereignty. My previous book, Like Dreamers, was an account of seven Israel paratroopers who fought in the Six-Day War in Jerusalem. That book was written through other people's eyes. This book, I'm forced to show my hand to tell the story of my evolution as an Israeli and how I reluctantly support a two-state solution. I feel this solution is not the answer as it will put Israel in a major dilemma – security-wise and historical-wise, giving up ancestral land. It will bring us to an internal conflict. The only reason I support the two-state solution is because I dread the one-state solution even more.
How have you revised your lectures while speaking to college students versus talking to adults?
My book Letters to My Palestinian Neighbor is geared for younger Americans – Jews and non-Jews – to understand the story about who we are as a Jewish people. There's a lot of confusion among students about Israel. It's so easy to explain the narrative from their point of view in just a few words – "occupation" "apartheid" "expulsion" – that's it, those are their buzz words. That defines this moment in history with a younger culture. Telling our story, I talk about the struggles of the Jewish people starting at 1947. Unfortunately, I normally don't have time to explain our story; we are living in the age of social media. Our story is a long history. So when I'm on a campus, all the students have those buzz words in their head – the linkage has already been made. The language is all on the Palestinian side. This is their perfect moment, and we struggle to tell our story. I spoke at Case Western Reserve University about how the Jewish community and the Muslim community have to stop celebrating each other's renegade. We're seeing a modern resurrection of anti-Semitism. I am all for internal debate – if it enriches our debate – but you have to have a legitimate voice. The burden of proof is on me to explain Israel is not an apartheid state. It's a really difficult position to be in.
How do you spend your down time when you're not writing or speaking?
I meditate. My downtime – and uptime – is meditating. I am part of a meditation group in Jerusalem, and we recently opened up a meditation center in Jerusalem called Daat Elyon (a higher knowledge). When I travel, I try to bring that with me as much as I can. Meditating has become so much a part of my life – and what I need in my life, that I can't think of life without it.
What is next for you?
I am trying to take this book (Letters to My Palestinian Neighbor) into the Arab world. I just got a grant to handle Arab social media. I have been getting letters from Palestinians – positive and negative – and I see this book as a project. The book is the first step to tell the legitimacy of Israel. But my next book, I am thinking of doing something on why being Jewish matters in the 21st Century, but we'll see what happens.
---
For more on Israel, contact Ilanit Gerblich Kalir at 216-593-2815 or ikalir@jcfcleve.org. 
If you are interested in learning more about the work of the Community Relations Committee on Israel, please contact Jessica Cohen at jcohen@jcfcleve.org or 216-593-2782.
Related Items