04/13/2018
Five Reflections from the AIPAC Policy Conference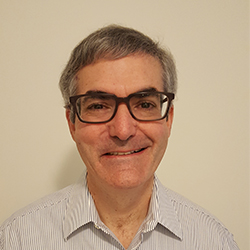 Jewish Clevelander David Shifrin shares his reflections after attending the AIPAC Policy Conference in Washington, DC.:
Just a few weeks ago, I had the privilege of joining approximately 18,000 other Israel supporters for the annual AIPAC Policy Conference in Washington, DC. The three-day conference was a blur of professional exchanges, fascinating insights into the geopolitical situation Israel faces, and pure celebration of the Jewish, democratic state. Through the whirlwind of plenaries, breakout sessions, and receptions, there were five realizations that crystallized for me upon reflection.
Support for Israel transcends identity or affiliation. White, black, brown. Jewish, Christian, Muslim. Young, young professional, middle-aged, senior. Conservative, Orthodox, Reform. Democrat, Independent, Republican. No matter what one's identity and affiliation, every group was represented at Policy Conference.
Israel is punching far above its weight. Whether it's women in political leadership or high-tech accomplishments, Israel today is a recognized global leader in many areas. Prime Minister Netanyahu shared many of these accomplishments in his presentation to the policy conference. One of the coolest Israeli innovations he shared: drone-managed, agricultural irrigation that provides the precisely right amount of water to each plant on Israeli farms on a plant by plant basis. You could hear the 18,000 strong audience's reaction to this new technology with a collective "oooooh" and "aaaah." Imagine how using this technology in drought-stricken California would help tremendously to save water with only precisely the amount of water needed by each plant in a field would be the amount it gets – no more precious water wasted! Combine this with other Israeli water conservation technological innovations such as a device that literally produces useful amounts of water from the air and other devices that make desalinization of sea water cheaper and easier and even portable, and one can see the amazing ways in which Israel helps the world every day.
The geopolitical situation in the Middle East is dire. Israel was the main attraction at Policy Conference; but Syria, Iran, Lebanon, Yemen, and the Arabian Peninsula states received almost as much billing. In the wake of the recent skirmish in Northern Israel with Iranian drones and missiles being flown or fired from Syria, the pervasive question underlying all the geopolitical discussions is how Israel will need to confront these threats in the future and how Israel and the United States might work together to do so. These were the most pressing questions for which there are not many definite answers; not even at Policy Conference where so many experts on these issues were present.
Israel has its internal challenges. Policy Conference did not shy away from the tough questions that internal challenges pose for its future... and this wasn't just about when the next season of Fauda was debuting – although that was a session too (I heard I missed an exclusive preview of Season 2's debut episode.)! Breakout sessions addressed efforts to build a shared society among Jewish Israelis and Arab Israelis, the future of the Palestinian leadership and what that means for the two-state solution, the Israeli presence in the West Bank, the humanitarian disaster in Gaza, the Israeli government's orientation to the pluralistic diaspora population, among many other topics. Panelists were honest, raw, and intentional in their presentations on these issues. Israel is a country like any other, albeit somewhat younger than most, with internal challenges that are being addressed and must continue to be addressed.
We can unite on one policy issue while disagreeing on others. Policy Conference demonstrated loudly and clearly that despite political differences, it is possible to come together to support a shared policy priority and in a very significant way. No matter who one voted for in the 2016 election or what one thinks about guns, abortion, or any other polarizing issue; all the attendees at Policy Conference refused to let our differences divide us. Regardless of disagreements on a host of other issues, we were all united across the political spectrum in support of Israel and maintaining and extending the strong U.S. Israel relationship – a relationship built on deeply shared values and mutual support and benefit. There were real discussions happening outside the sessions with genuine questions and answers crossing political divides and opinions on Israel's greatest challenges. This dialogue can serve as an example for other policy areas where an honest exchange of views and really hearing others doesn't fracture the community, rather it strengthens it.
After three days of nonstop engagement with Israel-related topics, I came away from Policy Conference renewed in my commitment to Israel, rededicated to the work we do in at the Federation every day in support of a strong and secure Israel, and better informed about the complexities of Israel and how we as an American Jewish community can engage in issues related to U.S. support of Israel and strengthening the already thankfully strong U.S. Israel relationship.
---
Related Items