04/14/2021
Fostering a Love for Israel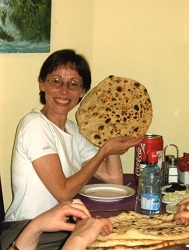 This article was originally published in the Jewish Federation of Cleveland's 2021 Legacy Magazine. Read the full publication here >>
Karen Tucker's lifelong love of Israel has roots in her youth. At 13 years old, she vividly remembers watching the news coverage of Israel, then a fledgling nation, fight for its survival in the Six Day War. As a college student, she attended rallies, spoke out in support of Israel, and donated funds to help the country defend itself during the Yom Kippur War.
Karen spent a year studying abroad in Israel and regards it as one of the best years of her life. Her time in Israel had a deep impact on her family as well. During the Passover holiday she went to the post office to call home (before the days of iPhones) and the telephone was passed from relative to relative. When it came time for her to speak with her grandfather, he was so overwhelmed and proud that his granddaughter was in Israel that he could not bring himself to speak. And when she flew home after her year abroad and finally arrived at her house in the middle of the night, her grandfather was in their driveway, waiting to greet her.
Holding on tight to this love of Israel throughout her entire life, she shared it with the next generation of her family, taking her daughter on her first trip to Israel in celebration of her bat mitzvah. While in high school, her daughter participated in the two- year-long Cleveland-Israelprogram now known as icnext. She recalls the experience as both fun and meaningful; she stayed with an Israeli family, met with Jewish teens and members of the Muslim community and volunteered at a pre-school for Ethiopian children. The trip helped her to better understand Israel and its complexities.
Karen loves being part of Cleveland's tight-knit Jewish community. Although she and her husband make other donations, their gift each year to the Federation's Campaign for Jewish Needs is one of their most significant, as they recognize that the Federation plays a vital role in ensuring a Jewish future in Cleveland and in Jewish communities overseas, including Israel.
Karen participated in the Federation's Volunteer Beit Shean program, which brought Jewish Clevelanders to the Federation's sister city in Israel. The trip gave Karen the opportunity to experience first-hand the Federation's many collaborative programs that are on the ground in Israel. This included Youth Futures, a program which provides in depth mentorship between mentors and at-risk youth and their families. She is also grateful for the many programs that exist to connect Cleveland's young people to Israel – in addition to her own daughter, both her niece and nephew travelled to Israel on Birthright, and her good friend's son had an excellent experience with Masa Israel Journey, a 10-month Israel experience.
Having seen the impact, both in others and herself, that travelling to Israel has on young people and the role it plays in strengthening their connection to Israel, Karen and her husband were moved to leave a bequest that will create a special-purpose, permanent endowment fund at the Federation. They created the Malkin-Tucker Endowment Fund of the Jewish Federation of Cleveland to provide scholarships for the icnext program.
Karen's other motivation in creating this legacy gift is very different. She is concerned and disheartened by the current climate on many college campuses where Jewish students are ostracized when they express support for Israel. She believes that travelling to Israel helps people understand the truth – that nothing in Israel is black and white. She wants young people to know the facts, to speak with representatives from all sides, and be able to fully engage and advocate for Israel when they are back in the U.S.
Most importantly, she hopes that the endowment fund will help a new generation of young Jews to nurture an attachment to Israel, "This is our small way to help foster a love of Israel and a love of Jewish peoplehood." says Karen.
To those considering making a legacy commitment of their own she added, "I think it's one of the most meaningful things you can do to have a direct impact on future generations. Your love of Jewish heritage will live on for many years to come."
---
Programs Connecting Clevelanders to Israel
ICNEXT
A unique two-year program that educates a dedicated group of Jewish high school sophomores and juniors in the core issues of Israeli society. Year one culminates in a 10-Day Israel exploratory mission to Israel – year two focuses on creating Israel experts who can engage in order to educate others about Israel.
BIRTHRIGHT
Birthright Israel is a free 10-day trip to explore Israel's most remarkable tourist destinations and beyond. Open to young adults with a Jewish Heritage 18-26 years old.
ONWARD
Onward Israel is an eight-week summer internship program that provides real-life work experience for juniors, seniors, and recent college graduates ready to live and learn like a local in the heart of Tel Aviv.
GAP YEAR WITH MASA ISRAEL JOURNEY
A gap year in Israel with Masa offers college-bound high school graduates the opportunity to acquire a global perspective and to gain a taste of independent living all while having an incredible Israel experience.
POST COLLEGE WITH MASA ISRAEL JOURNEY
Masa's post-college programs help recent college graduates and young professionals earn a competitive edge against fellow job seekers. It enables them to boost their résumés while living and working in Israel.
For more information on how you can help support these programs, please contact any of the Federation's philanthropic planning professionals.