11/30/2015
French Jews Build New Lives in Israel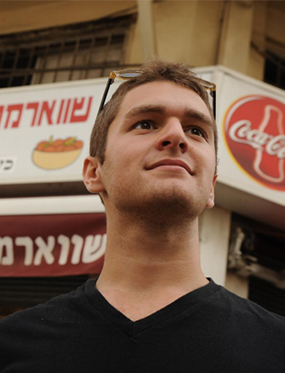 Though he's been in Israel for less than a year and is far from his family, Thibault already feels more at home there than he ever did in his native France.
In Paris, he felt like an outcast. The grandson of Holocaust survivors, Thibault grew up in an assimilated household with little connection to the Jewish community. And yet, his Jewish last name made him a target for rising anti-Semitism.
From 2013 to 2014 there was a 130% increase in anti-Semitic incidents in France. Then, when the Paris terror attack on a kosher supermarket happened in January 2015, Thibault said, "That was it. I knew I had to make a change."
He turned to Federation's international partner, The Jewish Agency for Israel (JAFI), along-side thousands of others with similar stories all searching for help and a way out. In fact, during just one year, 13,000+ French Jews attended information fairs about making aliyah to Israel.
In 2014, 7,000 French Jews made aliyah—a 120% increase from the previous year. And at least another 9,000 are expected to come by the end of 2015.
JAFI helps people like Thibault every step of the way, from offering pre-departure counseling and arranging travel to providing temporary housing upon arrival. Plus, olim are given Hebrew lessons and more to jumpstart new life in his a new home.
Thibault now lives in a JAFI-run absorption center near Tel Aviv, where he and fellow young French Jews are eager to begin new lives while trying to adjust to their new language, culture, and reality. It's a diverse and supportive community that—with the support of Federation—is growing stronger every day.
Thibault's story is made possible because of generous donors like you. Please join us, as we aspire to leave no community member behind, in Cleveland, Israel, and 70 countries around the globe.Donate today.
---
Related Items