06/18/2020
Giving Back: Part of our Family DNA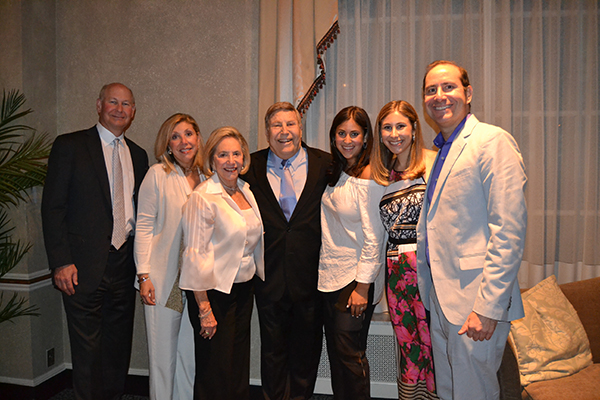 Shari Perlmuter remembers her parents Eileen and Bob z"l Sill coming home and telling her and her brother Scott stories about their Jewish community involvement. Whether it was an international trip with World ORT where they met with presidents and other world leaders, or an evening event in Cleveland, they would always look forward to their parents sharing with their kids what they learned.
Shari recalls, "My parents never instructed us about tzedakah. It was more just a part of our family life. We would ask them questions, and they would answer." Scott's memories of charitable giving as a kid were positive and fun – their family would host an annual summer carnival in their backyard to raise money for muscular dystrophy, and he also remembers giving money to Keren Ami at Fairmount Temple and buying trees to be planted in Israel to make the desert green.
Eileen and Bob were also involved at Menorah Park, Israel Bonds, American Jewish Committee, ORT, Fairmont Temple and many other charities. Shari explained, "We were raised in a household where the most important thing was to help others that are less fortunate. As kids we saw our parents doing this all the time. Giving back was part of our family DNA."
Eileen raised her children in the same way she grew up. She remembers her parents were also philanthropic and active volunteers at Menorah Park and ORT. She recalls going to Jewish Welfare Dinners as a child. And once she married Bob, tzedakah and community involvement became a way of life for them as a family. Eileen became very involved in Federation's Women's Philanthropy Division and eventually became the Chair, which was one of her life's greatest joys and accomplishments. She later went on to serve on the National Women's Philanthropy Board. She was thrilled and proud when Shari followed in her footsteps.
When their life-long friends Peggy and John Garson suggested that Eileen and Bob consider creating a Supporting Foundation at the Federation, they loved the idea. Eileen reflects, "Nobody had to give too much encouragement as I always derived great pleasure from giving and I felt it would be a privilege for our family to have a foundation."
The Bob and Eileen Sill Family Foundation was founded in 2015 and held its 5th Annual Meeting this past spring, the first one since Bob had passed away in 2018. Scott, who led the meeting, invited each person in the room to take a moment and share a reflection and memory of Bob. Many noted his zest for life, the kindness he showed to every single person he encountered, and the enormous legacy of tikkun olam he left for his family and for the community, through all of his actions and especially in creating the foundation.
Although young adult granddaughters Brittany and Lexi currently live in New York City, the foundation meetings are always scheduled at a time when they are planning to visit Cleveland. From the inception of the foundation they have been encouraged to recommend grants that are meaningful to them.
Brittany and Lexi said what they value about the foundation. "It is not only a way for us to remain a part of the Cleveland and Jewish communities, it is, most importantly, a way to carry on our grandfather's legacy. Generosity and philanthropy are the most significant values that he instilled in us, and we feel so fortunate that we continue to have the opportunity to build upon these values."
Shari agrees that the foundation is a wonderful experience for the family and brings great pride to her and husband Michael, who is also an active participant in the foundation: "It brings us closer, and it's a common experience that we enjoy together." And it has provided an opportunity for the family to learn about each other's philanthropic interests as well as the needs in the community. Eileen says that it has opened her eyes to how many worthwhile causes there are and finds it difficult to decide which ones to support. Around the table they work together to determine the impact their family foundation will make on the community.
Scott agrees that the foundation brings the family closer to each other and to the Jewish community. Having spent much of his adult life outside of Cleveland, the foundation has also allowed him to more fully understand and appreciate the Federation's role in supporting the community, "One of the most meaningful things about the foundation has been the opportunity to learn about the Federation, its agencies and other Cleveland charities. It has been educational and interesting, and I wouldn't have that experience giving individually."
Eileen is proud that the foundation will keep going and be part of their family's legacy, "It's a way for us to give to the community forever."
A community that will be stronger thanks to the philanthropy of the Sill Family Foundation.
For more information, contact Carol Wolf at cwolf@jcfcleve.org or 216-593-2805.