05/24/2023
Global Cleveland Receives Federation's Eisenman Award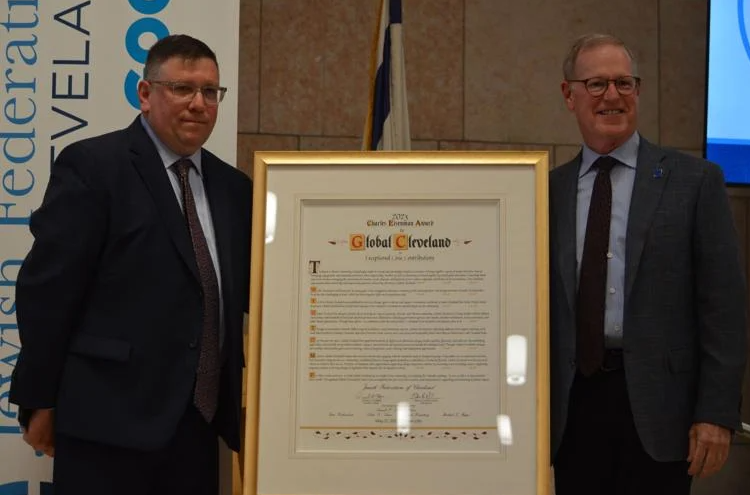 COURTNEY BYRNES

Article reprinted with permission from Cleveland Jewish News
As the Jewish Federation of Cleveland met for its 119th annual meeting, it reflected on the past year and the historic moment of Israel's 75th year of independence.
With Kenneth W. Stein, professor emeritus of Emory University in Atlanta, as the featured speaker, nearly 200 people filled the sanctuary at Park Synagogue in Pepper Pike May 22 to hear him discuss how Israel has met or has yet to meet expectations in its short history.
"Israel is both finished (and unfinished)," Stein said. "We're glad that it has accomplished a great deal. We realize there are many parts of the state and many parts of the society that remain unfinished."
He said Israel has met expectations to establish and preserve a Jewish state and democracy. Where the state remains unfinished is finalizing its borders, relationship with neighbors and the Palestinians, and resolving differences between the secular and religious communities, he said, pointing to the current demonstrations of Judicial reform as an example.
Stein also spoke of how people tell the story of Israel and where to begin.
"For me, Israel doesn't begin in '67, doesn't begin in '48, doesn't begin in 1897," he said. "It begins at Sinai, and I hope we will remember that when we teach it diligently unto our children."
As Barry Feldman, event chair who served as the evening's emcee, he introduced the order of events, first welcoming Rabbi Joshua Skoff of Park Synagogue to share the invocation, followed by Michal Soclof, nominating committee chair, and Dan Zelman, board chair, for the election of the board.
Zelman then shared his own reflection on his first year as board chair, highlighting the community's support for Ukraine, the celebration of Israel at 75 and the community's re-emergence following the COVID-19 pandemic.
He presented the 2023 Charles Eisenman Award for exceptional civic contributions to Global Cleveland as President and CEO Joe Cimperman accepted on behalf of his organization.
The Eisenman award was created in 1924 in memory of the Federation's first board chair, Charles Eisenman, as the highest and most prestigious civic honor give to those who have made significant contributions to the community.
Global Cleveland was established in 2011 as a change agent to attract and support immigrant communities in Cleveland. It was started by the Cleveland Foundation, the Federation, the Tamar and Milton Maltz Foundation and the Audrey and Albert Ratner Foundation. Over the past two years, it has supported hundreds of Afghan and Ukrainian refugee families.
"I wish I had a big mirror here, this is the community's award," Cimperman said. "When cities around America were woeful and wondering what they could do about the populations that were leaving the places around the world that were on fire, this community, this Federation, said we're going to start something new."
WATCH the video honoring Global Cleveland here.