05/11/2023
Global Cleveland to Receive Federation's Eisenman Award
COURTNEY BYRNES
Article reprinted with permission from Cleveland Jewish News
The Jewish Federation of Cleveland's 119th Annual Meeting at Park Synagogue will honor Global Cleveland and feature Kenneth W. Stein as it looks back on the past year.
The meeting will include the election of Federation trustees, the presentation of the 2023 Charles Eisenman Award for Exceptional Civic Contributions to Global Cleveland, and remarks from Stein, professor emeritus at Emory University in Atlanta.
"We're going to look back on the past year with great pride on what we've accomplished together as a community," Barry Feldman, the evening's emcee and Federation board member, told the Cleveland Jewish News May 8. "The Jewish community of Cleveland's steadfast commitment to each other, our community and our people was very clear to see in the actions large and small, and made it possible to make life better for so many here, as well as around the world."
Feldman is also a member of the Cleveland Jewish News Foundation Board of Directors.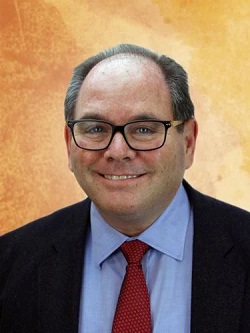 Looking back on 2022, Feldman said the community faced the humanitarian crisis caused by the war in Ukraine, growing concerns about teens' mental health at home, and rising antisemitism and violence toward Jews across North America. The annual meeting offers an opportunity to reflect on the past year's accomplishments and celebrate the connections made to move the community forward, he said.
Each year, a nominating committee selects a recipient for the Eisenman Award, which recognizes individuals or organizations for exceptional civic contributions and exemplary leadership in the community.
"Global Cleveland was chosen as this year's Eisenman Award recipient for their steadfast work in supporting and welcoming immigrants that are arriving in Cleveland," said Feldman, a resident of Pepper Pike and a member of B'nai Jeshurun Congregation in Pepper Pike. "They understood the value of the immigrant population that it brings to Cleveland and are so deserving of the highest Civic honor for doing so, both helping the people that are coming here as well as helping the city of Cleveland."
As the Federation leads the yearlong celebration of Israel's 75th anniversary of independence, Stein, the founding president and chief content officer at the Center for Israel Education, will address the audience, focusing on where Israel has succeeded, what remains unfinished and what the current challenges are, Feldman said.
Now out of the height of the COVID-19 pandemic, Feldman said he expects a strong turnout with several hundred attendees. The evening will also include a formal portion to elect the Federation trustees for the coming years.
"This is an excellent opportunity to come together as a community, look back at the year together and to see our successes as well as our challenges," he said. "And we hope that you'll join us."