05/04/2016
Gross Schechter Israel Blog
Check out what the 8th Graders at Gross Schechter Day School have been doing during their trip to Israel!
May 4, 2016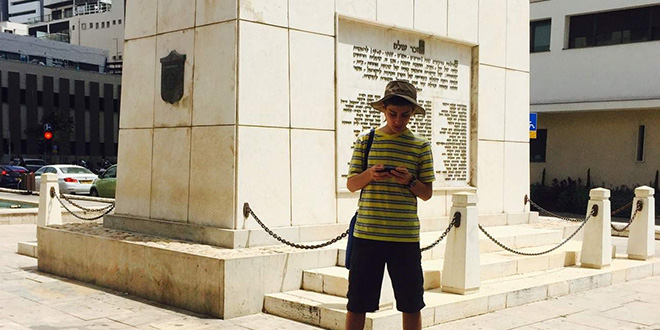 by Adam Kahn
The waves crashed up against the rocks on the Tel Aviv beach. The sea breeze hit our faces. Everyone gathered together under the rainbow in the sky. The whole class sang the prayer "Shehachiyanu". We could not be happier that this day is finally here!
We then headed to the Founder's Monument. There stood a memorial that held 66 names that remember the founders of the great city of Tel Aviv. One of those names was my great- great- grandfather, David Nahum Weisbord Livini. As my great grandparents and grandparents on my mom's side lived and died during the Holocaust, my grandparents on my dad's side were building our new Jewish State. I read to my class the story of my great great grandfather as the city of Tel Aviv was alive with excitement.
Our next site that we saw was Independence Hall. This was the building where David Ben Gurion declared that the land where we were standing would be our Jewish State.
Next we traveled to the city of Cholon and participated in a tour through the eyes of a blind man. The journey lasted 70 minutes through complete darkness while only using our senses of touch, smell and hearing. It was an amazing way to begin this journey.
Currently we are on the bus ride to the hotel. After showers and dinner we will be included in a Erev Yom Hashoah ceremony with Kibbutz Shefaiim.
Our first day has been jammed packed with so many memories, and it's hard to believe that this is only the beginning of more and more to come.
May 5, 2016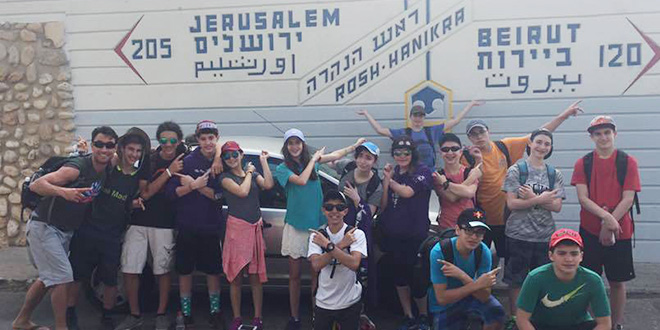 A Day at Rosh Hanikra and Atlit
by Aidan Gross
It was 10:00 in the morning; we were outside the detention center waiting for the siren we have learned about all these years- the siren that signals Yom Hashoah. Everything stopped, the cars pulled over, and everybody got out of them. It gave me 1 minute to just think. It was a very peaceful and meaningful time where all I did was stop and remember. After the siren, everything went back to normal and we arrived to the holding facility for the Jewish illegal immigrants who tried to move to Israel.
When we arrived at the detention center, we had a conversation about the Jewish immigrants and we learned new things about why Yom Hashoah is on the 27th of Nissan. After that, we went to the rooms where the immigrants were held- the beds were hard and the rooms were crowded. I can't picture what it would have been like to have to live there especially after these same people escaped the atrocities of the Holocaust.
Our last destination was Rosh Hanikra, and the view was great! We watched a video about the history, and we learned that every 1,000 years as the water hits the rocks, it shrinks by about 1 meter. We went down to the caves and saw the waves crashing against the rocks and it was awesome. So far the trip has been great, meaningful and I'm excited to see what's to come!
May 6, 2016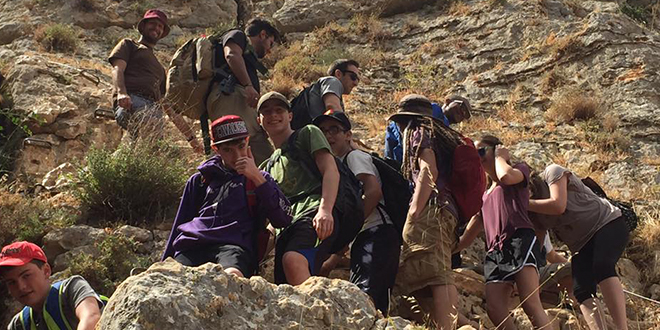 Hiking Mt. Arbel
by Brian Caplan
The view was gorgeous from atop Mt. Arbel. While it was lightly raining, we prayed with breathtaking views of all the other mountains around us and the Kineret just below us. As we finished praying, and the weather cleared up, our friends from the Mandel school pulled up in their van. After some fun games to get us all awake and introduced, we started our decent down Mt. Arbel. The first third down was the most dangerous. The path winded in between stone and on the edge of terrifying drops. Although some were anxious and scared, we all got to the bottom and had a real fun time. After the hike, we drove to Hoshaya and traveled back in time to the Mishna period through stories told by Menachem. We learned the Kosher way to make pita and made some. It was delicious. The best part by far in Hoshaya was the donkey rides. We went along a path in pairs; one guiding the donkey and one riding. We even named them! Unfortunately, Noah and I picked the slowest donkey. Now we are on our way to the holy city of Tzfat where we will have our first Shabbat. I am very excited to celebrate Shabbat with all of my closest friends. Can't wait for another fun filled day.
May 8, 2016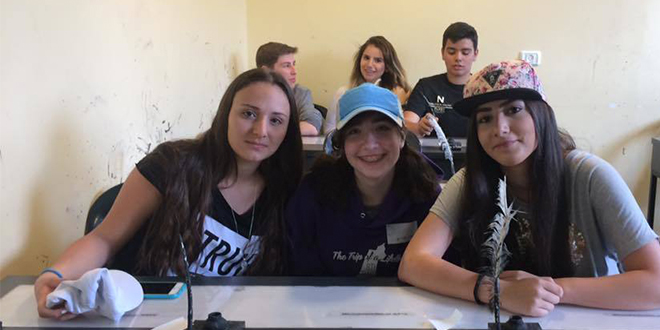 Shavua Tov From Tzfat
by Grace Bloom
"Yeverechecha" is a very familiar and meaningful word to me. In a simple sense means "bless", but it holds so much more meaning than that to me. Every Friday, I feel the warm, loving hands of my parents on my head as they say these words with the same inflection as the week before, speaking slowly and calmly. I make silly faces to my brother and my savta and feel completely at home. This Friday evening's "yeverechecha" had a surprising meaning; I thought it was going to feel foreign without my parents' hands on my head, but to my surprise it was the same. The entire week before this one moment I was homesick to the point of tears and panic. I had never been overseas until I stepped foot in Ben Gurion airport. But when I stood in the small room in our crumbling hotel in Tzfat, I forgot about all my anxiety and homesickness. I forgot the heartache, the distance, the exhaustion, and the pain. At that moment, as I felt the warm, loving hands of my friends on my shoulders, I finally felt at home. This was the beginning of the best Shabbat of my life.
My classmates and I reluctantly surrendered our phones to Mrs. Amkraut and Mr. Faulkner as dusk began to fall over the ancient bricks and slanted streets. My long black skirt swayed in the cool, evening breeze. My ears filled with the sounds of intense prayer emitting from both sides of the dividers (mechitza). We then traveled onto another service that was held on the corner of a street peppered with commotion. A strange hand under a dimly lit shwarma sign suddenly pulled me. I was reluctant to join in, but I gradually got more and more involved, jumping and singing praise with people from all different walks of life. I felt more connected to Hashem than any time before.
After an exhilarating prayer experience, we returned to a dining room where every word one said was echoed across the way. A meal which included several delicious courses which were devoured by the hungry, growing teens. The laughter flew through the room as did the love. We joined in zmirot, a tradition held dear in my household, and performed an energetic Birkat Hamazon. Havdalah concluded our time in Tzfat, and we realized that the devices we were handed were nothing compared to the togetherness and view of Mount Meron we experienced over this amazing Shabbat.
An early Happy Mothers Day to my mother and to all the Schechter moms, we love you and miss you so much!
May 9, 2016
Jordan River Rafting
by David Israelstam
The view was absolutely amazing while we were slowly floating down the Jordan River with our pen pals by our side. The sun wasn't too hot but not too cold either. It was just perfect.
We met our pen pals in the morning and played ice breakers with them which was very fun. It was amazing to have the opportunity to hang out with people my own age who live across the world and see how their lives compared to ours. We didn't only enjoy the amazing view of the mountains behind the large trees, but we communicated with our pen pals and gradually became closer and closer in a matter of an hour. It was great to meet new people and have the chance to experience the way they live life.
We said goodbye to them knowing that tomorrow we would meet them again tomorrow and even get to have dinner in their homes!
After a long bus ride, we went to a cemetery. While it was very sad, we listened to stories about dreams and life of the pioneers of those who settled in Israel. I was very happy I had the chance to sit and think about how great life is and knowing I shouldn't take advantage of one minute.
Today was very fun, but at the same time it gave me time to think about many things in my life that I couldn't imagine thinking in America.
May 10, 2016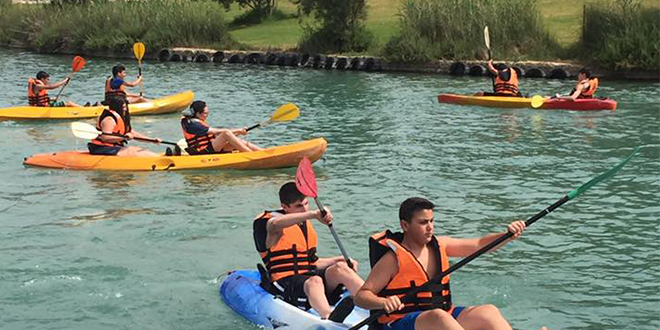 Day Two with Our Beit Shean Pen Pals
by Mollie Stadlin
A while ago, within the excitement of the trip, we learned that we were going to have Israeli pen pals from Beit She'an. I was filled with happiness at the thought of having a pen pal in Israel, from Beit She'an, Cleveland's sister city. It was comforting to know that once I arrived in Israel, I would have some friends other than my classmates to talk to that were in the same time zone as me. When I first got their email address I started to compose my first letter. I wrote a short, simple email about my family and my hobbies. A few days later they emailed me back, we exchanged user names and in no time we were talking, sharing pictures, and getting to know one another better. I messaged them everyday counting down the days until we would be able to meet face to face.
After landing in Tel Aviv, I texted my parents, and the next people I contacted were Amit and Dana. All three of us were energized with the thought of hearing each other's voices in person, not over text. While the first few days were fun, I was anxious to meet my new friends. When we finally met, we skipped the awkward part of meeting someone new because we already knew so much about each other. I also really got along with the other Beit She'an kids. We hung out for most of the day yesterday, but it went by too quickly. When I called my parents that night, I told them how nice my pen pals were and went to sleep with even more excitement to see them again the next day.
When I woke up, I tried to hurry and pack their gifts in my backpack. We left Ma'agan and headed out to Mount Bental and saw a beautiful view but, I was distracted by the fact that I would see my pen pals soon. Even the smell, taste, and fun of making chocolate at De Karina couldn't get my mind off hanging out with my new Israeli friends. Finally we left to the natural spring in a recreational center, right outside Beit She'an. Right as I walked to the meeting area, I could spot Amit and Dana. I ran up to them and got ready to Kayak with them. We had fun splashing in the nice, cool water and this brought me closer with more than just my assigned pen pals but a lot of their class.
But definitely the highlight of the day was going to see what it was like living as a normal Israeli teenager in Beit She'an. Amit, Dana, and I were dropped off from the bus and started heading towards Dana's house. It was really interesting to see the differences in the houses and streets. When we got there, her mom welcomed me with a smile and we hung out. We talked about each of our lives and just things about ourselves. I ate what they called a "traditional Israeli dinner" that Dana's mom prepared. We talked in Hebrew and at the same time taught Dana and her family some English. After dinner, the local park became filled with my classmates and their pen pals- a usual hangout for the Israelis. The time flew by until we met our bus to return us to our hotel.
The mifgash was one of the best part of the trip so far!
May 11, 2016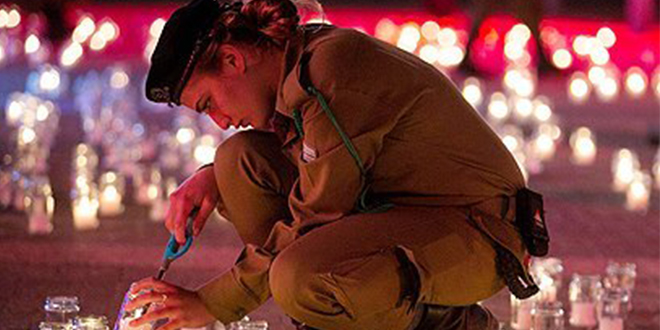 Remembrance
by Emily Axner
Remembrance.
In Israel today, it was Memorial Day, the time for us to honor the fallen soldiers of the Israeli army. This day is known as Yom Hazikaron.
Tonight we went to a community center in Jerusalem to participate in a ceremony for this special day. There were poems read, stories told, and songs sung. Tonight several emotions swirled around in my mind. This was a time where we as Jewish people come together to honor our friends lost. In Israel most people either have a connection to someone who was killed in the army or know someone who knows somebody.
After hearing all the stories of the soldiers killed and who they once were as a person, it was so hard to imagine that one-second they were here in this world and the next they weren't. It's sad to think that that they were loved cared for and that they once were a part of a family. Their parents will never be able to tuck them in at night, say goodnight or I love you. Those words will never be heard again. The soldiers who were killed were known yet we will never know them.
Lastly, tonight was a time where each one of my classmates was serious. There was no joking or laughing. The mood was intense, there were tears trickling down our faces. We were all in sync with one another. Most of us felt the same feelings. Today was a day of sadness. Remembrance. We will never forget the ones killed. They are in our hearts each and everyday.
May 11, 2016
Yom Hazikaron
by Julian Saunt
Today is the day of remembrance. Yom Hazikaron. Today we took time to remember the soldiers who died fighting. The soldiers gave their lives to enable the Jewish people to have a country to call their own, a country that I can call my own. Today we left our hotel and traveled to Mount Herzl to join thousands of Israelis who were also paying their respects for all the soldiers that were killed. The power of this day, Yom Hazikaron brought together people from all around Israel from all walks of life to remember the soldiers. The mountaintop was lively yet strangely quiet. The sound of the crowds was eliminated when the siren began sounding. This siren is one of the most powerful things in Israel. Everyone stopped talking, walking and driving no matter where they were. After this very intense powerful morning we left to go on a hike called Nachal Sataf. The sun was beating down on our backs as we hiked through the trees. My class finally arrived at a cave at which point we changed to our water shoes. We climbed through the smooth water and the chiseled rock was amazing. Finally, we came to a cavern in the cave created by the water that constantly beat against the walls for thousands of years. We then started one by one turning of our flashlights creating complete darkness. There we sang together lost in the darkness.
The day that started as a somber one is slowly transitioning to one of the most cheerful days as we prepare to celebrate the independence of our homeland. Sixty-eight years and going strong!
May 12, 2016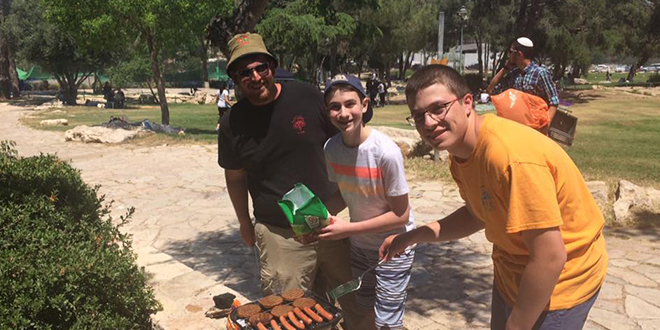 Yom Ha'atzmaut
by Ben Wyant
Israel was established 68 years ago on this very day when David Ben-Gurion declared independence. Today was Yom Haatzmaut. We transitioned from a somber day where we remembered the lost lives of soldiers who died protecting our promised land to the happiest and most energetic day of the year when we celebrate Israel's independence. As a class we traveled just outside Jerusalem to a festival, and we had the opportunity to watch many local dance groups and performers, and we let loose and had a lot of fun.
The following day, we went to Ammunition Hill. We learned all about the bunkers and how the soldiers fought to protect Israel to keep Herzl's dream of a Jewish state alive. We were able to explore and look closely at many different weapons and even participated in a simulation of sneak attacks soldiers might face with a water gun. After we returned from Ammunition Hill, we walked to a local park where we ate a traditional Israeli Yom Haatzmaut lunch of a BBQ. We played cards and different games in the park along with many other Israelis who were doing the same thing. It was amazing to immerse ourselves in the Israeli culture on a very important day and we had a wonderful time.
We are looking forward to going to Mollie's grandmother's house and thank her for hosting us and allowing us to conclude our celebration. Tomorrow we head to Yad Vashem and then off to our host families for Shabbat. The next blog will be posted on Sunday after we return from our host families and after a day of exploring the Old City of Jerusalem.
May 16, 2016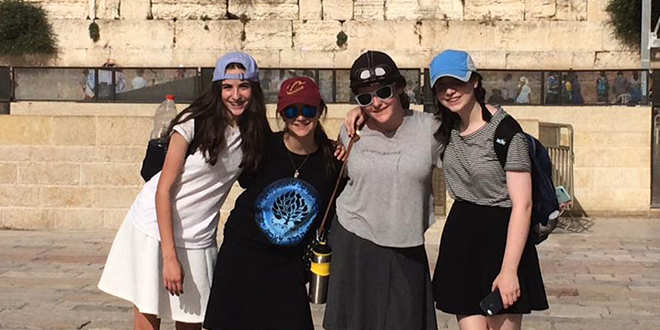 Experiencing the Kotel
by Eden Burg
We have been learning about this place since before first grade, and today we got to witness this magical site first hand. Even though it was over 100 degrees outside, we each took a moment for ourselves as we approached the wall- the Kotel. Although it wasn't very crowded (which was how I imagined it), it was very special to be able to go up and touch the wall. Each crack in the wall was filled with special notes written to G-d. We each searched for a place to cram our notes into the wall, and all we could think about was the fact that we were actually in the holy land standing in front of one of the holiest places to the Jewish people, my people. After getting ice-cold water from the awesome water truck, we toured the tunnels beneath the walls. Each tunnel we went through brought us closer to our history and to the land. After being on our feet from around 10:30 until around 5:00, eating an amazing pizur lunch (choice) of either pizza, shwarma, falafel, pasta and ice cream we headed back to the hotel for dinner. Although Ben Yehuda Street wasn't on our original itinerary, our amazing tour guide surprised us and took us there instead of going to Malcha mall. It was so much fun! We ended the night with a little birthday celebration to Noah. Tomorrow is another busy day as we head down South.
May 17, 2016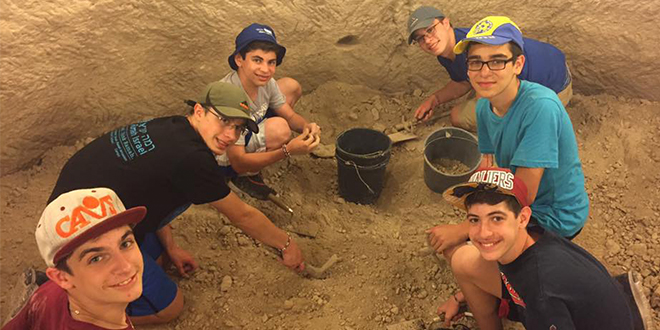 Old City Explorations
by Andrew Caplan
In the morning, just as the sun was rising from the East the class started to pray at the Kotel. The scenery was beautiful; they stood under the Robinson's Arch and the temperature wasn't too hot. But, some of us wouldn't know this because a few classmates and I were feeling a little under the weather so we went to the doctor's office. It was similar to doctor's offices in the America but everything in Israel MUST be more special.
The day didn't start out very well for me, but as it progressed, it gradually became better. When we met up with the group, and it felt like reuniting with family; everyone asked how we were and we laughed a lot. And then we traveled to the best part of the day- Dig for a Day in Beit Guvrin.
There I pulled the shattered remains of a two thousand year old jar from the ground. I studied it and held it up to the rest of the group; cheers echoed off the walls from my discovery. Shielding us from the blistering 100° weather, these underground caves hold the stories of people from the time of the Maccabees. During the time of Hanukkah, the people who lived in these mountains dug out basements. When it became too dangerous to live there because of the Romans, they threw everything in their basement and fled the land. As a class we excavated the remains in these basements and found many old fragments that tell the lives of the people there. I hate to say this but Brian was the most successful at finding by far the most artifacts from bones to large fragments of pottery. After excavating, we ventured in a different cave that hasn't been touched by archeologist. It was very windy and at spots we had to lie down, and a few of us hit our heads.
Tomorrow I am excited to travel south to the Arava where snorkeling, some hiking, and banana boating awaits us.
May 18, 2016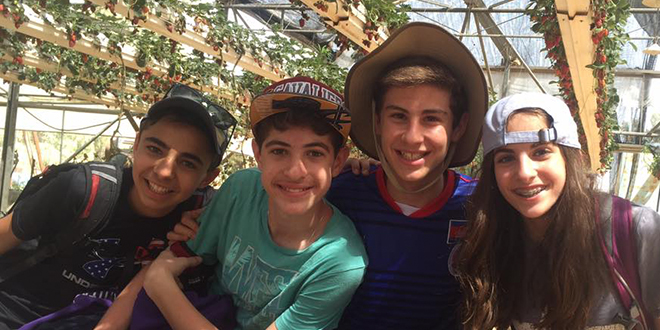 Visiting Kibbutz Shvil Hasalat
by Noah Turoff
Our group always seems to be craving food, but today we tasted the freshest of the fresh. We visited Talmai Yoseph a Kibbutz that was home to Shvil Hasalat. The kibbutz and others like it are only the beginning of Israel's first Prime Minister David Ben Gurion's dream- that the sand covered Negev would blossom into a beautiful garden and place to live. Shvil Hasalat is a complex of gardens in which fresh vegetables, fruits and herbs are grown and sold. Shvil Hasalat is particularly special because it is not only in the desert but is also just five miles away from both the Gaza Strip and the Egyptian border. During our visit we were given a tour of the gardens, shown how the farmers protect their plants and save water, and most importantly we tasted the fruits (and vegetables) of their labor.
We were given a tour of three of their farms. The first farm we saw was filled with cucumbers, hot peppers and a large variety of tomatoes. Our guide told us about a drip system invented in Israel that is used by nearly every country to conserve water and still work the farm. We learned about how Israel created the cherry tomato and how tomatoes can come in many different flavors colors and sizes. After a talk, which seemed to take forever, we were finally given a chance to taste the delicious foods our guide had been showing us. We walked around the facility picking tomatoes and cucumbers to be eaten. Each tomato I ate came with a new flavor and sensation, and the cucumbers were weird and prickly.
Next we went to the herbs garden. We ate a lot of leaves and flowers that tasted much better than we expected. We ate chives that tasted like onions and garlic, a red flower that was sour and Spanish mint that is probably a much better choice than brushing my teeth. After that we went to the strawberry gardens that were my favorite. There we learned how a strawberry is grown and how not a single pesticide or chemical is used on the strawberries. Instead of pesticides, the kibbutz buys small containers holding the predatory bug of anything that would eat the strawberries. We also learned about how the strawberries are grown in coconuts and how and water that isn't used is dropped into a collector which holds the water until it needs to be reused.
There's nothing better than going to sleep knowing that tomorrow we will wake up and have a brand new adventure awaiting us. Layla tov from Kibbutz Ketura!
May 19, 2016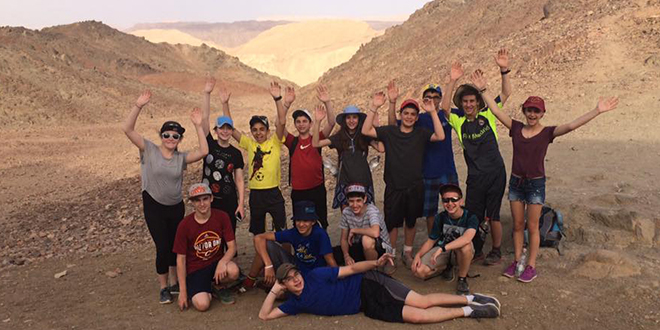 Eilat
by Jacob Solomon
If you are a morning person, then today was certainly the day for you. However, if you aren't a morning person like me it started off as a bumpy ride. We woke up at 4:30 A.M. and got ready for the day. The day started off with a 1-hour (ish) bus ride to the Eilat Mountains where we hiked up one of the taller mountains in the range. The view was gorgeous. Everything was so quiet that it felt like I was in a big, white room (but I wasn't in a big, white, air conditioned room; I was in the 93°F heat…but that's ok!). The hike was two and a half hours of natural beauty and amazement. Millions of years have gone by to intricately place those rocks and boulders in the spaces that they are today. It was, for sure, no exceptions, one of my favorite things one the entire trip. From the peak of the mountain we were able to see 4 countries- Jordan, Saudi Arabia, Egypt and of course Israel.
Snorkeling was also a very cool part of the trip in Eilat. The coral reef. is the attraction that draws in most of the money for the southern most city in the Holy Land. (I did a project on Eilat, so I know some of the big details) Under the blue, heavy water hides a colorful world where fish and sea creatures call their home. It was cool to be literally inches away from sea life and their natural habitat. Even though I've gone snorkeling before, this was more of a live experience in the country that I call my homeland.
We also went Banana boating off the Eilat coast. That was fun activity. We climbed into these blue banana looking rafts that were attached to a speedboat and we were pulled around. We got soaked from head to toe! I really enjoyed it.
It's the end of the day now. The sun is beginning to set, and the clouds flow in. The sky is painted with all different shades of red and yellow. Looking back on the day, it was a fun one. We did so many things that I would love to do again-hiking, swimming, snorkeling. Now, we are looking forward to our evening program; which is (drumroll…) rolling down sand dunes! I'm so excited! This is what this trip is all about. Bonding with my friends while doing an activity that we are going to have fun doing. I can't wait! So…Brb (be right back)…rolling down sand dunes!
Stay tuned for more trip updates! 
---
Related Items