04/13/2016
Gross Schechter: Trip of a Lifetime
Preparing for the 8th Grade Israel Trip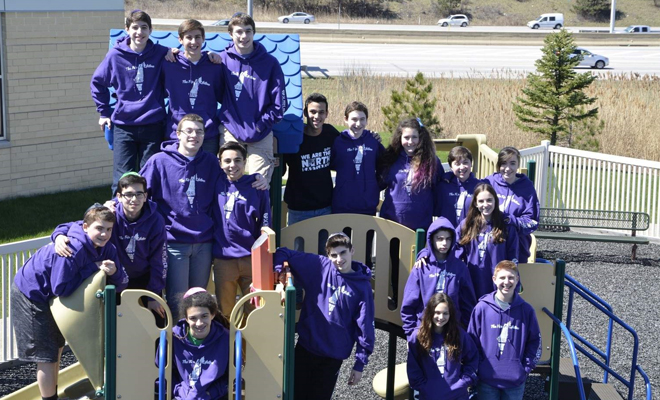 by Eden Burg, 8th Grade
My mom keeps yelling at me to clean my room. She just doesn't understand that every pile is laid out in perfect order waiting to be packed into my suitcase for the trip of a lifetime.
I've been waiting to go to Israel since the day I started at Gross Schechter Day School in preschool. I go from store to store. From doctor to doctor, just waiting in the office to get my physicals for Israel.
Every year before mine, the sweatshirts that the eighth graders wore were amazing. Their nicknames, one better than the next. I couldn't wait to finally be able to design our sweatshirts. I've had my nickname picked out since third grade, eager to just put it on a sweatshirt already.
For the whole year in Hebrew we have been learning about the geography and culture of Israel, our homeland. Most recently we were each assigned a city in Israel to research and present what we've learned to the rest of our grade. Some of the cities include Beit Shean, our sister city, Haifa, Beer Sheva, Eilat and Jerusalem. We've also been practicing our Hebrew so that we can be as immersed in the culture as possible.
Just this past Tuesday we video conferenced with our pen pals in Beit Shean to meet them and learn stuff about each other before we all finally meet in person. Now we text, Snapchat and Instagram our pen pals almost every day! We look forward to when our shin-shin, Noam from Israel, comes in each week to teach us about his life in Israel and everything that makes Israel so special. In Judaics class, Rabbi Ben is teaching us about the history of the different places we will be visiting in Israel.
This trip marks the last time my class will be together before graduation. Three weeks. The shortest three weeks of my life, but the most transformative. I know that they will fly by in the blink of an eye, so I have promised to make each day count. Twenty-six more days, but who's counting?
---
Related Items