04/20/2016
A Special Sendoff for 8th Grade Students
Gross Schechter Students Provide Special Sendoff to 8th Grade Students during the Nesiyah Tovah Party!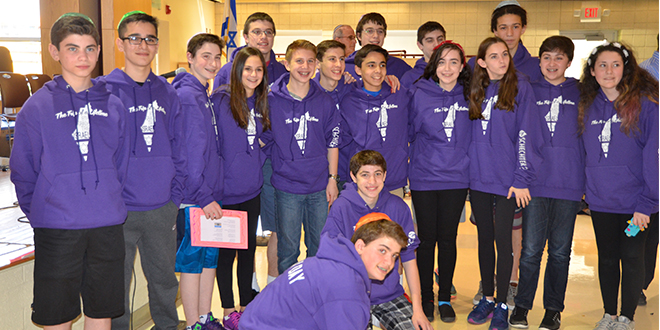 At Gross Schechter Day School, the Eighth Grade Israel Trip is the culmination of the Schechter experience. After years of study that have helped Schechter students develop a deep love for Israel, provided them with the language skills to speak Hebrew with ease and have deeply rooted them in the history and cultural landscape of the Jewish homeland, Schechter students will bring their studies to life with this extraordinary three-week trip. On this trip, they will connect with other students in Cleveland's sister city, Beit Shean, they will visit the sites that have been sources of study for years and truly immerse themselves in Israeli culture.
With the students departing shortly after Pesach, the Gross Schechter tradition is a special Nesiyah Tovah program that helps kick off this life-changing experience with a meaningful send-off. Students from grades in Kindergarten through Seven each make special presentations to the Eighth grade students. This year, the program began with Schechter Kindergarten students presenting personal notes that they wrote to their Eighth Grade buddies, "Dear Adam, I hope you have a good time in Israel. I hope you get to see the Kotel. I'll miss you. I had fun with you this year." The letters were written and decorated by the students, who were more than happy to prepare them for their Eighth grade buddies. (Schechter has an extensive buddy program pairing younger and older students through mentorship, programming and celebration.)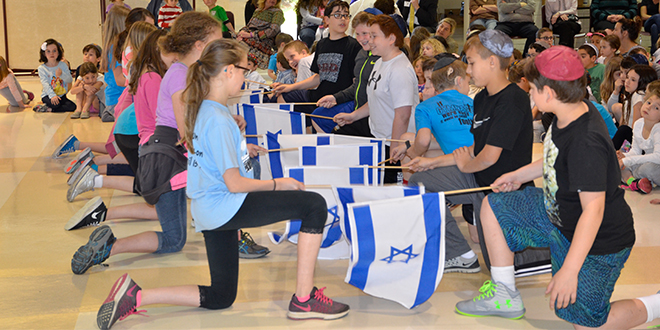 The Eighth grade students were serenaded by the First grade students who sang, Im Tirtzu, the famous words of Theodore Hertzl. The Second and Third grade classes performed two Israeli dances, Fourth grade students recited a poem and presented the Eighth graders with goody bags for the long airplane ride. The Fifth grade students performed an original Flag dance with dozens of Israeli flags. The Sixth grade students wrote an original song that they performed and the Seventh grade students created luggage tags that they presented to their friends. The program concluded with the recitation of Tefilat Ha'Derech and other prayers offered by Schechter's Coordinator for Jewish Living, Rabbi Ben Shlimovitz, as our 8th grade students were gathered together under a tallit canopy held by their parents. "I can't think of a more meaningful way to start a journey that our students have worked towards for many years. It was a very special afternoon for all of our students, faculty and Eighth grade parents," Randy Boroff, Head of School.
Seventeen students will depart for Israel on May 3. To follow their adventure, visit the Schechter website, www.grosssschechter.org or follow Schechter on Facebook.
At Gross Schechter Day School, success is illuminated by tradition and ignited by innovation. At our outstanding Early Childhood Program through Middle School, students benefit from a well-rounded program that fosters success in all aspects of their lives. The curriculum focuses on strategies for problem-solving and places a strong emphasis on critical thinking, which allows students to understand their place in the world around them. Our Hebrew Immersion and integrated Judaic studies program ensures mastery and leads to strong identity formation. Above all, our team of dedicated teachers is committed to developing each student's individual strengths and to maximizing each child's potential - academically, socially and emotionally.
---
Related Items