07/24/2020
Hebrew Academy, Yeshiva Derech Hatorah Serve Lunch, Breakfast to 3,000 Children
In the face of the COVID-19 pandemic, Federation worked with our beneficiary agencies Hebrew Academy of Cleveland and Yeshiva Derech Hatorah to make sure no student from any of our local Jewish day schools would go hungry. Because of our community's support of the annual Campaign, Federation was able to cover the cost of feeding thousands students kosher breakfast and lunch for many months while school was closed.
Article reprinted with permission from Cleveland Jewish News
by JANE KAUFMAN | STAFF REPORTER
Nearly 3,000 children in Greater Cleveland are receiving kosher breakfast and lunch seven days a week prepared in the kitchens of two Cleveland Heights Jewish day schools.
As participants in the federally subsidized National School Lunch Program, the staffs at both schools are preparing meals that are packed in boxes and picked up at four curbside locations each Monday, Wednesday and Friday through Aug. 31.
"This is unprecedented," said Dovid Greenberger, president of Kosher Consultant, who manages the kitchens at Hebrew Academy of Cleveland and Yeshiva Derech Hatorah. "There has never been a program like this ever before."
Greenberger nearly doubled the staff in kitchens at both schools in order to participate and accommodate the requests for breakfasts and lunches for children in the Jewish community and beyond. In addition, Greenberger's company purchased refrigerated trailers for use at both schools to meet the need.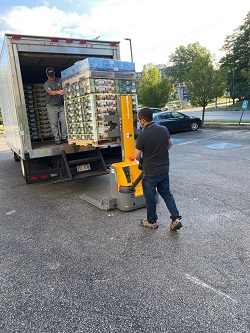 While the summer lunch program has been done in prior years, Greenberger said, it was expanded in response to the needs precipitated by the COVID-19 pandemic, and neither day school has participated in it before.
Family feedback
Moish Tohn, executive director of Yeshiva Derech Hatorah, said he is pleased the school is able to help families.
"The coronavirus crisis left so many holes in people's lives, and if we can make it easier by providing breakfast and lunch for people on a daily basis it's an honor to do it." he said.
The program is designed to reimburse schools for costs, although there were out-of-pocket costs for the schools.
"The school has to invest a considerable amount to be able to run the program," he said. "A lot of it is reimbursed by the state and federal money that comes through the state."
Rabbi Eli Dessler, financial director of Hebrew Academy, said the school has received "phenomenal" feedback from parents in email, letters and telephone calls.
"This really is a game changer in their lives," he said. "This way they can focus in on their children and whatever else needs to be done, especially in this COVID environment, which is a challenge in and of itself."
Open to all
While the meals are kosher, anyone ages 1 to 18 is eligible to participate in the program regardless of income or religion.
Registration isn't required, but Greenberger prefers it.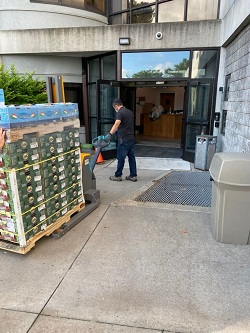 "I love the challenge of it," he said.
And there have been many. Among them, figuring out how to keep meals cold for curbside delivery.
While some of the meals are picked up at the Taylor Road campuses of both schools, others are transported by refrigerated trailer to Beatrice J. Stone Yavne High School and to Young Israel of Greater Cleveland, both on South Green Road in Beachwood.
By design, each package includes at least one frozen item, Greenberger said, which helps keep them cold. Temperatures of the boxes are monitored by the managers at each delivery site. Pickup is scheduled for no longer than an hour and a half helping assure safety as well.
Repurposing schools
Since both schools are closed, areas that are typically used for classes are being purposed for food storage. At Yeshiva Derech Hatorah, the gymnasium and the cafeteria are used for packing. The preschool classroom has been converted into dry storage.
At Hebrew Academy, the girls' cafeteria is being used for both packing and dry storage.
Greenberger uses a forklift at Yeshiva Derech Hatorah when food and supplies are delivered and drives it right through the school's main corridor, he said.
At Hebrew Academy, a conveyor belt is used to transport supplies to the basement kitchen.
Delivering the correct nutritional balance with every meal also proved onerous, and the government allowed the program nationally to provide the nutritional balance over the course of the weeks. So, for example, the week's milk is delivered on Monday. And boxes are packed with bulk, rather than individual meals, which simplifies packaging.
"I'm able to play around with things a little bit, be creative," Greenberger said, adding it also means that it is important that families participate in all three days. "If you're just picking up the Monday box, you're missing out on the nutritional components in the Wednesday or Friday box."
And then there is the cooking, where time and temperature are critical to assuring food safety.
Greenberger said he has not had to train the new employees on the minutiae involved in kashrut because the schools' chefs are in charge. The new employees are primarily doing such tasks as packing lunches and preparing ingredients.
To participate in the program, Greenberger said he had to submit his credentials in food safety certification. The program is audited on a monthly basis, he said, and has rigid allowances for how the subsidy is spent.
A Jewish flavor
Peter Meisel, chair of the Jewish Federation of Cleveland's community planning committee, had praise for the effort on the part of both schools.
"We are proud of Yeshiva Derech Hatorah and Hebrew Academy of Cleveland for working together, not only to meet the needs of their students but any student in need of a kosher meal – an excellent example of how our community shows up for each other with chesed," he said in a statement.
Greenberger said he has enjoyed tailoring the meals to Jewish and secular holidays. For July 4, the packages included frozen hot dogs, hot dog rolls, frozen French fries and doughnuts from Unger's Kosher Market & Bakery with red, white and blue sprinkles.
The Jewish fast day, the Seventeenth of Tammuz, this year fell on July 9, and families may have been looking to eat a traditional break the fast meal the following morning.
"So I negotiated with suppliers in New York to get a 4 ounce package of lox and bagels," Greenberger said.
Friday's packages for weekend meals include 8 ounce bottles of grape juice and challah rolls to help families observe Shabbat.
"We have to give fruit juice, so why not make it grape juice?" Greenberger said. "We have to give bread, so why not make it challah rolls? We have to have a protein, so why not make it like chicken schnitzel? … It's a cute little package."
He said the schools don't profit in any way, and he does not know whether the program will continue into the fall. That might depend on whether schools open.
"The children couldn't come back to the school with us operating," Greenberger said. "I don't know what's going to happen after August 31."
Greenberger said he is enjoying helping families.
"I'm not getting any rest, but I'm OK with that," he said. "It's just a really good feeling for everybody to help out the community."