08/28/2016
Hebrew Cultural Garden Rededicated
Hebrew Cultural Garden in Cleveland refreshed, rededicated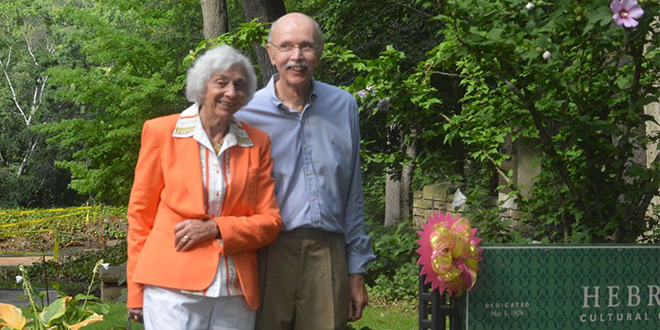 Article reprinted with permission from Cleveland Jewish News.
By Carlo Wolff
A stone staircase, in disrepair for years, once again provides a second access to the Hebrew Cultural Garden. The tall fountain at the center of the gardens between Martin Luther King Jr. Drive and East Boulevard in Cleveland, dry for years, is working. The plaques at the ends of the spokes of the gardens have been buffed and largely updated.
There's more to come.
"There will soon be an Israeli flag and a Hebrew Cultural Garden sign on MLK," Jessica Cohen, managing director of community relations for the Jewish Federation of Cleveland, said Aug. 28.
The revitalized gardens were the focus of a brief rededication morning ceremony. About 30 people, including Cuyahoga County Executive Armond Budish and his wife Amy, attended.
Thank Duluth, Minn., native Donna Yanowitz and Bill Jones, a native Clevelander, for helping shepherd the $250,000 renovation of the gardens, which date to 1926. Yanowitz, who turned 92 Aug. 2, became chair of the Federation's HCG committee 10 years ago. Jones has been tending the gardens for years.
Yanowitz and Jones, who is 77, recently stopped working at the gardens. The Federation's facilities department now maintains the site.
Both were honored Aug. 28 for their devotion to the gardens, which join 29 others in the Cleveland Cultural Gardens, a civic project that turns 100 this year. The private rededication ceremony where the two received plaques was held an hour before the 71st annual One World Day opened to the public.
Stephen H. Hoffman, president of the Jewish Federation of Cleveland, noted that the Hebrew Cultural Garden speak to the deep bond between the city of Cleveland the area's Jewish community. Hoffman said it was fitting that he stood before a plaque honoring the Russian dissident Natan Sharansky, as Cleveland's Jewish community was instrumental in helping persecuted Jews flee the former Soviet Union.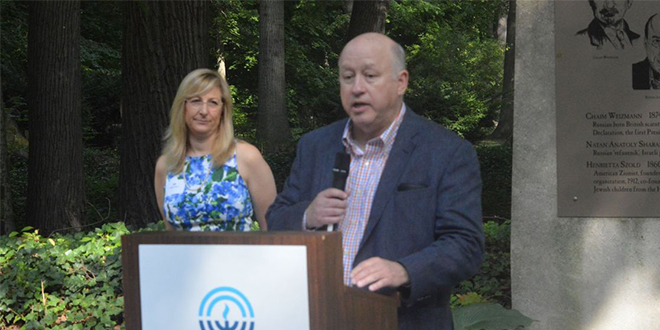 ---
Related Items