09/12/2023
HERE FOR GOOD: 2024 Campaign Launches with Super Sunday Kickoff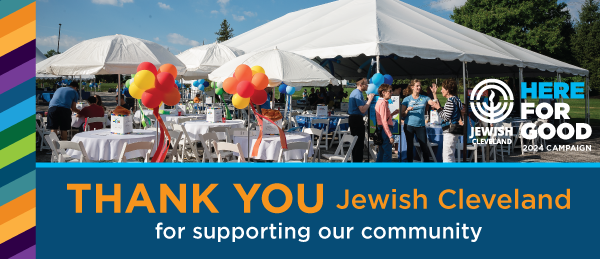 The 2024 Campaign for Jewish Needs has launched! Thank you to the 1,000+ community members who braved the rain to join us at Super Sunday Kickoff. The annual Campaign is the Cleveland Jewish community's annual fundraising campaign that provides critical dollars necessary to help keep our diverse, local community safe, strong, and welcoming, as well as serve the needs of the global Jewish community.
Community members of all ages joined us on the Federation campus to connect with one another over food, outdoor games, a live simulcast of the Brown's game, volunteer opportunities with the Jewish Volunteer Network, lots of children's activities, and more.
"It is so special to see people from across our community taking part in this Cleveland tradition," said Gabrielle Jerusalem, Super Sunday co-chair. "We are here together for a singular goal of making life in our Jewish community better today and stronger in the future."
Together, we closed 1,048 gifts totaling $2,001,805 in a single day!
Special thanks to our Super Sunday co-chairs: Gabrielle and Yissachar Jerusalem, Kara and Jeremy Rosen. Thank you to our corporate sponsors: KeyBank, Benesch, and Cleveland Jewish News.
If you missed your chance to give on Super Sunday Kickoff, it's not too late! Every dollar makes a huge difference. Donate Today >