10/25/2018
Highlights from the 2018 General Assembly
BACKGROUND
More than 3,000 people attended the 87th GA, which took place this year in Tel Aviv, Israel. The annual event came at an interesting time as Jews across North America have increasing voiced frustration over recent decisions made by the Government of Israel.
To be sure, as One People who seek both a thriving Nation State and prospering communities beyond its borders, the relationship between Israelis and Diaspora Jews is complicated; and can be challenging. Yet, it is in this space that Israelis and Diaspora Jews must remain steadfast in their engagement. The 2018 GA was the vehicle to make this happen. The theme this year was "Let's Talk." And that's exactly what conference participants did. They talked. And they listened.
Below is a summary of the three-day event.
ABOUT THE 2018 GENERAL ASSEMBLY
In moderated small group discussions and publicly broadcasted sessions on the plenary stage, more than 1,500 Israelis and more than 1,500 North Americas addressed issues as complicated as a seemingly stalled peace process, how to support Israel when you don't agree with her politics and how to define home when your home and your homeland are two different places in time and geography. This year, conference organizers focused all their energy, inspiration and real estate on this critical Israeli-Diaspora conversation.
There were four plenary sessions that celebrated Israel's 70th birthday, delivered heartwarming stories of Israelis' resilience and innovation and featured top Jewish leaders (Featured videos can be found here along with livestreamed plenaries). Plenary speakers included Israeli officials like Prime Minister Benjamin Netanyahu, Israel President Reuven Rivlin, President of the Jewish Agency for Israel Bougie Herzog, U.S. Ambassador to Israel David Friedman, Marius Nacht and Danna Azrieli (GA Co-Chairs), and many others. There were also major addresses by JFNA Board of Trustees Chair Richard Sandler (from Los Angeles) and JFNA President and CEO Jerry Silverman.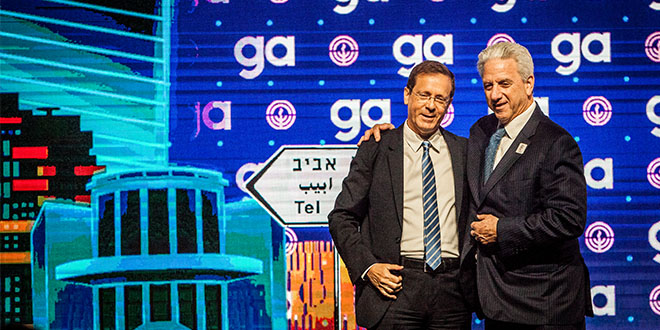 PRE-EVENT WITH ISRAELI PRESIDENT REUVEN RIVLIN
The day before the opening of The Jewish Federations of North America's 2018 General Assembly a small group of top Jewish leaders were invited to the home of Israeli President Reuven Rivlin to discuss the Jewish State's fraying relationship with Diaspora Jewry. Long-time Israeli Knesset member Nachman Shai moderated a panel discussion with the President and CEO of UJA/Jewish Federation of New York, Eric Goldstein, Jewish Federation of Cleveland incoming President Erika B. Rudin-Luria and the Ruderman Foundation's Shira Ruderman. At the end of the event Rivlin thanked the group and said he would use the information offered to construct his speech at the opening of the GA – the next day.
OFF-SITE EVENT AT THE KNESSET
Midway through the three-day event GA participants attended a reception and brief program at the Knesset. The event, hosted by Member of Knesset Speaker Yuli Edelstein, brought together elected officials from Israel and world Jewish leaders "to talk." Members of the Knesset who addressed the group included Leader of the Opposition from the Zionist Camp Tzipi Livni, Michal Rozin of the Meretz Party, a self-proclaimed feminist and powerful advocate for gender equality, Nava Boker of the Likud Party – a former Israeli journalist who advocates passionately for Israel's emergency services and Bezalel Smotrich of the Jewish Home party who lives in the Jewish settlement of Kedumim.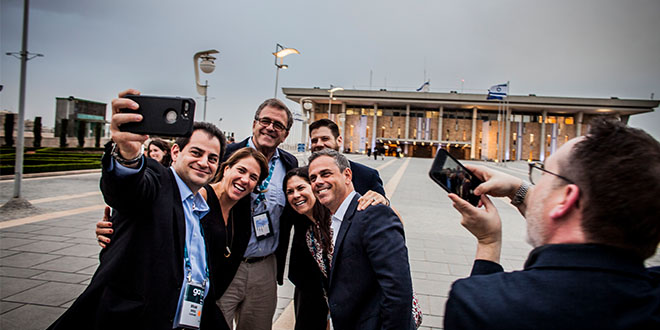 CLEVELAND DELEGATION IN THE NEWS
Cleveland Jewish News: JNFA GA bridges gap between diaspora, celebrates Hoffman's legacy
Jerusalem Post: Rivlin, Diaspora Leaders See New Paradigms Needed in Conversation
Cleveland Jewish News: Federation President Hoffman Honored at JFNA GA in Israel
Cleveland Jewish News: Rudin-Luria Impressed with Israeli President Rivlin
To learn more about the GA, view a photo steam, and more, visit www.generalassembly.org.
---
Related Items