11/02/2016
Honoring Roe Green
2016 Gries Family Award for Community Service Recipient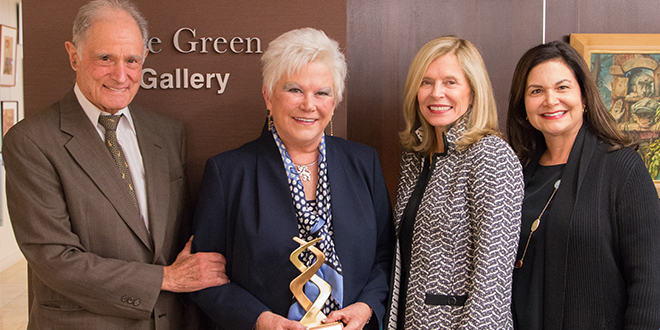 It's the ultimate gift - to give of yourself. This year, Jewish Federation of Cleveland Board member, Roe Green, is being honored for her years of generosity. She was unanimously voted as the recipient of the Gries Family Award for Community Service – an award established by Sally and Bob Gries 22 years ago, recognizing a person for his or her accomplishments and leadership not only in Federation and Jewish activities but also in the Greater Cleveland's general community.
Affectionately referred to as the 'fairy godmother of the arts,' Roe is a "true leader, who makes every organization she touches stronger," says Gary Shamis, Chair of the Gries Committee.
In 2010, in observance of the State of Israel's 60th anniversary, Roe brought the Tel Aviv Theater Company's performance of Hamlet in Hebrew to Cleveland. In doing so, she opened a door to what has now become the Cleveland Israel Arts Connection here at the Jewish Federation, which she passionately co-chairs with Erica Hartman-Horvitz. In this role, she has been instrumental to the success of many other Arts and Theater projects in the community, including the Violins of Hope project which opened at the Maltz Performing Arts Center at The Temple Tifereth Israel at Case Western Reserve University.
We spoke to Roe about the honor and how her passion for giving started at an early age.
Q: What does receiving the Gries Family Award mean to you?
A: I am very proud of this award. It feels terrific. This is the top of the top in the Jewish community and this honor means a great deal to me because of that. It says I am a Jewish woman, I'm out in the community, and I'm doing things. And that's where I am right now – I'm at the top of my game.
Q: Where did you find inspiration for your leadership?
A: My father (Judge Ben Green) was a humble man; he was very charitable and very kind - he was a just a good person. People would come to him and if he could help them, he would; I think that's the way I am. But I don't see myself as a leader; I'm so busy doing what I'm doing, I don't think about if I'm a leader.
Q: How does giving back to the Cleveland area, as well as around the world, motivate you?
A: Anything that I have given or any good that I have done, I have gotten back ten-fold. To me, it's just a way of life. Growing up, it was just the idea of being good people. It's not just our community; we reach out to others in different communities and I think that's important. I can't think about living my life any other way. I like my life and I'm a very lucky person. I have a theory on life – I have 5 oranges: I eat one, I save one, and I give the other three away. I hope that's how everybody else does it, too. You always try to do what you can for others.
Mazel Tov, Roe!
---
Related Items