06/05/2017
Horovitz to Perform in Cleveland
Internationally acclaimed Israeli actor/director Roy Horovitz to perform in Cleveland
Article reprinted with permission from the Cleveland Jewish News.
By Bob Abelman
One of Israel's foremost actors comes to Cleveland for the local premiere of two one-act plays that tenderly and sometimes humorously examine heartbreaking aspects of the Jewish experience.
Roy Horovitz will be performing "The Timekeepers" and "My First Sony" at the Dobama Theatre in Cleveland Hts., in partnership with Cleveland Israel Arts Connection, a program of the Jewish Federation of Cleveland.
The Cleveland Israel Arts Connection celebrates experiences that share the beauty of Israel, deepen our Jewish identity, and explore the human condition through dance, film, music, literature, theater and the visual arts. Israeli arts and culture are brought to Cleveland by working with the local arts organizations and institutions.
According to Roe Green, who co-chairs the Cleveland Israel Arts Connection with Erica Hartman-Horvitz, "'The Timekeepers' and 'My First Sony' were first brought to me by Israel Wiener, our arts & culture consultant. And we are thrilled to bring a world-class Israeli artist to town to perform them."
About "The TimeKeepers"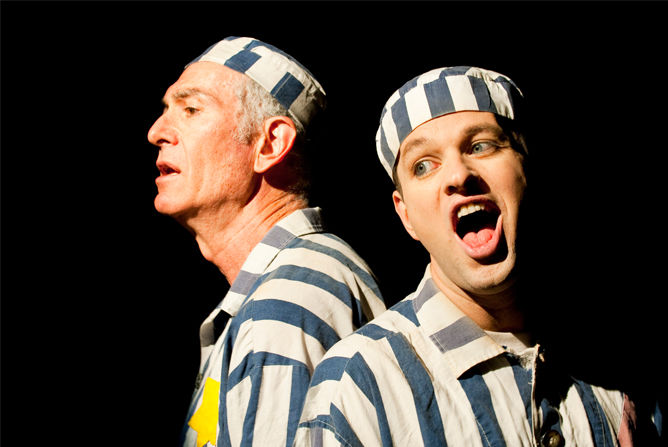 "The Timekeepers" was written by American writer Dan Clancy in 2001 and takes place in the Sachsenhausen concentration camp during World War II. When an outrageous young German homosexual named Hans (Roy Horovitz) and a conservative elderly Jewish man named Benjamin (Pinhas Mittelman) are thrown together in the camp, they appear at first to have little in common. Working together repairing watches for the Nazis, suspicion, prejudice and indifference slowly give way to a touching friendship.
According to Horovitz in an interview with the Cleveland Jewish News, the play "accentuates the private experience amidst a tragedy of millions."
Horovitz first read "The Timekeepers" in a small café shortly after director Lee Gilat discovered the premiere run of the play in London in 2001. He launched a Hebrew production of the work in Tel Aviv in 2002, which was a hit, and started touring across Europe and parts of the United States in an English production in 2004.
"I simply love playing Hans," notes Horovitz, "and if asked to choose a favorite moment, it would be the ending scene, when we come to learn that there is so much more to him than meets the eye. I hope it will be a reminder to keep our humanity and sense of humor, even in the darkest times and against all odds."
About "My First Sony"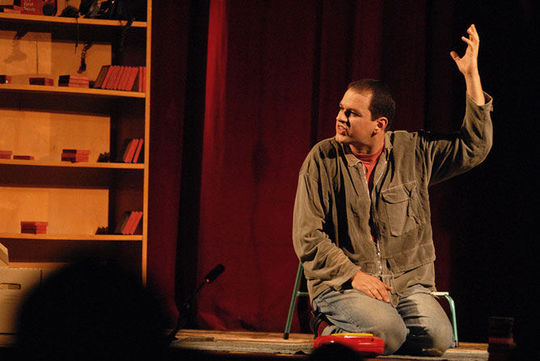 A one-man, one-act monologue based on an Israeli best-selling novel by Benny Barbash, "My First Sony" is the story of the deterioration of an Israeli family as told by a little boy named Yotam. Obsessed with his new children's tape recorder, Yotam records and reports everything, including the events that lead to his parents' separation.
The 46-year old Horovitz has been playing the 11-year-old Yotam since he originated the role when looking for work after graduating acting school at Tel Aviv University in 1995. "It was love at first sight. I had to tell this story, bring it to life on stage. We opened with a local production," he recalls, "and have been touring with the play internationally since 2009."
When asked what he hopes audiences take away from "My First Sony," Horovitz believes it is "the universal lesson that children know a lot more than we assume they do."
---
"An Evening with Roy Horovitz"
WHERE: Dobama Theatre, 2340 Lee Rd., Cleveland Hts,
WHEN: July 13 – 16
TICKETS & INFO: $30 for general admission, $25 for Dobama members. To purchase tickets, visit dobama.org or call 216-932-3396. For information on the Cleveland Israel Arts Connection, visit jewishcleveland.org.
---
Related Items