05/15/2017
Horwitz to Receive Honor
Article reprinted with permission from the Cleveland Jewish News.
By Amanda Koehn
Horwitz to receive Women's Philanthropy honor for adopting refugee family
In the last year, Gayle Horwitz, a South Euclid resident, has learned about the complexities of what it's like to move as a refugee to the United States. She also made a new family of friends.
Last January, through US Together, a Cleveland Heights-based refugee resettlement organization, Horwitz "adopted" a refugee family from the Congo and Uganda.
Horwitz said her family, which consisted of her husband, Matt Besser, and son Sam, now 3, naturally bonded with the Congolese family with whom they were matched, which consisted of Jesca Kankundiye and Serutosi Sibomana and their children, Andrea Ahishakiye, 5, and Noah Sibomana, 3.
Horwitz's 3 year-old son, Sam, right, bonds with Andrea Ahishakiye, 5, who is a member of the refugee family that Horwitz's family "adopted."
"There is just so much that goes into resettling a family that the concept of the family mentorship is you are connecting local Cleveland native families with refugee families and just sort of leveraging the community to fill in those gaps," Horwitz said.
Horwitz will receive the Irene Zehman Volunteer Award from the Jewish Federation of Cleveland's Women's Philanthropy group at the annual spring luncheon at 11:30 a.m. May 18 at Landerhaven.
During a whirlwind year where Horwitz's family and the Sibomana-Kankundiye family became friends and Horwitz helped them adjust to the U.S. – helping set up their home, teaching them about local resources – both families added baby boys to their families. Horwitz welcomed Ashton, now about 4 months, and Kankundiye welcomed Baraka Sibomana, now about 7 months.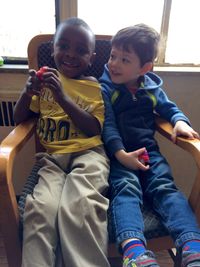 "It was really beshert because our families just had something in common by the fact of having little boys," Horwitz said.
Horwitz initially heard about the family match program at Park Synagogue, where she is a member in Cleveland Heights and Pepper Pike. While her adopted family has acclimated to Cleveland, Horwitz said the two families still spend time together.
"We really just like to spend time with them because they are extremely nice," Horwitz said. "It's also extremely fascinating to look at the world sort of through their eyes because every new thing that they achieve here gives a great sense of pride in their accomplishments."
The volunteer award is given annually to a nominee who exemplifies "unsung hero" volunteerism, said Jennifer Korach, Women's Philanthropy chair.
"Many of us do lots of volunteer work in the community where we are not rewarded, but people know who we are," Korach said. "This is really for somebody who's doing it because they are compelled internally to do it."
Korach said Horwitz was chosen for the award because refugee resettlement is ever-relevant today. Moreover, as a mother who works full time, Horwitz still prioritized helping others.
"She decided to essentially adopt a family that moved here from the Congo and sort of help enculturate them into life in Northeast Ohio and I think that's really remarkable," Korach said.
The Women's Philanthropy Luncheon is the group's signature outreach event and Korach said 700 to 800 women typically attend. The guest speaker is Sharon Tal, designer of Maskit, an Israeli luxury fashion brand.
---
Related Items