04/16/2021
Hundreds Celebrate Israel's 73rd Birthday
McKENNA CORSON | STAFF REPORTER
Article reprinted with permission from Cleveland Jewish News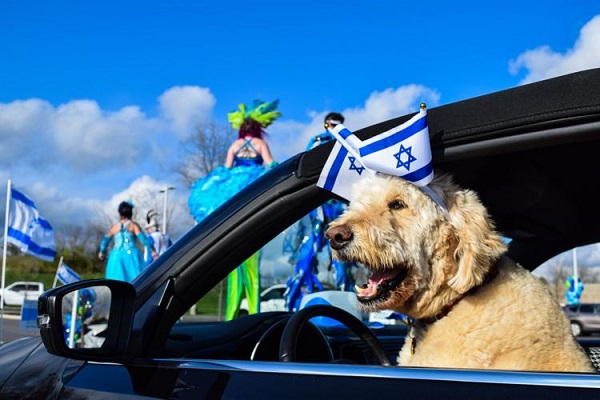 As the state of Israel rang in its 73rd anniversary, hundreds of people across Cleveland showed their patriotism during the Jewish Federation of Cleveland's Yom Ha'atzmaut festival April 15.
More than 150 cars pulled into Corporate College East's parking lot in Warrensville Heights for an in-person drive-in party, where they were met with blue and white sporting stilt walkers, clowns, magicians, jugglers and dancers. Attendees of all ages wore Israeli flag head bands and waved Israeli flags as they remained in their cars for the festive event. Two giant television screens broadcast those connecting in virtually and in-person party revelers.
The event also had 215 viewers enjoying the event online through Zoom, where they experienced everything those in-person did, just behind a computer screen.
Everyone both present in-person in their cars and virtually danced along to the Lehava band livestreaming from Israel, Israel- and Cleveland-themed quizzes and games and appearances by community members and Havat Hashomer base commander Tom Elgart. Attendees could order special Yom Ha'atzmaut food from local kosher eateries and savor Israeli flavors while celebrating the country's anniversary.
The annual independence day celebration is one of the Federation's biggest events of the year, and pre-COVID-19, the party was held in expansive spaces like Landerhaven in Mayfield Heights to accommodate crowds of between 850 and 1,000 people.
The Cleveland Jewish News was a media sponsor of the celebration.