08/29/2016
For Ages 50+: IMPACT! Volunteer in Beit Shean, Israel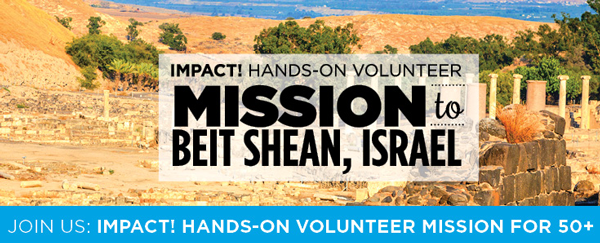 Channel your time, energy, and talents! IMPACT! is offering a hands-on volunteer mission for Jewish Clevelanders age 50+. Join us!
Volunteer Mission to Beit Shean, Israel
February 19 – March 3, 2017
Immerse yourself in Israeli life while volunteering, enjoying home hospitality, and visiting historic sites in Beit Shean/Valley of Springs, Cleveland's sister city in Israel. Help the people and city of Beit Shean through daily hands-on volunteering activities, including assisting children or adults improve their conversational English skills and more. Plus, live on a kibbutz, taste authentic cuisine, hike phenomenal trails, and tour unique natural springs and ancient ruins.
Participant Cost: Airfare + $1,000 per person (includes room, board, touring, and all local transportation)
Read more about past volunteer experiences on the mission
Interest form due by September 30, 2016
For more information about this mission, please contact Susan Hyman at shyman@jcfcleve.org, or call 216-593-2887.
---
Related Items