11/09/2015
Inspiring stories kick off JFNA GA
Article reprinted with permission from Cleveland Jewish News.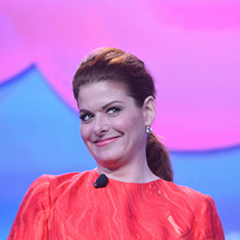 By Bob Jacob
WASHINGTON – The 2015 Jewish Federations of North America General Assembly kicked off Nov. 8 with inspiring speaker after speaker telling a heartfelt story about being Jewish.
More than 2,000 people crowded into the International Ballroom at the Washington Hilton to hear –Justice Rosalie Abella of the Supreme Court of Canada, award-winning actor Debra Messing and journalist-author David Gregory – as the three-day extravaganza of 124 federations and hundreds of smaller communities started to "Think Forward" – the theme of the 2015 GA.
Abella spoke about the impact that her parents, Holocaust survivors, had on her as she became the first Jewish woman on the Supreme Court of Canada.
"We clearly have not learned the most important lesson that we should have learned from the Holocaust," Abella said, referring to atrocities occurring around the world where no one is held accountable.
On several occasions, she had to stop her speech to wipe away tears.
Gregory also had to wipe away tears as he spoke just two days after his father died. He canceled other engagements but felt an obligation and an allegiance to the federations to keep this appearance. He will bury his father this week and then celebrate his son's bar mitzvah Nov. 14.
"I held his hand," Gregory said, "and we prayed Adon Olam. He was gone the next day. I feel full, but I have tears. In a way, in my father's death, I feel a great sense of life. I will leave you here and bury him in California tomorrow (Nov. 9)."
Messing, who is best known for her lead role on NBC's Emmy Award-winning comedy series "Will & Grace," grew up in a small Rhode Island town in the 1970s and 1980s. She spoke about what it was like to be the only Jewish child in her elementary school.
"In Rhode Island, people didn't look like me," she said. "I had dinky, curly hair … I stood out. I never felt beautiful."
Messing learned about anti-Semitism at a young age.
"The word anti-Semitic was a grown-up word that I learned early," she said. "We were different. We looked different, and people didn't like us, which was very painful for my parents.
"I remember my mom crying when she went outside the day after Halloween and saw a swastika painted on my grandmother's car. Again, I just remember being confused. I knew something bad had happened … Besides being outraged, my mother was scared, so I was scared."
Messing recalled how she missed school for the High Holy Days.
"When I would stay home from school for Rosh Hashanah and Yom Kippur, and I would return to school and kids would ask why I hadn't been there, I would say I was sick. A classmate who was bitter with contempt said it's not fair, we should have Rosh Hashanah and Yom Kippur off. You get Christmas off. So I learned it was better not to be different, not to stand out. That there was danger in being different, so I kept quiet and tried to hide my identity. And I felt very wrong."
Messing's life changed when she met Gerda Weissmann Klein, a Polish-born American writer and human rights activist who wrote an autobiographical account of the Holocaust, who inspired her for the rest of her life. Messing had written a book report on her while in elementary school and later received the opportunity to sit next to her at a federation event.
Messing attended Brandeis University in Waltham, Mass., which made my parents "delirious."
"For the first time, at age 18, I was in a community with other Jews my age. It was shocking. It was a relief … All my friends were Jewish. I didn't have to explain anything. I felt safe."
However, she confronted work issues once arriving in Hollywood.
"You work on Jewish holidays or you don't work," Messing recalled. "When there are 1,000 actors waiting for that role, you're not going to temple. You act when you are told to act. If your first day of filming is on Kol Nidre, that means you perform on Kol Nidre."
Her work schedule didn't change until she became established. She won a 2003 Emmy Award, earned seven Golden Globe nominations and seven Screen Actors Guild nominations.
More than three dozen Clevelanders represented the Jewish Federation of Cleveland.
Stephen H. Hoffman, president of the Jewish Federation of Cleveland, said he was most inspired by Abella's story.
"It's an amazing story," said the Shaker Heights resident. "It's a classic immigrant story, but it doesn't ever stop … Our people have made amazing journeys."
Paula Schwartz of Shaker Heights agreed.
"I was inspired mostly by the Supreme Court justice from Canada, and her story, and the fact that she was so inspired by her parents' journey through the Holocaust," she said.
Keith Libman of Moreland Hills may have said it best after the opening plenary.
"It was an incredibly powerful plenary," he said. "The fact that you could have speakers that not only brought the audience to tears, but themselves to tears, was one heck of a start for a GA. Mr. Gregory, the story he tells about his father, I think most of us have similar experiences. It was very powerful."
The GA continues Nov. 9 with appearances by Leslie Wexner, chairman and CEO of L Brands, headquartered in Columbus, and Natan Sharansky, chairman of the executive, The Jewish Agency for Israel.
BEGINNING OF THE END: Michael Siegal of Moreland Hills began the final year of his three-year term as chair of the JFNA board of trustees. He will introduce guest speaker Israeli Prime Minister Benjamin Netanyahu on Nov. 10, the day after Netanyahu and President Barack Obama meet at the White House for the first time in more than one year.
SHOUT-OUTS: Bobby Goldberg of Lyndhurst and Joe Kanfer of Richfield were among past chairs of JFNA and the United Jewish Communities who were recognized.
IN THE SPOTLIGHT: Dahlia Fisher, managing director, marketing and communications, for the Jewish Federation of Cleveland, was featured in a video segment about telling Jewish stories shown during the opening-day plenary.
PRESENTERS: Former Clevelanders Eric Fingerhut, president and CEO of Hillel International, and Rabbi Mike Uram, executive director and campus rabbi for Hillel at the University of Pennsylvania are speakers during the GA. Uram's mother is immediate past president of Temple Emanu El in Orange.
JEWISH JOURNALISTS ON HAND: The American Jewish Press Association's annual conference is being held in conjunction with the GA. About 80 journalists from across the country are here.
---
Related Items