11/12/2018
Ira Kaplan Receives Gries Award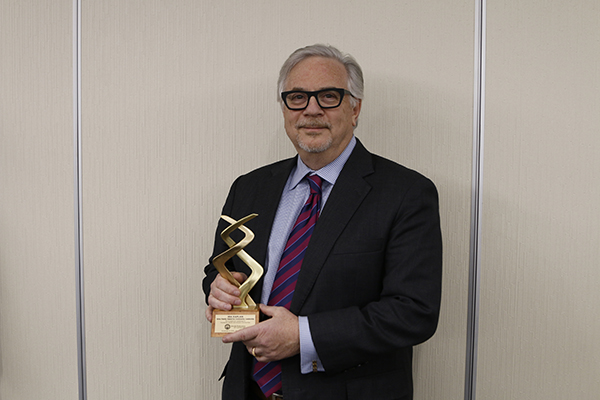 Award recognizes individual's impact on Cleveland communities
The Jewish Federation of Cleveland announced that Ira Kaplan was awarded the 2018 Gries Family Award, recognizing his lasting impact on Cleveland's Jewish and general communities. Kaplan, who is the Executive Chairman of Benesch, Friedlander, Coplan & Aronoff LLP, was presented the award at the Jewish Federation of Cleveland Board of Trustees meeting on November 8.
"When I look at Cleveland's strengths, we're so lucky to have the arts, a vibrant business community, our sports teams, and an increasingly strong center city. With that said, it's our philanthropy that has set us apart and is the heart and soul of where we live. It's engrained in who we are, and I believe that's it's a privilege and responsibility to care for the most vulnerable among us," Kaplan said. "I could not be more honored to be considered for this award and be added to the previous list of honorees who I look up to as role models and who I count as friends."
Kaplan's involvement with the Federation has spanned almost 40 years. He currently serves as Chair of the Community Planning Committee and is a member of the Federation's Board of Trustees. He has played an active role with the Federation's Young Business and Professional (precursor to the Young Leadership) Division and the Community Relations Committee, and is also an alumni of Mandel Symposium and Mandel Course for Advanced Leadership, the Federation's leadership development programs.
In addition to his involvement with the Federation, Kaplan has served on numerous Jewish organization boards, including The Mt. Sinai Health Care Foundation and The Temple-Tifereth Israel's Endowment Board. He is a past Board Chair of Council Gardens and Menorah Park, and the current Board Chair of Bellefaire JCB.
In the general community, Kaplan is the immediate past Board Chair of Engage! Cleveland and currently serves as their Development Committee Chair. He has served as Campaign Co-Chair for United Way of Greater Cleveland, as well as numerous other roles for United Way, including currently as a board member and member of the executive committee. Kaplan is also the Board Chair of Cleveland Leadership Center and serves on Case Western Reserve University's Government Relations Advisory Committee. He has served on the board of Friends of Breakthrough Schools and has been an executive committee member of Business Volunteers Unlimited. Kaplan was also a member of the Leadership Cleveland Class of 2003.
"Ira is both a business leader and dedicated community servant who has lent his substantial knowledge and talents to many of Cleveland's treasured organizations," said Kim Meisel Pesses, a past Gries Family Award recipient and member of the Gries Award Selection Committee, who presented Kaplan with the award. "Thank you, Ira, for your leadership."
The Gries family was one of the first Jewish families to settle in Cleveland. The Gries Family Award includes a donation to a charitable cause chosen by the recipient. Kaplan designated a donation to Cleveland Leadership Center and Bellefaire JCB. Both Kaplan and Benesch Friedlander Coplan & Aronoff LLP have decided to provide matching donations to Engage! Cleveland, United Way, and Menorah Park. .
---
Related Items